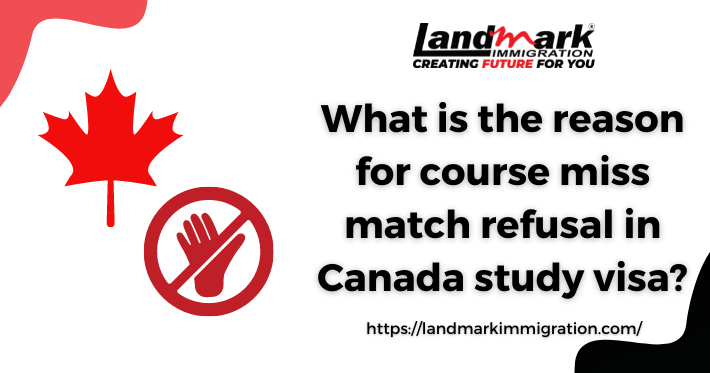 7 September 2021
Your study visa to Canada can be denied for several reasons. And one of them is study mismatch. It means that you have opted for a course in Canada that is not relevant to your educational background or past studies.
In other words, you have chosen an inappropriate course as opposed to your educational qualification.
For example, if you have passed your 12th class from a medical stream but you have opted for IT courses, you can face rejection. The reason is simple—your present course is not matching to your subjects opted in 12th standard.
Well, this is just a simple example of how choosing the wrong course can lead to a study visa denial.
How to Choose the Right Study Program/Course in Canada?
It is highly recommended that you should prefer the courses according to what you have studied in India. But sometimes it is not as straightforward as it seems.
For example, you being a non-medical student are looking to opt for the courses related to the non-medical stream. But there is still the chance that you can face rejection. Why?
You may be required a certain percentage to get eligible for the course you are looking for. For instance, you have got 40 marks in math while the requirement is above 60, meaning that you might not be eligible for that course.
That's why it is highly recommended to check out the guidelines of the course on the college's website.
Sadly, there are many immigration agents whose ill advice cost students their study visas. They might recommend an inappropriate course. Therefore, you need to choose your immigration consultants carefully.
The Course Options According to Your Educational Qualification
• A non-medical student has plenty of options to choose from. No wonder why non-medical is called the king of all courses when it comes to getting a study visa.
If you have 70 per cent from the non-medical stream, you can study any sort of engineering, including automobile and IT. There is a high demand for engineers in Canada due to the boom in infrastructure development.
• However, a medical student might not have that leverage. It is also important to know that Canada prefers its own residents in healthcare jobs. Therefore, it might be tough to become a doctor or opt for nursing over there.
If you have satisfactory marks in the medical stream, you can go for courses associated with fitness, horticulture, environment, and chemical lab, especially if you don't have mathematics.
• If you are a commerce student, you can opt for any sort of business course in Canada.
• Arts students can also choose from a range of courses related to hospitality, public admin, travel and tourism, journalism, and many more.
• There are also many courses which can be pursued by anyone, including childcare and social security courses.
So you must have understood how course mismatch can lead to your study visa refusal and how to choose the right course. Again, make sure to check out the details of your chosen course on the website of a college.
If your educational background is not matching to the chosen course, look for alternatives.
Secondly, work with the right study visa consultant who can guide you on the right courses and help with the documentation process as well.
At Landmark Immigration, we go above and beyond to make your study abroad dream true. Our experienced consultants can help you choose the right course in Canada according to your educational background. Besides, we help you with the visa process, filing applications and visa interviews.
Contact us right away if you are still not sure which course to choose in Canada.