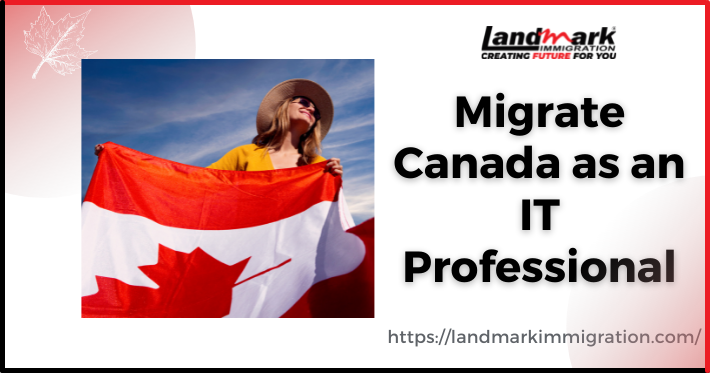 The IT industry in Canada is on the boom, attracting skilled IT professionals from across the world to settle there. With the skills, education, and work experience, as an IT professional, you have a great opportunity to settle in Canada.
Good thing is that is fairly easy to do that, thanks to the ever-increasing demand for IT professionals in the country.
To meet its ever-increasing need for IT talent, Canada has many PR and temporary pathways to support its IT industry. These include general programs for qualified talents and specified programs dedicated to tech talent.
Here we will discuss how you can immigrate to Canada as an IT professional:

How IT Professionals Can Come to Canada?
Well, there are two ways to immigrate to Canada as a skilled IT worker:
Applying Directly for PR
Coming to Canada as a Temporary Resident on a Work Permit, Before Opting for PR
1)  Applying Directly for Permanent Residence:)
Qualified IT workers can apply for PR through the Express Entry system. This system has been designed to handle the intake of skilled workers.
Here are some Federal Economic Immigration Programs you can apply for:
Federal Skilled Worker Program

Federal Skilled Trades Program

Canada Experience Class
Candidates looking to come to Canada through one of these programs are required to register a profile in the Express Entry pool. The profile will be given a score based on certain metrics. Profile with the highest scoring will be receiving an Invitation to Apply in regular draws.
The draws generally take place every two weeks. There are many ways in which candidates improve their score while in the Express Entry Pool, including by securing a job offer in Canada, which can add 200 or 50 points based on the skill level.
Provincial Nominee Programs (PNPs):
Provincial Nominee Programs or PNPS is another category within the Express Entry but specifically for qualified workers interested in living in a certain province or territory. The two PNP streams available for IT professionals are British Columbia and Ontario.
The Ontario Tech Pilot is for workers who carry experience in one of six tech occupations. Candidates are required to have an Express Entry profile. The Tech Pilot Program by British Columbia lets candidates apply for a provincial nomination on an almost weekly basis.
Once you get a PNP nomination, you will then have a great opportunity of being picked within an Express Entry draw.
 2) Coming to Canada as a Temporary Resident on Work Permit, Before Opting for a PR
IT professionals are moving to Canada on a temporary work permit before transiting to permanent residence. In June 2017, the government started the Global Talent Stream to focus on tech occupations.
Other Ways to Immigrate to Canada as an IT Professional:
Start-Up Visa:
The Canadian government has launched the Start-Up Visa Program to invite entrepreneurs who are looking to start a business in Canada. Needless to say, it is a great opportunity for IT workers. To be eligible for this program you are required to have a qualifying program, a letter of support, meet the language requirements, and have enough funds to settle.
Global Talent Stream:
Another attractive option for tech workers to settle in Canada is through the Global Talent Stream. Although this pathway is temporary, many individuals have used this system to change their status to PR once they got Canadian work experience. The Global Talent Stream lets Canadian employers hire IT workers and bring them to the nation within a couple of weeks. One should be skilled in one of the seven qualifying target sectors and be able to earn to meet the fair work high-income threshold or be a high performing recent Masters, Ph.D., or Honors, graduate.