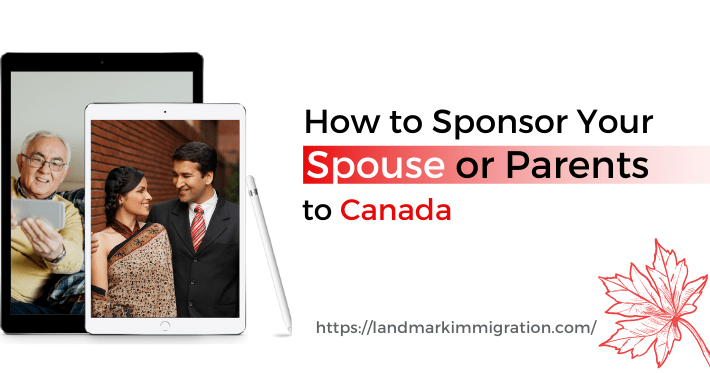 If you are a PR holder or a Canadian citizen, you are allowed to bring your spouse or parents to Canada through sponsorship.
The sponsored parents or partner can then be granted PR status, meaning that they can live in Canada for another 5 years which will make them eligible for Canadian citizenship (if they spend 3 years only in Canada.)
Please watch our video for more information
What Does Sponsoring Parents or Spouse to Canada Mean?
Sponsorship is a section of the Canadian immigration system to let someone come to Canada under the Family Class of immigration. It helps reunite family members in Canada who have been living in other nations and let those family members attain PR status.
If you sponsor someone to Canada, you will be responsible to meet the requirements of that person. You will have to meet their needs such as food, shelter, clothing and health. Their health needs won't be covered by the public health system of Canada.
HOW TO SPONSOR YOUR SPOUSE TO CANADA
Many PR holders and Canadian citizens look to bring their spouses to Canada. Although it is a simple process, there are many things to consider.
PR holders are usually asked whether they want to accompany their spouse to Canada during their immigration.
If you agree, you can bring your spouse with you. However, bringing a spouse with you can reduce 40 points from the CRS score, forcing people to leave this option. Instead, they opt for the non-accompany option. They prefer to bring their spouse once they get PR.
There is a Family Class program that lets you bring your spouse or parents to Canada.
Here we will understand the requirements of sponsoring your spouse to Canada.
You being a sponsor should be at least 18 years old.
You should have a PR or be a Canadian citizen.
You should be able to meet the needs of people being sponsored by you.
Is Your Wedding Legal? Your Relationship Should Be Genuine
Over the past few years, there are many cases where a person is married to a PR holder or a Canadian citizen for the sake of getting a spousal visa. It has alarmed the Canadian authorities.
Therefore, your marriage should be legal and certified. And for that, make sure you have the following documents as proof:
Marriage Certificate
Receipts from Marriage Hall, Temple or Gurudwara
Invitation Card or Photos
How Much Money You Need to Show to Sponsor Your Spouse
Unlike most other types of Canadian sponsorship, you don't need to show a minimum amount of income to sponsor a spouse. In other words, there is no need to prove your income or financial status.
However, you have to sign an undertaking, in which you have to promise that you meet all the basic and financial needs of your sponsored family member for the next 3 years. The length of this undertaking is 3 years.
It also means that you won't ask for any kind of financial assistance from the Canadian government for your spouse.
What If You Want to Divorce Your Existing Spouse and Want to Remarry? Can You Bring Your New Spouse to Canada?
You are required to divorce the existing spouse. You should be legally separated. Otherwise, you won't be allowed to sponsor your new spouse to Canada.
Secondly, if you have sponsored the first spouse to Canada, you are responsible for his or her financial support for 3 years, WHETHER YOU ARE DIVORCED or NOT.
What is the Processing Time for Spousal Sponsorship or Spouse Visa? 
The process for spousal sponsorship is purely paper based work. It hasn't been digitalized yet. So you cannot apply online.
That's why it can take as long as 24 months. On top of that, the COVID 19 cases have also delayed the process further.
Can My Spouse Enter Canada on Visitor Visa For Spousal Sponsorship?
In such a scenario, a sponsored person is on a visitor visa while the other person (a sponsor) is on PR. Although this can work, the spouse being sponsored shouldn't move outside Canada while his or her application is in process.
Otherwise, their entry can be denied to Canada upon their arrival.
However, this condition doesn't apply to your sponsored partner living outside Canada.
HOW TO SPONSOR YOUR PARENTS TO CANADA?
Recently, the government of Canada announced to allow 40,000 candidates to sponsor their parents and grandparents for immigration to Canada. Earlier it was 10,000.
If you have PR or Canadian citizenship, you can invite your parents or grandparents to Canada. You need to be at least 3 years old in Canada. You need to show T4 that is income tax statements to show your income. It is downright essential.
Requirements:
You should at least 18 years old.
You have been living in Canada for at least 3 years.
You need to show your bare minimum income as a reference to the LICO table. Good thing is that there is no need to show the 30% of your minimum income separately.
You need to provide proof that you meet the income tax requirements for the 3 years.
Can I Sponsor My In-Laws? Or They Can Be Sponsored Alongside My Parents at the Same Time?
First of all, you cannot sponsor your in-laws as this program is only meant for your parents and grandparents. But there is still a way. You can become a co-sponsor or co-signer with your spouse to bring your in-laws. But you cannot bring them together. You can invite your parents before your in-laws.
The undertaking will be signed for 20 years, meaning that you would be responsible for 20 years for the financial needs of sponsored parents. It also means that your parents would be denied social assistance from the government.
How to Apply?
The approval is based on a lottery system. You need to fill the form called Expression of Interest that is available once a year. This year, Canada hasn't issued it.
Let's see how it works.
For example, Canada receives 1 lakh applications. But Canada will pick randomly 10,000 out of those applications. After all, it is a lottery system. But this time, Canada has increased this number to 40,000.
The rest of the applicants have to wait for another year.
If your application is not picked through the draw but you don't want to wait for another year, you have a good alternative to try.
And this alternative is called Super Visa.
This is a tourist visa meant for parents and grandparents. It allows them to stay with you for 2 years compared to a regular tourist visa that is valid for 6 months.
Besides, they will be granted Multiple Entry Visa for 10 years. This program will allow your parents to live with you for two years while you await their application to be picked.