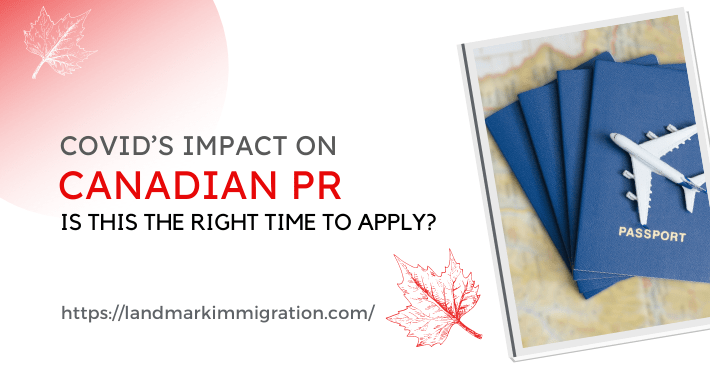 The COVID 19 has brought the world to the halt. Thanks to the lockdown, and travel restrictions. It has also impacted the immigration process of Canada.
The nation couldn't meet its immigration target due to COVID 19.
Immigration has been a prime source of providing skilled labour to the country, thereby ensuring that Canada's population and labour forces continue to grow.
No wonder immigrants account for nearly 71 per cent of Canada's population growth.
However, the recent COVID pandemic has hindered the immigration process. In this uncertain time and strict travel restriction, the Government of Canada is making the immigration process easier for the continued selection of skilled workers for permanent residence.
Here we will understand the important changes in the immigration and Canada PR policy of Canada caused by COVID 19 as well as how to leverage this opportunity.
Please watch our video for in-depth details
Immigration Target Revised from 3 Lakhs to 4 Lakhs
The nation has decided to revise its immigration target from 300000 to 400,000 to make up for the loss. It simply means that Canada needs 1 lakh more immigrants. The nation is looking to invite 4 lakh, immigrants, for the next three years.
Interestingly, there are only 1.60 lakh applications are in the Express Entry pool compared to the 4-lakh target.
THE CRS Score Drops to 75 from 469!
In order to meet its target of 400,000 immigrations, Canada has dropped its CRS score from 469 to 75.
The Extension of Post Graduate Work Permit for Students
Meanwhile, Canada has also extended the post-graduate work permit for students. The international students in Canada who have PGWPs or post-graduate work permits that are about to expire or expired can now apply for an 18-month "open work permit".
This will be a great help for the students who are looking to stay in Canada, continue to find employment and build their future in this nation.
This policy also means that international graduates will have a new window with which to be able to get work experience, and, in turn, to be eligible to apply for PR.
Opening of the New Pathways for Immigration
Canada has also launched new immigration pathways this year. One of them is to grant PR to over 90,000 essential workers and international graduates already in the nation. Ontario PNP has also been announced for the provincial immigration programs.
It is the Best Time to Apply for Canada Immigration and PR 
With the easing immigration process and a massive immigration target for Canada PR for 2021, it is a great opportunity to apply for PR or immigration, especially for those living in Canada.
If you have an IELTS score, ECA report and work experience documents ready in the first place, it is the best time to create your Express Entry profile. You never know when you get an invitation.
If Canada can drop its score to 75, then you can expect everything positive from there. Don't let this opportunity slip off your hand. It is the best time to apply for PR.
If you apply for the Canada PR now, you can avoid possible delay in the processing of the application, when the PR application will only increase dramatically upon lifting of the travel restrictions worldwide.
How to Make the Most of This Opportunity?
Wait no more and start taking the steps to get immigrated to Canada.
First of all, get your education evaluated according to the Canadian standards through ECA. Then, join IELTS classes. It will take you nearly 4 months to complete all these processes.
If you have already completed these processes, no matter whether your score is 469 or 420, this is the right time to apply. This will get you in the queue, if not get you the invitation overnight.
You can have real hope for getting an invitation soon. Even an applicant with 75 scores can expect an invitation. If you are looking for any kind of assistance with paperwork or you are a beginner, you can contact our immigration team any time.
We will assist you throughout the process to make your PR or immigration chances even brighter.