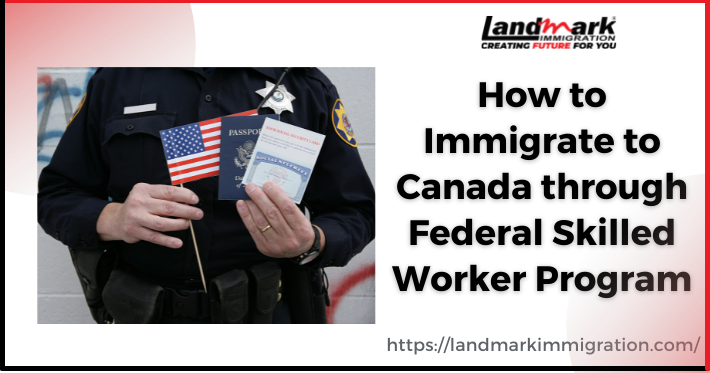 11 March 2022
The federal government's Federal Skilled Worker Program is the most in-demand immigration category in Canada and the preferred option for citizens with a specialized job profile and extensive work experience.
Launched in 1967, this program is designed to invite immigrants from across the world to live and work in Canada.
Before the existence of the FSWP, Canada picked skilled worker immigrants based on the judgment of its immigration officers who thought if the candidate is fit for the Canadian job market. Soon the government came to know the problems and shortcomings associated with this method, encouraging them to introduce the world's first points-based system to pick immigrants.
This system uses objective criteria to access candidates, including age, education, language skills, occupation, and work experience.
Also, it is the most advantageous option for candidates who want to emigrate with their entire family (spouse or common-law partner and dependent children).
Qualified immigrants are chosen as permanent residents based on their ability to settle in Canada and participate in the country's productivity.
In general, foreigners who want to immigrate to Canada under the Skilled Workers Program must have work experience, command of the official languages ​​of Canada (English and French), and the level of education they possess (degrees and diplomas), among other requirements.
How To Apply For The Permanent Residence For Skilled Workers
Those who wish to apply for a visa in the Federal Skilled Worker Program must apply through Express Entry, which works as an electronic system that manages immigration applications for skilled professionals and other foreigners.
It is recommended to read in detail the information about the Express Entry system, which is the first step to immigrating to Canada as a qualified worker.
There are no professional restrictions. Candidates of any occupation can enter their profile in the Express Entry system.
There are also no limits for receiving requests. Participation quotas by a profession that existed in the past were completely eliminated.
Skilled Worker Program Requirements
Those who aspire to immigrate to Canada under the federal government's Skilled Worker Program must demonstrate professional skills and personal abilities that allow them to join the work and productive life of that nation without delay.
The main requirements of the candidates can be listed as follows:
Work experience
Have work experience of at least one year, full time (1,560 total hours / 30 hours per week, full time, or 15 hours per week for 24 months, part-time), in a paid activity (volunteer activities do not count) and in the same job.
Work experience must be in an occupation listed as level 0, A, or B in Canada's National Occupational Classification (NOC) and Classification Nationale des professions (CNP) system.
Fluency in One of the two official languages ​​of the country, English or French
Language proficiency must be demonstrated by taking an exam approved by the Canadian government, such as CELPIP, IETLS, and TEF.
The candidate must prove that they have level 7 in the so-called Canadian Level of Linguistic Competence (Canadian Language Benchmark or Niveaux de compétence Linguistique Canadiens), both in comprehension, reading, and oral and written production (listening, speaking, reading, and writing). The results of the language tests are valid for two years.
Education level
Candidates must have an academic level accredited by a diploma or degree issued by a recognized educational or training institution, which allows the candidate to exercise a profession or occupation.
Academic credentials obtained abroad (outside Canada) must be evaluated by a Canadian institution, to establish equivalence with the Canadian educational system. The candidate will then obtain an Evaluation of Educational Credentials or ECA.
There are some credential evaluation organizations and official regulatory agencies that have been designated to review degrees obtained outside of Canada. These organizations are the following:
World Education Services, WES
Comparative Education Service
International Credential Assessment Service of Canada
Medical Council of Canada
Pharmacy Examining Board of Canada / Pharmacy Examining Board of Canada
International Qualifications Assessment Service
International Credential Evaluation Service
Funds Required
It is important to show the proof of your finances that you can fund yourself or your dependents in Canada.
A detailed description of the amounts of money demanded by each member of the family group can be found in the Support Expenses in Canada section. This requirement may vary if the candidate proves that she has a valid job offer from an employer in Canada.
Understanding the FSW
The total points in the FSW are 100 and a candidate needs to score 67 points or higher to become eligible for the Federal Skilled Worker Program. The points will be allocated based on…
Your education;
Your abilities in English and/or French (Canada's 2 official languages);
Your work experience;
Your age;
If you have arranged employment in Canada; and
Your adaptability.