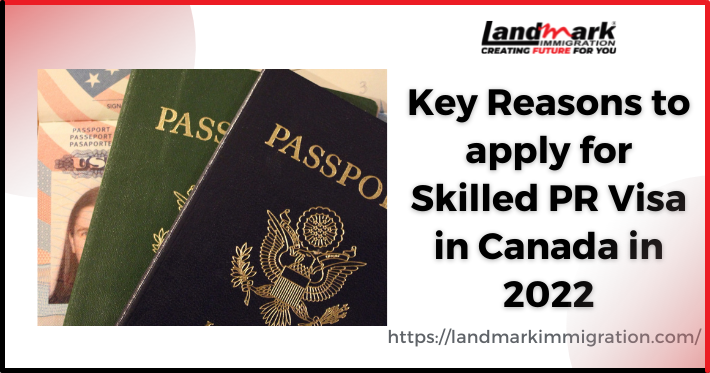 Canada has come up to be one of the best countries to live in as per the global index in recent years. Canada has been ranked among the best countries in the world as per the recently published World Report and US News survey. This survey measures a lot of qualities such as education, citizenship perks, quality of life, standards of living, among others. If you are a qualified professional who wants to immigrate to Canada, applying for a skilled PR visa is an excellent idea. Here are some of the main reasons to apply for a skilled PR visa in Canada:
Key reasons to apply for Skilled PR Visa in Canada in 2022
Canada welcomes immigrants from all around the world
Canada is widely regarded as one of the friendliest countries for people who want to live there. Canada welcomes immigrants that come from throughout the world to improve the growth of their country and the economic standards. In the forthcoming years, Canada strives to welcome up to 10 million immigrants, and it has been focusing on making the transition easy for newcomers. Canada is one of the countries that make immigrants its priorities.
Canada is in the need of skilled labourers and qualified professionals
Canada has been facing a deficiency of skilled labour in recent years. Even though it has a shortage of qualified professionals in Medicine, Engineering, and Business, among other professional fields, because of a low rate of growth in the population, Canada aims to accelerate the growth in all fields. To facilitate the development of more skills in Canada, it wants to encourage the migration of skilled professionals from all around the world. This is primarily the reason why Canada is extremely supportive of qualified professionals and accepts a large number of candidates from all over the world.
Canada offers immigrants equal rights as compared to a Canadian citizen
If you migrate to Canada as a PR visa holder, you will be eligible to avail of equal rights as compared to a Canadian Citizen. Some examples of the rights you can avail yourself with a PR visa for Canada include:
The right to work anywhere throughout Canada, in virtually any province or territory
The right to avail equal rights in medical, work, and education requirements.
The right to get access to free education for your dependent children
The pathway to becoming a Canadian citizen opens up to you with a PR visa for Canada
The right to get your family based on the visa that you hold
Canada allocates a lot of money for immigrants who apply for a PR visa to help them find a job
Canada has been known to allocate a large sum of money specifically for immigrants. It sets aside approximately $10 million every year to support immigrants in finding a job. The Canadian government considers setting aside monetary funds that go up to approximately $10 million to support 15 diverse projects. These are all aimed to help new immigrants in finding jobs that are suitable as per their qualifications and preferences.
Canada has various immigrants helping organizations that help newcomers in securing accommodation and jobs
The Canadian administration has been helping newcomers in serving the new immigrants that enter Canada with a lot of services. It has also launched a lot of immigration service organizations that work actively in diverse territories and provinces in Canada. These organizations help the new immigrants in securing accommodation and new jobs to help them in knowing more about various Canadian immigration schemes.
Canada offers constantly upgrading immigration schemes to suit the evolving needs and requirements of newcomers
Canada has been known to change its immigration scheme year after year to keep it updated as per the needs and requirements of immigrants. To make the best out of the available immigration schemes and programs, you need to keep yourself updated on the different programs whether you want to migrate to Canada with a study visa, work visa, express entry, or PR visa for Canada. You can also consult with an immigration consultant and find out everything that you need to know regarding immigration programs.
Conclusion
Canada is a country that attracts skilled professional workers from all over the globe. Canada is widely considered to be one of the most preferred for qualified workers to immigrate due to a higher standard of living and various perks. In recent years, Canada has also been going through a deficiency of qualified professionals in multiple sectors such as Business, Marketing, Medical, Engineering, and other related professionals. Obtaining a PR visa for Canada is an excellent way to pave the path to a bright future with its popular immigration schemes and programs.