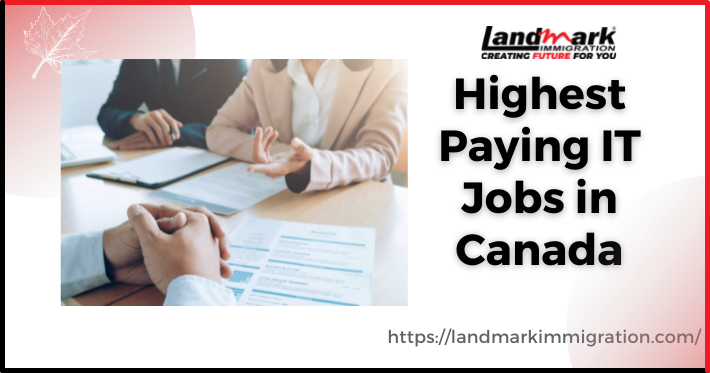 The tech industry of Canada has been a key economic driver, especially in the post-pandemic scenario. In fact, Canada's tech industry is one of the strongest across the globe. Now you must be thinking that what jobs are the Highest Paying IT Jobs in Canada.
The industry is currently gaining momentum in the fields of digital media, e-commerce, wireless infrastructure, and internet services. To keep its IT industry in top shape, the country has always been welcoming to foreign talents. According to one study, the IT industry offers an average salary of CAD 87,00 in 2021, offering some of the lucrative salary packages in Canada. This is the reason most Indians are willing to migrate to Canada as IT Professional.
Here we have rounded up the highest Paying IT Jobs in Canada: –
Software Developer:
Software developers have always been in demand in Canada. And 2021 is no exception. Employers across the nation are looking to hire more software developers for creating, integrating, and testing computer codes for data processing, communications software, software applications, etc.
As many companies want to upgrade software due to the huge spike in demand during the COVID 19 for shopping and other activities, including remote work, the demand for a software developer is on the rise.
The average software developer salary in Canada is $76,158 per year or $39.06 per hour. If you are fresher, you can earn $63,329 per year, while most experienced tech pros can make up to $105,000 per year.
IT Project Manager:
Counted among top sought-after tech specialists by the companies, the IT project manager is required to balance budgets and deadlines as well as possess solid technical IT knowledge. IT project managers can earn from $64,291 to $140,634 annually.
IT Business Analyst:
With data and analytics playing a key role during the COVID 19 uncertainty, the demand for IT business analysts is growing faster than ever. This makes it one of the highest Paying IT Jobs in Canada
An IT business analyst is supposed to solve strategic problems for IT projects. They are required to work closely with their business counterparts to figure out IT solutions in the business functional areas. As an IT business analyst, you are required to help businesses incorporate technology solutions in a cost-effective way.
As Canadian businesses rely more on technology, they are required for optimizing software and business systems.
Database Analyst:
The job of a data analyst is to inspect, transform and align data to find useful information and support decision-making. A database analyst comes into existence wherever data and its role can affect a business.
After all, data is the lifeline of every business activity, whether it is a market study, customer behavior, or financial management.
In 2021 and beyond, data and its proper analysis are important to the success of many businesses– and so database analysts are in huge demand. They develop, design, and administer data management solutions using data management software. They earn between $37,500 and $109,005 annually.
Quality Assurance Analyst:
A quality assurance analyst or software quality analyst is responsible for applying the practices of software quality assurance throughout the software development life cycle. This way, they make sure that the software is user-friendly and bug-free. By reducing the risk for their employer–a factor increasingly important during the COVID 19 pandemic–Q/A has a crucial role to play in IT departments.
In 2021, a QA analyst in Canada can make between $46,800 and $112,495 annually. This amount is one of the amounts given by the highest Paying IT Jobs in Canada.
Data Science Specialist:
Also known as a Data Scientist, a data science specialist is responsible for creating methodologies and algorithms for fetching impactful insights and benefits for a business.
Data science jobs are counted among the top 15 tech occupations that will be in high demand until 2023, according to one study.
The average salary for a data scientist in Canada is $95,000 per year. Entry-level positions start at $70,000 per year, while the most experienced workers make up to $136,500 per year.
Digital Media Specialist:
Also known as a digital marketing specialist, a digital marketing specialist aims to help their clients leverage the potential of online marketing. They generally use content marketing and digital campaigns to boost their sales as well as access new customers. They also have to collaborate with graphic designers, and web writers.
Good thing is that this career has grown rapidly in Canada over the years. It has been in high demand in all the major cities of Canada. The average salary for a digital marketer in Canada is $48330 per year.
Security Analysts and Architects:
Data security has become as important as storing data, especially in this digital era where storing information over the cloud or online platforms has become a norm. No wonder why the risk of data breaches is higher than ever.
That's why the role and demand of security analysts are have gone to a new level. Security analysts check the systems for vulnerabilities and reinforce cyber security.
A cyber security analyst can earn $78,000 per year. Entry-level positions can earn $61,696 per year, while most experienced workers can earn up to $86,395 per year.
Do you also wish to migrate to Canada and make your dream career? Don't wait so long. Take your first step now by clicking here