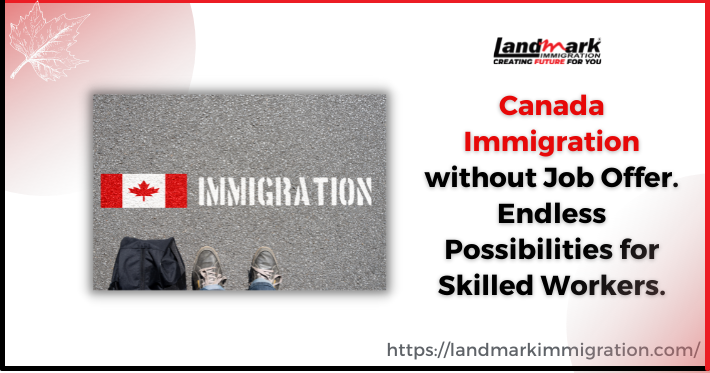 Not having a job beforehand when applying to Canada or the inability to explore a new opportunity does not mean the end of the world for new immigrants. While it is a long-term requirement for one to have a job to afford a settled and stable life in Canada, there are options available for skilled workers which give them an opportunity to migrate to Canada even when there is no job offer in hand.
LIMA – Exempt Work Permits
One of the major reasons for people's failure to find jobs in Canada is the reluctance of the employers to invest their time, money, and effort required to obtain an approved Labor Market Impact Assessment – LIMA.
While LIMA is mandatory for all applicants under TFWP, it is not mandatory for the International Mobility Program. A work permit option to be considered under the IMP is the Mobile francophone work permit.
Skilled workers with high proficiency in the French language can apply for and qualify for this work permit. Strategy combinations such as these can be implemented to qualify for a work permit and get a job in combination with the no-job immigration program. It is sure to boost your chances of quickly immigrating to Canada.
All Skilled Worker Immigration Programs Under Express Entry
All EE-streams of Provincial Nomination Programs and the three federal programs for skilled workers can be applied for using the Express Entry application system. If the applicant doesn't have a job offer, it is okay because under the Express Entry, having a Canadian job offer is not a mandatory requirement.
The chances for you to be able to get an invitation to apply in the Express Entry draw depends on your CRS score which is calculated based on key factors such as your educational qualifications, age, language proficiency, and work experience – both Canadian and foreign and other adaptability factors.
While a Canadian job offer can increase your CRS score by 50-200 points, you can also boost your score by learning a second language and improving your language proficiency scores, or by combing foreign work experience with second language proficiency.
Upon careful analysis of the CRS score grid, you can find multiple opportunities to boost your score by boosting your language skills, getting an advanced degree, or by focusing on the adaptability aspects of skilled worker immigration.
Upon getting an ITA, you can immigrate to Canada and become a permanent resident, subject to the condition that you have enough funds for settlement. This presents a great opportunity as finding a job becomes comparatively easier once you have a PR status.
This goes on to demonstrate that while immigrating to Canada without a job in hand is tough, it not practically impossible.
Intra-Company Transfer Work Permit
You don't have to necessarily find a Canadian employer to work and live in Canada. If your existing employer has plans to expand their business operations in Canada, you can get an Intra-Company Transfer work permit under the IMP program. Like other permits under IMP, this permit does not require LMIA.
Once you immigrate to Canada and work for at least one year here, you can then apply for PR solely based on your Canadian experience. This means that you just have to focus on finding the right employer with plans to expand into Canada's developed market.
As you can see, there are multiple options available for someone without a Canadian job offer who wants to immigrate to and settle in Canada. If the above options also don't work for you, you can try to become an entrepreneur as Canada has numerous PNP business immigration streams. You can also apply for the Startup visa program.
There is also the option to immigrate to Canada via the study visa program where you can pursue a degree course in a Canadian university or college. An advanced degree helps in improving your resume while the experience in Canada will allow you to develop your professional network and explore great work opportunities.
While the job-work permit-immigrate route is an exciting way to immigrate to Canada, it is not the only available option. Get in touch with Landmark Immigration so that you can better understand all the job and no-job options available for skilled worker immigration to Canada.