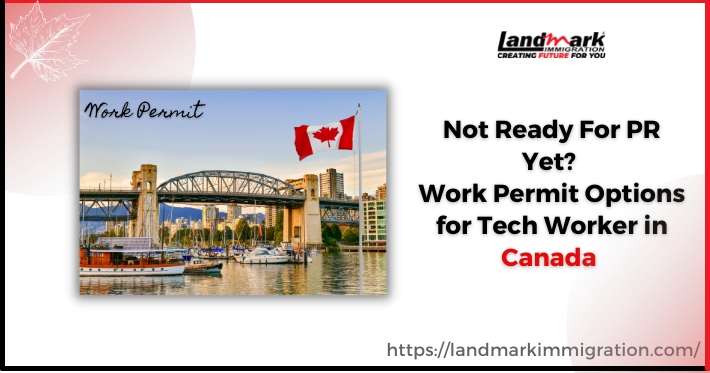 The tech sector in Canada is seeing a lot of progress and therefore requires labour for sustaining its growth. Are you apprehensive about trying to explore tech jobs in Canada as you are not willing to become a permanent resident of Canada? This is a false presumption that only those people who want a Canada PR can apply for tech jobs in Canada. There are several work permit options offered by the Canadian government for tech workers.
There are many options for those people who wish to work in Canada but do not immediately want a Canada PR. Below are all the options for a work permit in Canada for tech workers.
Global Talent Stream – -GTS
The Temporary Foreign Worker Program is the main option for those workers who are from foreign countries and are seeking a work permit in Canada. But TFWP should be your last option instead of being the first option.
The Global Talent Stream (GTS) is one of the options where specifically skilled workers are allowed to obtain a Temporary Work Permit in two weeks after applying and this should be your first option. All occupations which are included in the Global Talent Occupations List are covered in Category B of the GTS. There are 12 Occupations in this list that are related to the tech sector.
In case you fulfil all the eligibility criteria for applying under GTS your work permit can be processed as well as approved in two weeks. A mandatory LMIA approval by your employer is required for this work permit. This is a relatively easy process as the in-demand occupations for tech workers are of primary focus in this list.
GTS is one of the ideal options for tech workers who are looking for a work permit.
LMIA – Exempt IMP Work Permits
If not able to you are qualified in the GTS option you can opt for LMIA – exempt work permits under the International Mobility Program. These work permits are open and do not restrict you to any particular employer in Canada. Employers are also not required to hire any foreign employee by having a positive LMIA.
As a tech worker who is looking for work in Canada, you can choose from two IMP options.
In case there are offices of your employer in Canada and also in other countries, you can check whether you qualify for the Intra- Company Transfer work permit. If your present employer is willing to transfer you to Canada for working in the Canadian branch of the employer or begin a Canadian branch from the beginning.
Another IMP work permit that can be tried is the Mobilite Francophone. Those who are working in NOC O, A, OR B occupations can avail of this permit.
A CLB of 7 or higher proficiency in French is required for qualifying for this permit and you must also work outside Quebec. Any skilled worker who has proficiency in French can qualify as there are no other specific requirements.
TWFP
In case you are not able to qualify for any of the above-mentioned work permits then the option of standard LMIA – mandatory work permit under TFWP. Procuring an approved LMIA for a tech worker is relatively easy due to a scarcity of tech workers in Canada which is a booming tech hub.
There should not be any major problems in procuring employment in Canada. The wages paid to you must be at par or higher than the wages that are paid in the company for similar positions.
The employer will also be required to submit how you as a foreign employee will either impart your skills to Canada or become a Canadian PR. As the normal time for work permits is three years you will have to decide on a Canada PR within this period. Work permits can get extended for a further three years but it is advisable to decide on a Canada PR before the third year ends.
Get in touch with Landmark Immigration for all PR and related queries.