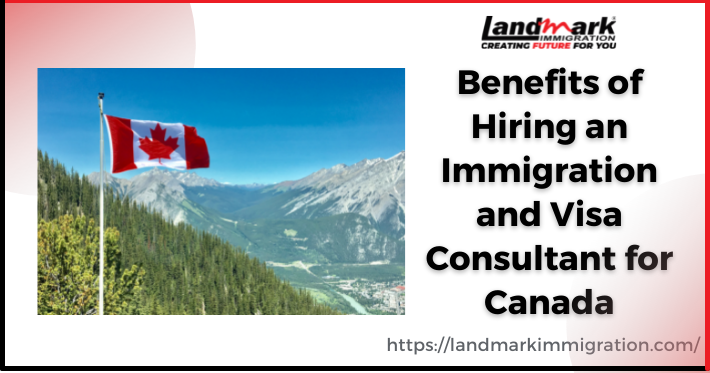 20 March 2022
Expert supervision never hurts anyone. Especially in the case of moving to a new country like Canada. It is an entirely different time zone. There are several immigration terms, rules, laws, and conditions to be followed. It could get overwhelming for anyone to take on the duties. This might result in errors and rejections. Regardless of the immigration status or reason, you must consult an immigration and visa consultant for Canada.
Take a look at these benefits-
Ensuring Expertise:
Moving to Canada is once in a lifetime opportunity. One error is enough for rejection which could put your progress at risk. Also, there are several amends made in the rules due to COVID-19.
So, the process looks a lot more different than how it used to be. Immigration consultants are updated with every change and reform related to the documentation process. You, on the other hand, regardless of your credential, are not.
Instead of relying on the so-called experts on social media. It would be best to trust experienced professionals for thoroughly vetted applications and documents.
Minimizing The Complexities:
The visa application process gets challenging with each step. With each stage passing, it gets tedious every time. There are a lot of complex procedures involved and it is impossible for a common man to get confused and fill in the wrong details.
With professional visa consultants, assessment of various credentials and documents becomes easy. A common mistake in this process is incorrect NOC code, as minute as it looks, it is a big issue in the eyes of visa authorities.
Trusting the expertise would help you understand the process well. Apart from that, it speeds up your application process and in turn, saves you precious time.
Providing Well-Prepared and Well Presented Applications:
For a successful visa and immigration process, your application needs to be well prepared and well presented. A good immigration consultant has experience and expertise in preparing visa applications professionally. This is just another reason why you should choose them.
Representing Your Case to Government Authorities for Easy Visa Process:
For a quick visa process, two-way communication between the applicant and various immigration officials is required.
If you are unfamiliar with the immigration procedure, you may have difficulty resolving your concerns by speaking with the appropriate authority. It's worth noting that hiring a consultant will relieve you of those concerns because you'll be able to navigate the government processes with ease. For instance, following up on a visa application, evaluating credentials, and responding to urgent questions.
Furthermore, even if all of your documents are correct, you may still be rejected. A knowledgeable and professional counsel will assist you in explaining your rights and dispelling common myths in such scenarios.
Paying Attention to Details:
Needless to say that your marital status, as well as your work and other specific information, have a significant impact on your visa status. You may be denied a visa if you do not accurately communicate them to the appropriate authorities on time.
Although your cousin or friend recommended you based on their immigration experience, keep in mind that he or she is not an expert. Experts have a talent for seeing little traps that could become major roadblocks in the visa process shortly. As a result, it is prudent to seek the advice of an immigration consultant.
So these are some key reasons to hire experienced immigration and visa consultants for successful immigration to Canada. If you are looking for such immigration experts for Canada, you can get in touch with Landmark Immigration.
What do you think? Let us know by commenting below!