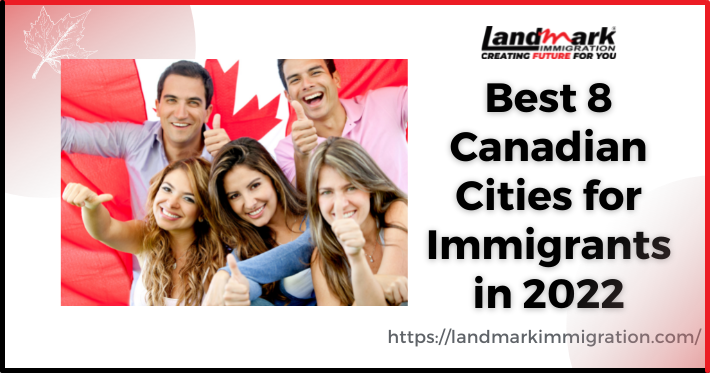 Many people dream of immigrating to Canada, and it's not hard to see why. With open and friendly cities, abundant job opportunities, and top-notch social programs, it's no wonder that so many want to make the move to Canada.
But when you're looking at cities within Canada, several factors need to be considered before you make your decision. Here are the top ten Canadian cities for immigrants based on our research.
Vancouver:
Vancouver is known for its multicultural society and the booming job market. The city is rapidly growing in population, with a surge of foreign immigration in recent years.
This has led to an increase in job opportunities and business startups across all industries—both from newcomers to Canada and from local entrepreneurs who hope to appeal to a growing number of consumers and business owners.
Additionally, there are more than 100 non-profit organizations dedicated to helping new immigrants integrate into their new communities.
With such a supportive atmosphere, it's no wonder that Vancouver tops our list of Best Canadian Cities for Immigrants.
Toronto:
Toronto is Canada's largest city and one of its best places to immigrate. With a large community of immigrants, coupled with a myriad of services dedicated to helping people integrate, settling into life in Toronto is an attractive option to live and work.
Residents have an active social scene, tons of entertainment options, and more restaurants per capita than anywhere else in North America. It also features excellent transport options—which means you don't need to own a car.
However, it can get expensive here quickly; housing prices are among the highest in Canada, and many goods are priced higher than elsewhere in the country due to high import taxes.
Still, if you want to live somewhere with lots of opportunities but also lots of other immigrants who can help you adjust, Toronto might be your best bet.
Ottawa:
If you're relocating to Canada, consider Ottawa. It has a high quality of life and affordable cost of living.
The city's crime rate is below average, and it has lots of green space and recreational facilities.
Moving to a new country can be intimidating, but Ottawa welcomes immigrants with open arms.
Ottawa has both English-language education facilities and multicultural community centers that welcome residents from all over the world; if you speak French, you might want to look at moving to Gatineau in Quebec or other parts of Quebec Province where French-language programs are offered.
Edmonton:
Although most people associate Canada with its two largest cities, Toronto and Montreal, it turns out that there are some great places to live if you're an immigrant.
One of those places in Edmonton. It has a population of just over 877,000 and is located in Alberta. The city was ranked ninth best among 100 major metropolitan areas.
Hamilton:
There's a lot to love about Hamilton. The city is home to some of Canada's best architecture, as well as educational institutions and cultural attractions.
And it's only a few hours away from Toronto, so you can take advantage of Ontario's largest city without losing that small-town vibe. And though it may be known as Steel City or Hammer, Hamilton has a reputation for being one of Canada's best cities for immigrants—which makes sense when you consider its long list of highly-rated neighborhoods, including Westdale and Lower Stoney Creek.
It also boasts dozens of parks if you enjoy spending time outdoors or hosting picnics with friends and family.
Mississauga:
Located in Southern Ontario, Mississauga is one of Canada's safest cities. Not only does it boast a low crime rate, but it's also ranked number 10 on Mercer's Quality of Living Index for 2010.
With most immigrants coming from Asia and North America, cultural diversity is a big reason why people want to move here.
Winnipeg:
Winnipeg is home to several cultural festivals, including Folklorama (featuring more than 100 cultural groups from around the world), and Carifest.
Its proximity to other major cities within driving distance (including Toronto, Montreal, and Minneapolis) makes it an appealing destination for immigrants.
The city's low cost of living means that newcomers can afford to settle here comfortably. Winnipeg has been named one of Canada's most diverse cities; however, it also ranks among one of its most affordable places to live.
Brampton:
Ontario's third-largest city, Brampton houses one of Canada's largest South Asian communities.
A high percentage of residents speak at least two languages—many residents speak Punjabi, Urdu, and Hindi—and these multicultural services and events are common throughout Brampton.
The city also offers several vocational training opportunities to help newcomers adapt to their new country and job prospects are good here: 80 percent of jobs in Brampton require no more than a high school diploma.
What do you think? Let us know by commenting below!