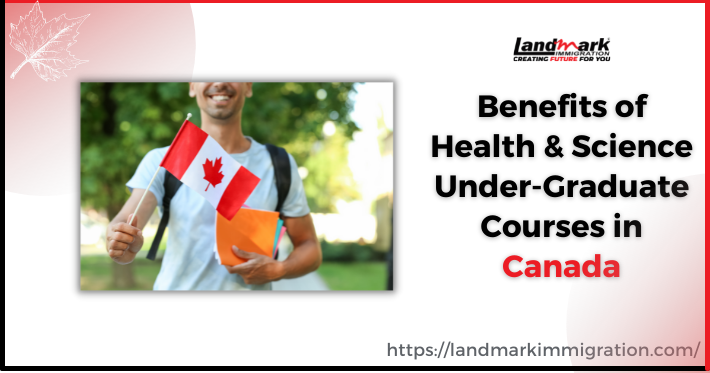 31 August 2022
Canada is one of the world's most sought-after destinations for studying health science. One major reason to study health science courses in Canada is its advanced system of healthcare and a high percentage of GDP (about 11%) allocated to the healthcare sector.
The country's healthcare system is based on advanced practices, technologies, and equipment to provide the best possible healthcare to its patients.
That's why studying health science in Canada could give good exposure to international students. Moreover, students can also expect lucrative career opportunities in the country after completing their health science degree.
What is a Health Science Course, and what's included in a Health Science Course?
Health science is a discipline involving more than one branch of health-related subjects. The purpose of this interdisciplinary subject is to prepare students to cure human illnesses/diseases by offering the right treatment and drugs.
Whether a student chooses a co-op program or a regular field of study, Health Sciences will improve their healthcare skills significantly. So, students will graduate with much-needed medical skills to handle several health conditions, including pandemics, like COVID-19.
You'll graduate with the skills to tackle global health pandemics such as COVID-19, transform public health policy, and pave the way for new medical breakthroughs.
Course highlights
Health science courses will help students to build a comprehensive foundation in various subjects, like biology, physiology, and chemistry. They will also gain a deep understanding of societal factors (economic/social factors) impacting human health. Overall, this program prepares students for medical school. They also develop their interest in specific streams, like occupational therapy, research, genetic counseling, etc.
Why choose to study health science in Canada?
Here are some notable reasons to go to Canada for a health science course:
Canada is developing super fast in terms of advanced medical infrastructure. So, students will be prepared to tackle health concerns with advanced tools and technology.
Some Canadian institutions also accept students with non-science backgrounds to learn health science courses.
One of the best Canadian facilities is its Health Care System. The students will get several career growth opportunities in healthcare.
Another reason to pick Canada for health science courses is that you get an amicable study environment, easy access to study materials, flexibility in fee structure, etc.
The top universities in Canada are world-renowned for offering top-quality education and training to students. Hence, they graduate as experienced and well-trained medical personnel.
After completing a health science course from a Canadian university, students are eligible for excellent paying jobs.
Popular health science courses to study in Canada
There is a wide range of medical courses to study in Canada. International students can opt for any desired course, from healthcare to nursing.
Here are some popular health science courses to consider:
Bachelor Of Technology In Digital Health
Bachelor Of Science, Biotechnology
Bachelor Of Medical Laboratory Science
Bachelor Of Health Science In Respiratory Therapy
Bachelor Of Science In Bio Veterinary Science
Bachelor Of Health In Biomedical Sciences
Bachelor Of Kinesiology
Bachelor Of Science In Health Information Science
Bachelor Of Human Kinetics
Bachelor Of Psychiatric Nursing
Bachelor Of Applied Health Science In Paramedic
Bachelor Of Science In Nursing
Bachelor Of Science In Human Nutritional Sciences
BA in Health and Community Service
Bachelor in Healthcare Management
Bachelor's in Health Science
Admission as per the eligibility of students for health science courses
You need to meet certain eligibility criteria if you want to pursue higher studies in health science in Canada. These criteria may differ depending on the academic institution, so it's important that you check out the website of the selected university to learn more about its admission process and eligibility requirements.
But there are some general eligibility requirements for all international students. These requirements are:
Students must have completed high school graduation or equivalent degree.
An individual needs to get a standardized score on IELTS and TOEFL test results. This criterion is to measure their proficiency in the English language.
A student must have all the necessary documents required by a university for the admission process.
Top universities in Canada for health science courses
Here are some top-reputed universities and colleges in Canada to study health science:
University of Victoria
Canadore College
George Brown College
Simon Fraser University
Carleton University
Queen's University
Cambrian College
Humber College
McMaster University
Durham College
Memorial University of Newfoundland
Career opportunities after completion of health science course
The healthcare field has vast employment opportunities for students who graduate in health science courses. The degrees obtained in Canada are recognized worldwide. So, international students have better chances of finding high-paying jobs in other countries.
If they want to pursue their career in Canada itself, they have many opportunities in this country as well. Be it government or private sector, healthcare professionals get attractive salaries.
For instance, if a candidate opts for a job in health services administration, he/she can expect $37,050 – $161,400 per annum. In the field of Epidemiology, the salary ranges from $38,175 – $136,237 per year. Likewise, other healthcare and medicare jobs also pay extremely well.
In short, you can expect your dream job and salary in the health sector after completing a health science course in Canada. For further inquires, consult the immigration experts at Landmark Immigration.