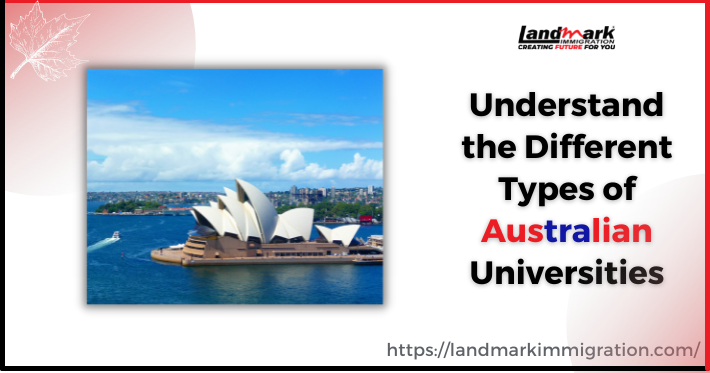 31 August 2022
Australia is a great destination to study for international students. The nation offers top-quality universities for students coming from diverse cultural backgrounds. Students can choose any major in any field to study there. Many Australian universities provide internships and work opportunities to students.
Australia is a beautiful country to live in, so going there to study could be a life-changing experience. It offers great outdoors, flora, and fauna which is enticing to visitors. One more reason to study in Australia is that it provides easy access to student visas.
The language of communication is English, which makes it easy for students to communicate with locals. The best thing is that if you are lucky enough, you get incredible work opportunities after studying in Australia.
Types of Australian Universities
There are several types of Australian universities, and some of them hold the title of being top universities in the world. Here are the different types of Australian Universities:
The 1960s-1970s Universities
These were the universities that were formed between the 1960s to 1970s to provide means for better higher education in the country.
Flinders University
Murdoch University
The University of Wollongong
Macquarie University
La Trobe University
Griffith University
The University of Newcastle
James Cook University
Deakin University
Australian Technology Network
ATN was formed in the year 1999. It is formed by a group of 5 most innovative universities in the field of technology.
Deakin University
Curtin University
University of South Australia
RMIT University
The University of Technology, Sydney
Group of Eight
It is a group of eight Australian Universities well-known for providing quality education. They have high rankings and offer great research opportunities.
Monash University
The University of New South Wales, Sydney
University of Melbourne
Australian National University
The University of Queensland
The University of Western Australia
The University of Adelaide
University of Sydney
Regional Universities
These were established in the year 2011. It is a cluster of 7 universities that aims to the growth of regional economies.
Southern Cross University
University of New England
CQ University Australia
Charles Sturt University
Federation University
University of Southern Queensland
The University of the Sunshine Coast (USC
New Generation Universities
These are some recently formed universities that provide a chance for higher education to local as well as foreign students.
Australian Catholic University
Victoria University
Canberra University
Bond University
Edith Cowan University
The University of Notre Dame
Western Sydney University
Australian university education structure: how does it work?
Higher education is classified into various categories.
Australian Universities – Every university is set up with its own legislation and offers its own courses as well as degrees. Teaching and research are both done within a range of fields.
Australian University of Specialization – It refers to the self-accrediting university that focuses on a particular field when it comes to teaching and research.
Overseas University – this refers to the university that is set under foreign jurisdiction, and it runs its branch in Australia.
Other Higher Education Providers – This contains higher education providers of HEPs which are not covered under the above-mentioned three categories.
Is university education free in Australia?
For Australian citizens, the fees range between $20,000 to $55,000 for undergraduate degree courses. For international students, Australia is one of the most expensive countries to study in. Course fees for international students can cost around $80,000 for a basic arts degree and up to $300,000 for a medicine degree. For most degrees in Australia, students have to pay the fees, so it is not free in any case.
How much does it cost for an international student?
Doctoral degree – AU$20,000 to AU$42,000
Postgraduate master's degree – AU$22,000 to AU$50,000
Undergraduate bachelor's degree – AU$20,000 to AU$45,000
These figures, though, are not eligible for courses in the medical field, which are priced significantly higher in Australia.
Affordable universities in Australia
While the cost of studying is higher, but still there are some affordable universities in Australia that international students can opt for. Here is a list of some of such universities:
University of Divinity
University of Southern Queensland
University of Queensland
University of Sunshine Coast
University of Canberra
Charles Darwin University
Southern Cross University
Australian Catholic University
Victoria University
University of New England
James Cook University
Griffith University
Western Sydney University
Charles Sturt University
Queensland University of Technology
Edith Cowan University
University of Adelaide
RMIT University
University of New Castle
Macquarie University
University of New South Wales
University of Melbourne
Monash University
Curtin University
Central Queensland University
Cost of living of international students in Australia
The cost of living varies as per lifestyle in Australia. The students must have a margin for unexpected costs like health emergencies. Apart from university fees, students need to maintain a budget for their accommodation, lodging, entertainment, and food.
As per the Australian government, the general living expenses are calculated to be $21,041 per year. As per a survey that focused on international students, the money spent was between $20,000 to $27,000 per year.
Qualification for international students for taking courses offered by universities
IELTS: overall score of 5.5, no band less than 5.0
TOEFL: overall score of 55, section scores no less than:
Listening: 9
Speaking: 16
Reading: 10
Writing: 18
PTE: overall score of 42-49, no section score less than 40
CAE: overall score of 162, no individual band less than 154
VU English – English for Academic Purposes (EAP) (Level 4)
How much is the Australian student visa fee?
It depends. International students are categorized by various sub classes and there is a varying structures defined for them. To know the fee structure for different student categories, visit the Department of Home Affairs.
For further inquires, consult the immigration experts at Landmark Immigration.