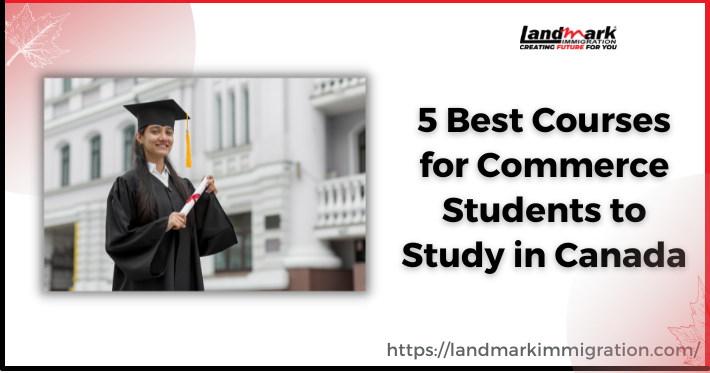 Most students want to be entrepreneurs, but the career path is not always clear. If you want to be an entrepreneur, then you need to know about commerce courses.
If you are still in high school and have opted for commerce then these courses will help you to understand the fundamentals of finance and how to start your own business, and lead in the world of banking, accounts, marketing, and so much more. You will learn about the various ways of starting a business and the various sources of funding for your business.
1. Bachelor in Commerce (B.Com)
Through this course, you will get an understanding of contemporary business practices in various industries, as well as how to address business challenges while fostering critical thinking abilities from a global perspective. Enrollment for this 4-year UG degree is carried out in the months of January, April, July, and October. The program normally costs around $20,000 and $25,000 each year. The best institutions for B.Com in Canada are-
The University of Toronto
The University of British Columbia
McMaster University
University of Alberta
University of Calgary
2. Bachelors of Business Administration (BBA)
One of the oldest and most desirable business degrees available, the business administration program provides a solid foundation in the fundamentals of business. You will gain an insight into finance and accounting, develop an understanding of marketing and human resources, learn about different business strategies and operations management and have the opportunity to study abroad.
BBA is a four-year degree that covers the fundamentals of business administration, including accounting, marketing, strategic management, and human resources. Alongside excellent interpersonal communication skills, emphasis is placed on developing proper leadership and decision-making competencies.
A BBA's yearly cost is typically between $25,000 and $30,000. A BBA graduate from among Canada's leading institutes may earn up to $80,000 per year. The best institutions for BBA in Canada are-
York University
Memorial University of Newfoundland
The University of Regina
Dalhousie University
University of Toronto
3. Bachelor of Foreign Trades (BFT)
BFT is extensively linked to international trade, which relates to the transfer and exchange of capital, commodities, and services across global boundaries. Students are given relevant information and case studies regarding the factors that influence exports, imports, and the international economy.
It is a three-to-four-year curriculum that costs roughly between $20,000 and $25,000 each year. The best institutions for studying international trade in Canada are-
Arbutus College
Discovery Community College
Canadian College
4. Bachelor of Computer Applications (BCA)
BCA introduces students to the principles of computer programming and software development. It is among the most prominent curriculum for preparing for a career in IT and will train you in everything from programming to networking. But how does this concern a commerce student?
Students need to take up math in 12th grade to pursue a BCA degree. So, if you as a commerce student inclined towards computer applications, this is your chance.  Furthermore, it is a four-year curriculum with an average cost of $20,000 to $25,000. A few well-known colleges for BCA are-
Concordia University
University of Toronto
University of Ottawa
University of Alberta.
5. Certified Financial Planner (CFP)
This is the most popular economic program and follows a competitive admissions procedure. To get the CFP accreditation, you must complete the relevant and required courses, take the CFP test, meet the ethics criteria, earn a four-year degree, and complete 6000 hours of practical experience. Even though the course usually spans 1.5 to 2 years to complete, there are various additional requirements to earn certification. Upon certification, one might expect to earn $60,000 annually. The best institutions for studying CFP in Canada are-
Conestoga College
George Brown College
Centennial College
Lambton College
As a commerce student, you have a lot of prospects in Canada. All you need to do is explore the ventures and consult only the best education and immigration experts at Landmark Immigration that will, in the end, help you choose the right course and college.