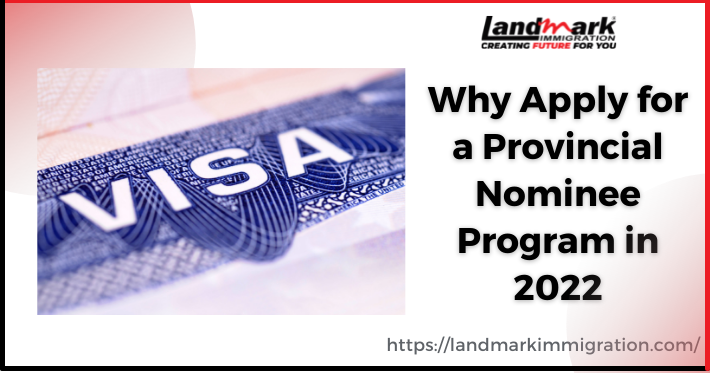 If you're looking to live and work in Canada, you may want to consider applying for one of the country's Provincial Nominee Programs (PNPs). These programs offer permanent residency in Canada to people who settle in their respective provinces.
PNPs are run at the province level, so what they offer varies from province to province, but all of them help you settle in Canada.
These programs let the different Canadian provinces select immigrants depending upon their education, skills, and work experience based on their economy and labor market needs. A person who is looking to become a PR of Canada can opt for different provincial programs as per their respective guidelines.
To help you decide whether a PNP would be the right option for you, here are six of the benefits of Provincial Nominee Programs Canada in general.
PNP SAVES TIME:
Canada's PNP programs are designed to save you time and money.
PNPs typically takes less time than other types of immigration applications, and they often have more flexible requirements.
With just one application and one fee, you can list yourself in multiple programs that match your skills. If you do get a job offer from any of these provinces or territories, each province has its own requirements around how long it takes to get work permits so that you can start working.
But no matter which PNP program applies, getting your work permit is usually much faster than going through the federal channels (the FSWP program).
You could be working in Canada within weeks of receiving an employment offer versus waiting months for permanent residence status after landing in Canada.
PNPS INCREASES CHANCES OF GETTING PERMANENT RESIDENCY:
If you are looking to get a Canadian permanent residency, applying for one of Canada's provincial nominee programs is an excellent choice.
A provincial nominee program is one of two ways you can apply for permanent residency in Canada.
With some exceptions, most PNP programs work like so: You need to be nominated by a province or territory, then complete an application with them (and sometimes Canada Immigration). But first, you need to register your interest with one of these provinces/territories. The great thing about registering is that it's free and doesn't obligate you to anything. Just know that not all PNPs require you to register first—it depends on each program.
In a nutshell, the PNP is a great opportunity for immigrants who fail to get Canadian PR through the Express Entry System.
PNP EVEN LETS YOU DO BUSINESS IN CANADA:
Some PNPs are even designed specifically with entrepreneurs in mind—meaning you can get on track to start your business sooner.
For example, British Columbia's Immigrant Investor Venture Capital program requires that investors spend at least two years of quality time in B.C., invest $800,000 into Canadian companies and create at least 10 jobs.
If you're planning on starting a business in Canada but need some help getting started or financing it through its first few years, PNP could be just what you need.
PNPS SAVE YOU MONEY:
PNPs will keep your immigration costs down. Each provincial nominee program comes with its own set of rules and specific procedures but they all follow some basic tenets: first, they all allow temporary workers who meet certain conditions to gain access to Canada quicker; second, all require that you pay a fee upfront.
So even if you don't get a job right away, there's only one government department involved in processing your application.
The application fee for a federal skilled worker is $550; however, if you have an active provincial nomination certificate in hand, that application fee drops down to $100. It may not seem like much of a difference but it can add up quickly. If you're aiming to immigrate with your family, having two sets of application fees can become costly over time.
WHAT ARE THE POPULAR PROVINCIAL NOMINEE PROGRAM OR PNP IN CANADA IN 2022?
 Each province has different guidelines for its PNP program. So make sure to read them carefully before applying.
DOCUMENTS YOU NEED TO APPLY FOR PNP
Although the documents may vary based on the province you are applying for, here are some general ones you need to show.
A declaration form from the applicant and dependents
Education certificates, identity proofs, and work experience
Valid passport, visa, and all travel-related documents
Language proficiency proof
Recent photographs
Various certificates related to health and character and the likes
HOW TO APPLY FOR PNPS IN 2022?
There are two ways to apply for PNPs in 2022. Good thing is that the process is not that complicated.
The first one is to directly apply through the PNP of the province or territories you are looking to live or work in. You can apply through the websites of these provinces. To help you, here we have provided the links of Canadian territories PNPs.
The other way is to apply through the Express Entry.  It is a highly recommended method to apply for PNP.
One of the benefits of applying through the Express Entry pool is that it increases the visibility of your profile to provinces and territories that review your profile to see if you can fulfill their labor market needs. Based on skills and experience, they send you an invitation to apply to their PNP.
Once you accept their invitation, you have to submit a completed PNP application to the province or territory. Once your application is approved, you will get a nomination certificate which will provide you with an additional 600 Comprehensive Ranking System (CRS) points under Express Entry, and ensures you an invitation to apply for PR under Express Entry.