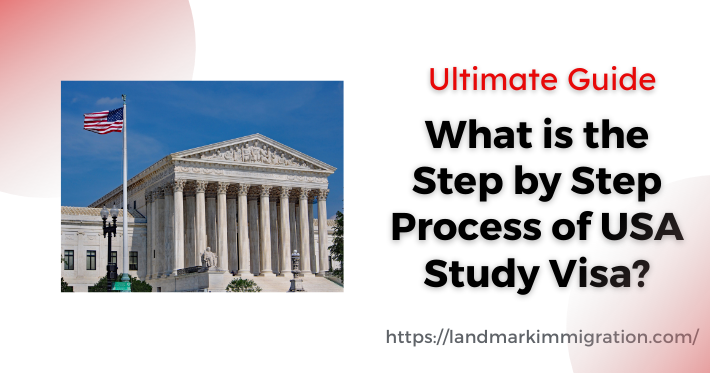 In this blog by Landmark Immigration, a licensed immigration consultant company, we are going to discuss the entire process of applying for a USA study visa, and answer the most important questions that students have while applying for the visa.
For more information watch our video.
USA STUDY VISA
It is well known that thousands of Indian students each year apply for a USA student visa but are unable to obtain them, for numerous reasons. There is a huge craze for studies in the USA, thanks to the tenure of President Barrack Obama where many international students were granted study visas.
In the last 3 months, already fifty-five thousand USA study visas have been granted to Indian students. This is possibly more than the total number of Canadian study visas granted during the same tenure.
Before the Covid-19 pandemic, 11 lakh students from all over the world went to study in the USA, as compared to 4 lakh students in Canada.
Even in the post-covid era, the United States is still the most preferred destination for international students as the US administration has a plan in place to attract even more international students, more so from India.
Indian students are in high demand at this time in countries like the USA, Canada, and the UK.
PROCESS FOR USA STUDY VISA
The process for applying for a student visa in the USA is quite simple – it is an interview-based visa and not a paper-based visa.
The interview consists of certain basic questions being asked such as your name, what program are you applying for, which university and city do you want to apply to, and so forth.
One of the most important questions asked is "who is your sponsor?" This is an important question as the USA does not require you to furnish old funds for education.
Your fees can be paid by recently acquired funds by any relative in your family. Another huge benefit of choosing the USA is that a student doesn't have to pay the tuition fees unless they have received the study visa.
In the USA, the students don't receive an offer letter. Instead, they get an I-20 document that has a service number for identification. The fees for the I-20 are $100-300, the service fee is $350, and the US embassy fees are $160.
Once you pay the fees and clear the interview, you get a stamped visa, securing your entry into the United States for your education.
Remember that there is nothing to fear about the interview process for a USA study visa. If the candidate has basic English proficiency, they can appear for the interview even though they don't have an IELTS certificate.
You should have a confident personality while appearing for the interview. Be confident in your body language, have a smile on your face that reflects positivity, speak while looking into the eyes of the interviewer, wear formal clothes that fit perfectly according to your body structure.
Getting a USA study visa is dependent on a combination of confidence and luck.
WHAT CAN CANDIDATES DO IF THEY HAVE NOT RECEIVED THEIR RESULTS OR HAVE FACED A REFUSAL FOR THE VISA FROM CANADA OR OTHER COUNTRIES?
If you have not received your result or have faced rejection from another country, you can always apply for a USA study visa as it is easier to get and the US has quite many reputed universities and colleges for education.
As we have seen above, the USA is a preferred destination for higher studies and is relatively easy to secure a seat.
If you want any consultation for securing a study visa, you can call us on 90412-90412 or send us a WhatsApp message. Alternatively, you can also send an email to info@landmarkimmigration.com.