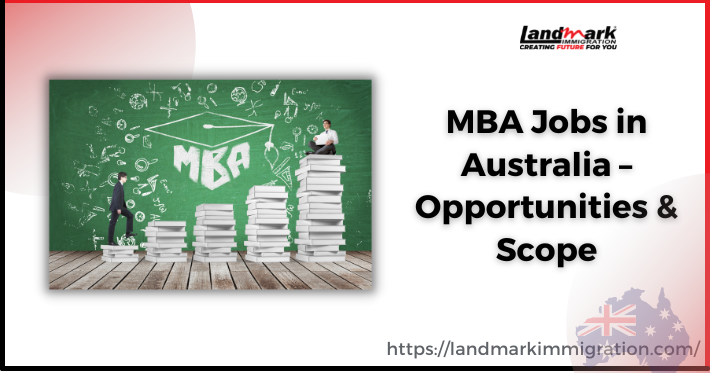 Australia is one of the most popular destinations for education among students from all over the world. This is particularly true for MBA aspirants who want to pursue different specializations. There are numerous MBA jobs in Australia after graduating.
After finishing their MBA, students can avail global exposure, employment security, and lucrative career prospects in a dynamic economy.
The job prospects in Australia once students complete their MBA are growing exponentially.
Recruiters in various industries are generally strongly prejudiced toward MBA graduates in business development, finance, marketing, accountancy, sales, human resources, operations, and supply chain.
Let us look at MBA jobs in Australia in detail:
How to maximize your chances of getting a job in Australia? 
If you are planning to work in Australia after completing your MBA, it can be a little difficult to break into the job market.
Even though getting a job after completing your education can be a little difficult, there are still some steps that you can take to make your entry as seamless as possible.
Here are some ways to maximize your chances of getting MBA jobs in Australia: 
The most preferred way to secure a job in Australia is to complete your MBA from the best and most well-known business schools. These management and business colleges are world-renowned for their placement and internship programs.
As a student, you will be able to avail these opportunities. You can quickly secure a job using the industry references in your university and even form valuable connections in your field. 
Actively focus on maximizing your expertise in your domain during your education. Most universities in Australia provide students with a lot of different opportunities to learn some practical and hands-on skills.
For example, you could participate in hackathons, student clubs, and workshops, attend industry talks and guest lectures, and get an internship in your field. The more hands-on experience you have by the end of your MBA, the more attractive you will be to recruiters. 
There is also the option for international students to start working in a multinational company in their own country.
This allows them to gain some experience, finish some projects in their own homeland, and finally, once they feel comfortable, take an internal transfer, take an international project, or apply to an Australian company and finally move. 
How can MBA graduates find a job in Australia? 
After successfully completing their MBA degrees, international students would be provided with a two-year post-study visa.
This means that if you possess good communication skills and hold some experience in your field, it is quite easy for you to get work opportunities.
International students need to obtain a work visa to get a job in Australia if they do an MBA without holding any previous work experience.
Here are some tips for MBA graduates that can help in finding a job in Australia:
Adzuna, CareerOne, CareerJet, Seek, Indeed, Workfast, Gumtree, Paddl, and SpotJobs are some of the most reliable job websites in Australia. You just need to enter your expected salary, type of job, and location and apply to the jobs that you like.
In-campus networking is a casual way of analyzing a job prospect in Australia, but it is known to work for a lot of candidates.
Networking helps graduates in meeting people who could help you in reaching out to companies that are looking for MBA graduates. College events, volunteering programs, fests, and participating in college societies are some popular ways in which MBA graduates can form networks.
It is also advisable to be in touch with your acquaintances throughout your college years. 
Apply directly to companies:
Most companies have a vacancies portal over the career section on their website. If you find a role that suits your skills, it is a great way to get an interview. Make sure that you use your updated resume when you apply. 
Career services in universities:
Most universities have industry partnerships that look for qualified students and invite them for an interview. Career services in universities are a great way to get in touch with recruiters. There are also a lot of universities that offer direct placement opportunities for students once they finish their education.
Register in a recruitment agency: 
Numerous recruitment companies offer multiple opportunities to applicants who are looking for jobs in Australia.
The candidate should consult a dependable company that helps international students, submit all appropriate details and their CV, and let the recruitment agency come back with an opening that matches their profile.
Staffing services and global recruiters use search engines where various employers post their latest job requirements frequently. These placement firms can help you in finding a job that skillfully suits your specialization, domain, and knowledge. 
Conclusion
Australian MBA graduates are considered to be top-ranked specialists and are commonly favored for high-paying employment chances.
The average salary that an MBA graduate in Australia gets is around 95,000 AUD per year. The country provides international students with some of the most highly-paid opportunities in the world.
Contact our experts at Landmark Immigration for a bright future in Australia.