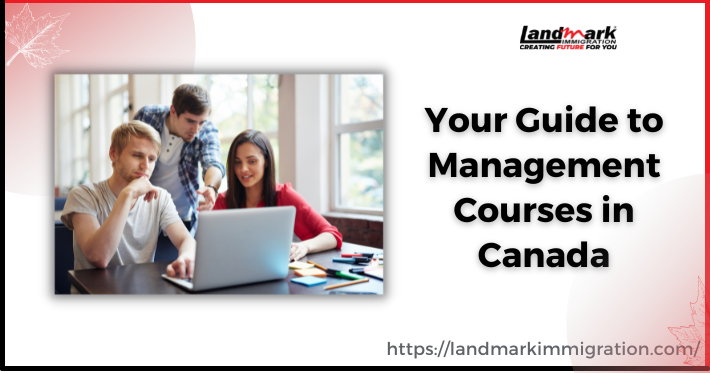 Management Courses in Canada are one of the most popular programs among students these days. For international students, Canada is one of the most popular destinations for management education.
Canada offers a lot of different management courses in the specialty of your choice. International students can significantly benefit from various case specialty opportunities and the excellent infrastructure that the country provides.
Here is a detailed guide on management courses in Canada. 
What are the advantages of studying management courses in Canada?
Here are the most sought-after advantages of studying management courses in Canada:
Study in some of the top-ranked institutes in the world:
Canada offers some of the most popular universities and colleges for management courses in the world. Most of these are ranked highly in world rankings.
This offers students a chance to avail some of the highest educational standards available globally. Canadian colleges are some of the most respected educational institutes worldwide. 
A wide variety of management courses to choose from:
Canada offers various domains and specializations in the field of management. Students can choose whichever course they like and enter the industry.
Management courses in Canada offer students the chance to specialize in a particular area and excel when they enter the job market. 
Avail attractive job opportunities:
It is no secret that the Canadian economy is among the most thriving economies in the world. After completing your management course in Canada, students will have access to a lucrative job market that highly values professionals. 
Which are the top management courses available in Canada?
Canada offers a wide variety of management courses. This offers students the chance to pursue the fields that they are most interested in and avail the best education available.
Management courses can be completed in any specialization of your choosing.
However, while choosing your specialization, you need to keep a lot of factors in mind, such as the scope of the field, what kind of work is associated with it, which are the best companies in the domain, and what is the average salary and future prospects of the specialization. 
Here are some of the best management courses available in Canada:
Construction Management
Project Management
Supply Chain Management
Human Resource Management
Business Administration Management
Hotel Management
Event Management
Healthcare Management
What is the procedure for applying for management courses in Canada? 
Here is a detailed step-by-step guide to help you apply for a management course in Canada:  
The first step is to identify the level of study that you are interested in and shortlist colleges and universities that offer you the course that you are interested in. 
Visit the official websites of the college that you are interested in and make a note of the deadlines specific to the university as well as their eligibility criteria.  
Collect all the required documents and upload their scanned copies. 
Fill out the application form for the university and pay any applicable application fees.
Once your application form gets accepted, you will receive an acceptance note from the university.
After you accept the offer letter, you are required to pay your tuition fees and confirm your seat.
Apply for a study permit visa once you have received your acceptance letter from the university.
Which documents do students require when they are applying for management courses in Canada? 
When you are submitting your application form to get admission for management studies in Canada, there are a few documents that you need to furnish.
These documents must be submitted by all international students irrespective of the course they are applying to.
Educational Transcripts, along with their original mark sheets for all the academic institutes that have been attended. 
If you have completed an undergraduate degree, a bachelor's degree certificate along with the mark sheet for all the years that you have attended school. Keep in mind that your bachelor's degree must be in a subject relevant to the domain of management. 
ACT or SAT scores if you are applying for an undergraduate course
If you are applying for a graduate course, you need to provide your GMAT or GRE test scores. 
Statement of purpose
Letters of recommendation
An updated CV or resume 
Work Experience if applicable
Proof of funds or financial resources
A Study Permit Visa
What is the cost of studying a management course in Canada?
For studying in Canada, there are a lot of factors associated with management courses. You need to keep the location of the university, tuition fees, housing, and cost of living, including basic amenities, lifestyle, and level of education, in mind.
Your tuition fees for management programs in Canada and the living costs will largely be based on these factors. If you are concerned about the costs of studying management courses in Canada, you can always apply for scholarships.
Scholarships in Canada are provided by both the colleges and universities and the provincial government where the university is located. These can be either need-based or merit-based.
There are also a number of programs that provide financial aid need-based entry to make education in Canada severable for international students. 
What is the average salary of a student after completing management courses in Canada?
The average salary that an international student can get after completing management courses in Canada is somewhere between 64,402 CAD and 242,300 CAD per year.
Average salaries largely depend on the field and specialization that a student selects.
For example, the average salary for a project manager is between 45,000 CAD and 75,000 CAD, while that for a supply chain manager could be as high as 80,161 CAD per year.
Conclusion
Canada is an excellent country to study management for international students. Not only does it offer world-renowned education and lucrative job opportunities, but the government is also quite liberal with its visa policies.
Canada is one of the friendliest countries for international students, which contributes significantly to the quality of living students can enjoy here.
Large cities in Canada, such as Montreal, Vancouver, and Toronto, are known to welcome hundreds of management students each year.