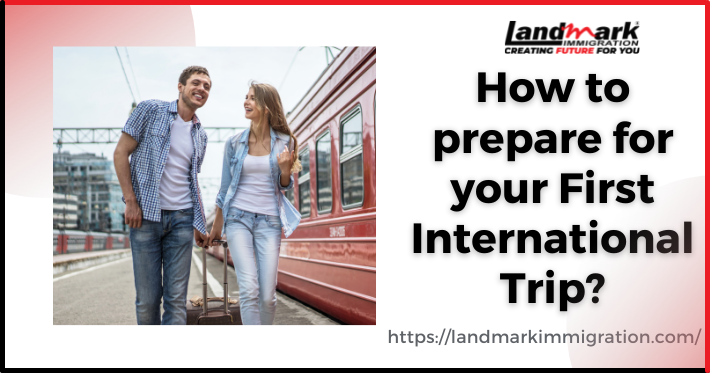 Finally, the time has come. You are all set for your first journey abroad. Whether you are going abroad for study, travel, or other purposes, the experience of a first international trip is always unique and unparalleled.
But it cannot be denied that going abroad for the first time can be overwhelming and scary. No matter how much you have explored your home nation traveling across the border is always unique.
Going somewhere totally new, exotic, and foreign is both exciting and stressful.
Unfamiliar environments, language barriers, culture shocks, and unexpected situations can increase stress levels as soon as you enter a foreign nation. But the root cause of all stress can be your documentation and passport if they are not done right or delivered timely.
That's why it is downright essential to take care of certain things to ensure a memorable and hassle-free international trip.
Here's how…
First of All, Get Your Passport in Advance:
The most crucial step for any first-time international traveler?
Avoid stress by opting for a passport well before your expected departure. Avoid booking a flight or making any arrangements that cannot be modified unless you have got your passport.
Some international flights mandate it to enter your passport number while booking or during online check-in, so make sure to just apply for your passport well in advance.
Once you get your passport, create paper and digital copies of the identification page. Give one to your friend or parents and keep another in a wallet. You can also take a photo on your phone and store a digital copy on your Google Docs or other virtual storage. Also, take a picture of your visa stamp.
If you are going abroad for study, make sure to obtain your university offer letter and other required documents.
Apply for a Visa:
There are many nations for which an Indian citizen doesn't need a visa to enter. And many others require an Indian citizen to have a visa. Good thing is that you can apply for a visa online from HERE.
Research the Destination:
Needless to say that it will be a totally new place. So it does make sense to research and study your destination before arrival. From the weather to the accommodation, from the attractions to the experiences, from the sightseeing to the transportation, from the safety to the laws, and from the locals to the culture, make sure you research your trip well. It will help you get familiar with that unique place.
Book in Advance:
This is the biggest concern for a first-time traveler, how far in advance for your trip?
Choosing the right season can make a big difference as the costly hotel and flights are not the only alternatives.
If you are traveling abroad, booking your flights and hotels in advance can lead to a big saving.
The lowest air flights are available 4 months in advance. Most people are not aware of the booking for cruises, concert tickets, event passes rail passes and car hires. Considering these things can also help you save a lot and avoid last-minute hassle as well.
Get Your Travel Insurance and Vaccination:
Make sure to have travel insurance as you never know when you can have disease while on holiday. Travel insurance will cover your medical expenses in a foreign country. One more thing—get your COVID vaccines and keep the certificates of the same on your phone. You can also buy flight insurance in case your flight is canceled or delayed so that you don't have to bear the loss.
Take Care of Money:
First of all, check if your existing credit or debit cards are accepted in the country you are visiting. If not, ask your bank to provide an international card that can be accepted at your destination. Secondly, keep some cash handy so that you can exchange it at the airport.
Get Familiar with the Luggage and Packing Guidelines:
Each airline might have its own rules when it comes to luggage and packing. Carrying additional weight than their recommended weight limit can cost you. Therefore, consider which things are important and pack them first.
Rest Enough to Get Over Jet Lag:
Jet lag is the last thing to worry about. Here is a sage piece of advice: take a rest for at least a day or two, to overcome the price tag of traveling abroad: jet lag.
Getting over a long-haul flight is stressful enough—but when you add on a time change you are likely to be a bit jet-lagged. It can take up to a week to make your body adjusts to the time zone of that country. So, if you are flying from Delhi to NYC, it would take several days to adjust to the new time zone.
Make sure to take plenty of rest before your trip and slightly make some changes in your schedule—try to stay up an hour or two later—to make your body prepped. Also, bring some changes to your mealtime. Drink a lot of water before, during, and after the flight. 
Once you land, avoid taking naps, even when your body needs them urgently. Distract your body by taking a short stroll around the area. A cup of coffee can help.
So these are some tips that can help you make your international trip smooth, hassle-free, and memorable.
Happy journey!