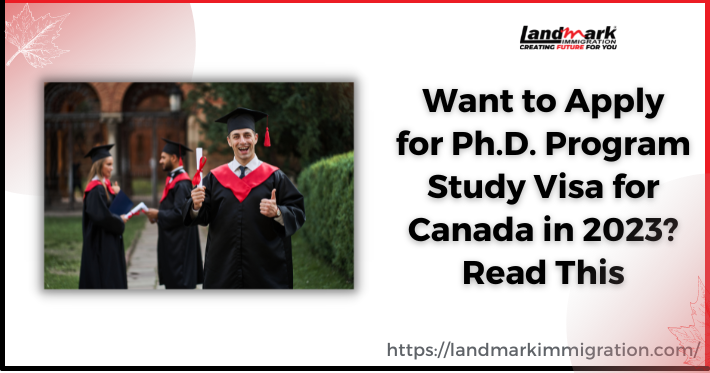 As Canada continues to progress in becoming a global leader in innovation, many aspiring scientists and engineers are looking to move to the country to continue their research.
However, applying for a Ph.D. study visa can be difficult and time-consuming.
To help ease the process, here are some tips to help you apply:
Basic requirements for applying for a Ph.D. study visa in Canada
If you are considering pursuing a Ph.D. degree, Canada is one of the most appealing study destinations in the world. A large number of research opportunities are available in the country.
In fact, research in Canada contributes billions of dollars to the economy. You must hold a master's degree in a relevant field in order to apply to a Ph.D. program in Canada.
You will also need to demonstrate language proficiency, either in English or French, depending on the program type.
Your application will also require a DS-160 form, which is available from the Canadian Embassy or Consulate in your country.
Along with the form, a bank statement or scholarship confirmation letter will be required.
In addition, you must submit letters of recommendation from academics.
Finally, some Canadian universities require official transcripts and degree certificates. Some also require admission interviews.
A medical examination is also required for the study permit application process. Applicants who plan to study for more than six months must pass the Immigration Medical Exam (IME) performed by a panel of physicians.
The IME is a comprehensive examination and includes an eye exam and medical history.
The exam results are valid for 12 months. Applicants are also required to pay the costs associated with the IME.
Documents required
Before you begin the application process, you must have the documents listed below.
A valid passport and two recent color photographs are required.
The passport photos must be at least six months old. They should have a neutral expression and a plain background. You can also attach a digital copy.
You must apply for a study permit at least four to six months before the start of your course.
The application will take about 35 days to process. You must submit CAD 150 as an application fee. There is also a visa interview fee of Rs. 8770.
An interview will be scheduled after you have paid the fees. You will then be issued a study permit for the duration of your course plus three months.
If you're planning to go to Canada to pursue your Ph.D. studies, you'll need to present some documentation.
The application will require your last six months' bank statement. You'll also need to submit a biometric photo and fingerprints. You'll need to pay $85.00 for biometrics, so you'll have to be prepared to cover the cost.
Scholarships available
There are scholarships available if you want to study for a Ph.D. in Canada.
These scholarships are fully funded and cover your expenses while studying in Canada.
This includes tuition fees, a stipend, health insurance, and meal expenses. These are great opportunities, and the good news is that they will continue to be available until 2023.
Interested students should contact their university's or institution's financial aid office to apply for one of these scholarships.
Once you have all of your documents, you will be able to submit your application for consideration.
The Canadian government, provinces, and private foundations often award these scholarships.
Canada is a progressive country that supports international students, offering many fully funded scholarships. Additionally, some scholarships do not require IELTS.
Graduate and undergraduate programs are eligible for scholarships.
Conclusion
In conclusion, if you are interested in pursuing a Ph.D. study visa in Canada shortly, it is essential to be prepared to provide acceptable academic credentials and demonstrate your potential to contribute to the country's research community.
Remember that visas are not given lightly, so consider your applications carefully before submitting them.
If you have any questions or would like assistance, please do not hesitate to reach Landmark Immigration.