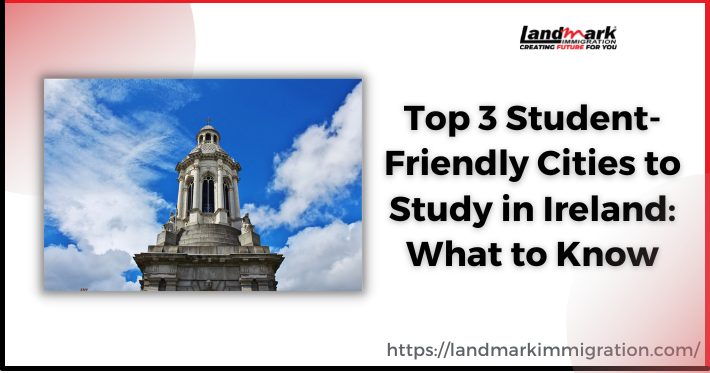 Ireland is the second-largest island country in Europe. It has unique terrain throughout the entire nation, and you may explore its lovely coastline regions, take in the splendour of its castles, and go to its well-known location for filming hit movies like Harry Potter, Braveheart, and Game of Thrones.
The desire of many overseas students is to study in Ireland. Irish people cherish culture and tradition, and they also honour the nation's rural history.
Here are some facts that students who travel to Ireland for higher education should be aware of. Read on to get your facts checked before you move to Ireland:
Top 3 Student-Friendly Cities of Ireland:
1. Dublin
Dublin, the capital of the country is the gateway to heaven for students, filled with prestigious colleges around the globe. It sure does tickle the nerdy bone of every student. Even though the living expenses of the city are on the higher end, it is worth every penny.
One of the most populous cities in Ireland is this one. In the QS World University Ranking, universities like Trinity College Dublin, The University of Dublin, and University College Dublin all call this city home. International students make up over a quarter of Dublin's university enrollment. Dublin is well known for its multiculturalism and variety as a result.
Work options in Dublin are one of the reasons it's a terrific place to study in. You can submit an application for the Third Level Graduate Scheme if you are an international student from a non-European nation.
Following graduation for a maximum of two years with this visa, international students may work legally in Ireland.
Students who qualify for this visa are able to apply for jobs with some of the top international corporations with local offices. Thus, Dublin holds the top name on our list. Also, the scenic beauty and the historic Georgian architecture definitely are an attraction for the students.
2. Cork
With stretches of shoreline, a soft green landscape, and a penchant for giving both people and businesses the warmest of welcomes, Cork is a hidden gem in southwest Ireland, nestled gloriously next to the River Lee.
Cork Can is at the core of everything that Cork does and is, having just undergone a rebranding to become the city with a "can do" attitude. Visitors to this ambitious, regenerated, yet historic, Irish region will find that Cork has a lot to offer.
In regards to education, careers, and quality of life, Cork is making its mark on the world thanks to a combination of a laid-back way of life and a thriving entrepreneurial spirit.
3. Galway
Finding a place that is secure, intriguing, attractive and economical is crucial when deciding where to study abroad, but it can be rather difficult. Ireland's largest city, Galway, is among the safest in the world. Galway has long been regarded as the West of Ireland's largest city for students.
Nearly 100,000 people live in Galway City and the adjacent commuter towns, with a whopping 25,000 of them being active students. This indicates that there are numerous young people out on the streets year-round. It also serves as a centre for the worldwide medical technology market.
Eight of the top ten medical technology companies in the world have their headquarters here, and Galway-designed and -produced medical equipment is saving lives all over the world.
There are 300 scientists and researchers working in fields like regenerative medicine, stem cell research, and cancer biology. The city's ambience is enhanced by the students, who provide life to the city's cobblestone streets and a sense of learning.
Conclusion
Let's face it, moving to a school in a new location might be stressful, but doing so abroad is a completely different experience. Even counting them would be impossible. But it's well worth it.
Ireland in particular is a great country to study abroad for a variety of factors, such as the high standards of instruction and education, the professional options, and the pleasurable lifestyle.