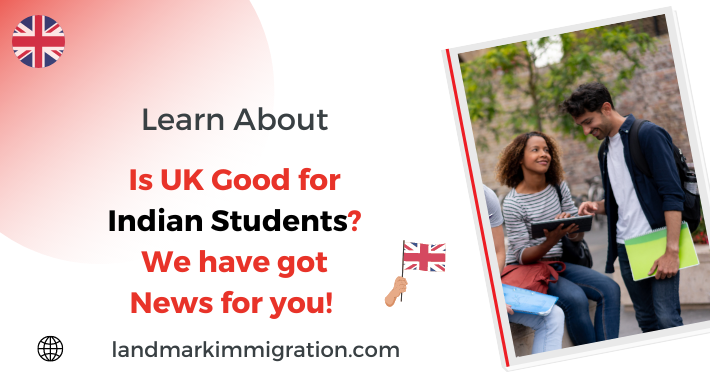 In this blog, we will explore the most commonly asked question among Indians— Is UK Good for Indian Students?
Choosing the right place to further your education is a decision that can greatly impact your future. If studying abroad is on your radar, look no further than the United Kingdom.
Boasting esteemed universities, top-notch education, cultural diversity, and abundant opportunities, the UK provides international students with a distinctive and fulfilling experience.
Studying in the UK is an enriching experience where you can explore a new culture, visit historical landmarks, learn customs, and engage in the community. It presents a rare opportunity to broaden your horizons and become a well-rounded global citizen.
Why should you consider the United Kingdom?
1. World-Class Education:
The UK's education system is globally renowned, boasting some of the best universities in the world. Institutions like Oxford, Cambridge, and Imperial College London consistently rank at the top.
With strong international recognition, earning a degree from a British university can provide a significant advantage in your future career.
2. Wide Range of Courses:
Whether you're interested in humanities, sciences, engineering, business, or the arts, the UK offers a vast array of courses to choose from. Explore a wide range of undergraduate and postgraduate programs that match your academic and career aspirations, with over 50,000 options available.
Customize your education to match your interests, guaranteeing a rewarding and immersive learning journey.
The breadth of courses is a significant advantage, as UK universities offer undergraduate and postgraduate courses across various disciplines, from history to science, law, and business. With this variety, you can choose subjects tailored to your interests and career aspirations.
3. Cultural Diversity:
So is UK good for Indian students? a diverse and multicultural environment awaits you. With students from all over the globe, you'll have the opportunity to build friendships and networks with people from diverse backgrounds.
This cultural exchange will broaden your horizons, increase your global awareness, and develop your intercultural communication skills – a valuable asset in today's interconnected world.
Studying in the UK offers diverse benefits, including a multicultural student body that creates a lively cultural environment. You can meet people from around the globe, learn about their cultures, and forge lifelong friendships.
4. Supportive Learning Environment:
UK universities offer excellent support systems for international students. Their faculty members are accessible, and supportive, and promote critical thinking.
With small class sizes, you can engage in interactive discussions to enhance your understanding of the subject matter. Additional resources, such as writing centers and libraries, ensure that you have the necessary support to excel in your studies.
A personalized and supportive learning environment is another distinguishing feature in the UK, where universities provide academic resources, career advice, and internship guidance to ensure student success and stay ahead in the job market.
5. Research Opportunities:
The UK is a hub for groundbreaking research, with universities actively promoting research collaboration and innovation.
As a student, you have the opportunity to actively engage in research projects, acquiring practical skills and knowledge that can unlock doors to various academic or industry opportunities. These research experiences will significantly enhance your CV and set you apart in your future career.
6. Professional Development:
UK universities prioritize preparing students for the professional world by offering comprehensive career support, such as internships, work placements, and networking events.
You'll have access to industry experts, internships with leading companies, and the chance to build a strong professional network, increasing your employability upon graduation.
7. Historical and Cultural Richness:
The UK offers a rich history and vibrant cultural scene, with iconic landmarks like Stonehenge and world-class museums and galleries. It provides ample opportunities for exploration and immersion in its diverse offerings.
Studying in the UK allows you to embrace this cultural heritage firsthand, making learning extend beyond the classroom walls.
Conclusion:
Studying in the UK is an extraordinary experience that provides you with growth, excellence, and diversity. Is UK good for Indian students? From a world-class education system and vast course offerings to a supportive learning environment and career development opportunities, every aspect of studying in the UK contributes to a truly transformative journey.
So, take the leap, broaden your horizons, and unlock a world of opportunities by choosing the UK as your study destination.