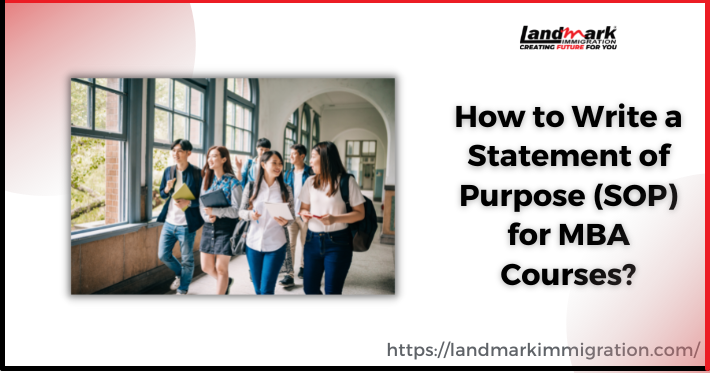 Most international students are expected to write a statement of purpose, commonly called an SOP, as part of their MBA application. When you apply for an MBA, it is obvious that you will hold a strong academic background and professional experience. You can think of your SOP as a way to explain to the admissions committee how your experience and education are useful for your future education.
An SOP for your MBA application is a shot at persuading the business school admissions committee that you are definitely forward-looking to joining their course and holding the needed business acuity to be an esteemed student at their university. Your MBA SOP needs to accentuate your strengths and provide a reasonable explanation for any weaknesses. Let us look at how you should write your SOP.
How should you write an SOP for your MBA application?
Introduction
Give a general introduction that focuses on relevant information, such as why you want to do an MBA, why you want to join this particular university, the program that you are interested in, and your educational background.
Educational background
This section helps you in explaining your academic background in better detail. Make sure that you mention how your education has helped you prepare for a particular MBA program that you are applying to.
Professional background
In this section, you should focus on any recognition that you have achieved as a professional. Focus on promotions, the soft skills that you have developed, team-oriented tasks that you have successfully completed, versatility, and any volunteer work that you have done in the past.
Goals
This section focuses on your short and long-term goals. You need to focus on maintaining a logical link with your educational background, interests, things learned during your bachelor's, work experience, and the plans you have for the future. Your main focus should be showcasing how you will be able to realize your vision with the course you are applying to.
Language scores
Mention your overall and individual scores in this section.
Proof of funds
Mention your financial details in this section, such as how you plan to fund your education, the available funds, and your tuition fees. You will have to add some specific details here as per the guidelines of the university you are applying to.
Conclusion
Add a summary in your MBA SOP that is written in a conclusive note and is able to tie your entire SOP together. You can end with a note on how you would be an excellent fit for the college.
Some tips for writing your SOP for MBA
Here are some tips when writing your SOP for MBA.
Be genuine and unique. Your SOP should project a wholesome and positive personality without any bragging or exaggerations on your end.
Write an impactful opening paragraph.
Use easy-to-understand and simple language.
Be cautious with your spelling, punctuation, and grammar.
Maintain a consistent tone throughout the SOP.
Keep specific guidelines such as word count in mind.
Make sure that your paragraphs are well-connected.
Get your SOP for MBA checked by other people to see what they think.
The more influential your SOP is for your MBA application, the better impression you will be able to make with the admissions committee that reviews it. SOP is an excellent opportunity to make your application stand out.
A rule of thumb that you should always follow is to be yourself and avoid writing your SOP in flamboyant language. You should focus on convincing the admissions committee about how you will be a great asset to their university if selected.