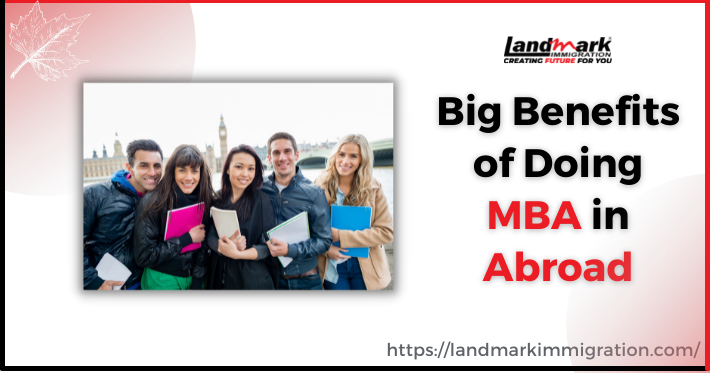 If you're currently trying to decide whether or not it makes sense to go abroad to get your MBA, then you're likely weighing several key factors in your decision-making process.
From the financial investment and added school debt to the time commitment, the idea of doing an MBA abroad might seem daunting and impractical, especially if you don't have the full support of your family and friends.
However, there are many reasons why you should strongly consider doing an MBA abroad, including these five benefits that will help ensure your success in the long run.
An Opportunity to Learn from Top MBA School
The world's top business schools are located in the United States, Europe, and Asia. These schools have high levels of success with their students, and some have been around for decades. The most prestigious MBA programs are located in the US such as Stanford Graduate School of Business, Harvard Business School, , and Columbia University's Graduate School of Business.
Other top MBA programs can be found in Europe and Asia. These include London Business School (LBS), Insead (France), Copenhagen Business School (Denmark), IESE (Spain), and IE Business School (Spain).
Higher Earning Potential
One of the main reasons people decide to pursue an MBA is because they hope to increase their earning potential. And if you want to maximize your earnings, getting your degree from a top-ranked international business school is the way to go.
According to a recent study, MBA graduates from foreign business schools earn 20% more than their counterparts from U.S. schools. Furthermore, 75% of these MBAs reported that doing so has given them more opportunities for promotion and growth.
In addition to higher paychecks, doing an MBA abroad will also give you access to new career paths. The global marketplace has made it much easier for Americans with graduate degrees to find work overseas and many employers are now hiring those with cross-cultural experience who can help them adapt their product or service offerings for international markets.
Moreover, to qualify for one of these high-paying jobs abroad, it's important that students not only speak English fluently but also have a working knowledge of the country's language and culture – something that can be achieved through studying abroad at any time during your undergraduate or graduate years!
Solid International Resume
One of the benefits of doing your MBA abroad is that you will have a solid international resume. This can help you stand out from the competition when applying for jobs, especially if you are looking to work internationally.
Additionally, having an MBA from a top school abroad can give you an edge over other candidates who may only have experience working in one country. When it comes to globalization and competing on the global stage, it's important to be well-versed in international affairs and strategies.
Different Work Experience in New Country
One of the benefits of doing an MBA abroad is that you'll gain different work experience in a new country. This can help you develop new skills and knowledge, which can be beneficial in your career.
Additionally, working abroad can help you build your network and make connections in different industries. You may also have access to unique international opportunities or resources that would not be available if you stayed in your home country.
Learn Multiple Cultures
One of the best things about studying abroad is that you get to learn about multiple cultures. Not only will you learn about the culture of your host country, but you'll also get to interact with students from all over the world. This is a great way to broaden your perspective and learn about different cultures.
Learn How to Organize the Things
When you study abroad, you'll be responsible for managing your own time and resources. This can be a challenge at first, but it's also an incredibly valuable skill to have. Learning how to study independently will prepare you for success in any field.
Expanding Your Network
By studying MBA abroad, you can expand your network of contacts and meet people from around the world who will help you in your future career.
Students who have studied abroad have had the opportunity to not only learn about other cultures but also to expand their network of contacts.
This can be done through internships, networking events, or even just by meeting people from other countries. The benefits of studying abroad are usually higher than the costs, and even if you don't study in a country that speaks your native language, it will still be an incredible experience.
Personal Development
Sure, you might find it difficult to adjust to the new culture and language. There might not be someone who speaks your native language or understands your culture back home. It can be hard to make friends in a foreign country because you don't know anyone in the area and it can be lonely without your family around. This can lead you to feel homesick or even depressed if you don't have anyone around who understands what you're going through.
And these hardships allow you to learn and grow as a person. It is a chance to explore new cultures, languages, food, and people. You will find that you are more open-minded than ever before. You are likely to be a new, improved version of yourself when you return home.
And, last but not least, an MBA abroad can be a great way to broaden your horizons and expand your mind!
(Key Takeaways:
Studying MBA abroad is a great opportunity to get international experience and make a global network.
There are globally recognized MBA schools abroad. This can help open doors when it comes time to look for a job.
It can also be a great way to network with other professionals in your field.
An MBA abroad can help you stand out from the competition when you return home and enter the job market.
It can also allow you to learn about new cultures and ways of doing business.)
Some Considerations to Make While Planning to Study MBA Abroad:
Studying MBA abroad is a great way to broaden your horizons, but it also comes with some risks. Here are some things to consider before you leap.
The first thing you'll need to decide is which country you want to study in. There are many great schools in Europe, and if you're looking for a more affordable option, then Asia or Latin America might be better for you.
Many factors will influence your choice of university and city such as the availability of scholarships and whether the school is accredited in your home country. You must do your research on this before committing to anything!
Best of luck!