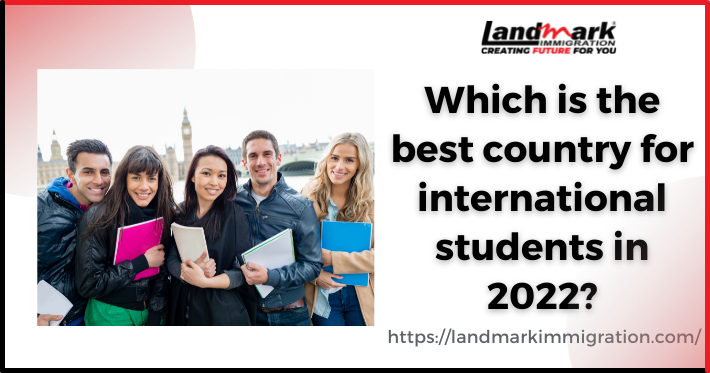 28 February 2022
International education used to be reserved for the privileged ones who could afford luxuries. Today, it is a thing of the past, and accessibility to international campuses is very different. In this day and age, with affordable tuition fees, stipends, scholarships, and student-friendly campuses; things have taken a positive turn for students from all walks of life to opt for education overseas.
Education ministries all over the world have changed the entire paradigm of International education; in a bid to become the best country for international students. Today, the most sought-after education institutions in developed countries offer several options for Indian students.
In this blog, we list the criteria based on which you choose the best country to study abroad. Take a look.
Part-Time Jobs
For students studying abroad, part-time jobs become a good source to fund the extra expenses. Some even help in developing soft skills.
Full-Time Salaries
Although the salaries vary depending on your credentials, profile, and experience, the following are the scope of the average range of full-time salaries.
Full-time salaries in Canada range from CAD 60,000 to CAD 90,000
Full-time salaries in the USA range from USD 60,000 to USD 90,000
Full-time salaries in the UK range from GBP 50,000 to GBP 75,000
Full-time salaries in Australia range from AUD 60,000 to AUD 80,000
The USA offers a 3-year work opportunity after your course completion.  For H-1B Visas, most students, go for STEM courses. This eventually works in their favor for the hassle-free Green Card application process.
If you are opting for Non-STEM courses like MBA, then Australia, the UK, and Canada are better destinations for you. The permanent residency process will be far easier for you in these countries.
The best work environment flexibility is offered by Australia and Canada. Regardless of your field, you have the liberty to pick your industry. On the other hand, USA and UK only offer job opportunities related to your degree or course.
Scope of Permanent Residency or Citizenship
Australia- You will earn the right to work after your studies. However, the span ranges from 1.5 to 4 years. PR can be achieved based on a point-based system. Following five to seven years, Australian citizenship can be gained.
Canada- As mentioned before, you can work for any industry on completion of your degree. This would be counted under the post-graduate work permit. As soon as you complete one year as a full-time employee, you can apply and achieve permanent residency. It is that quick.
USA- It all depends on the type of job you are doing. Although you can work for three years in the country on completion of your degree, the citizenship process could take time. Indians, particularly, have to wait ten to twenty years for US citizenship.
UK- There are a set of rules here. Firstly, your job should be a valid one; related to your course of study. Secondly, you must earn a minimum salary of GBP 20,800. You will be assessed based on residency requirement (6-9 years) following which, you will be eligible for UK citizenship.
In essence, it is you, in the end, who have to look at all perspectives to conclude. The best country for international students depends on their aims and course(s). Australia and Canada seem like the safest bets when it comes to citizenship and PR.  However, excellent work opportunities for a great portfolio in, UK and USA seem splendid.
Worried about where to go? Connect with our immigration experts at Landmark Immigration for the best study counseling session.