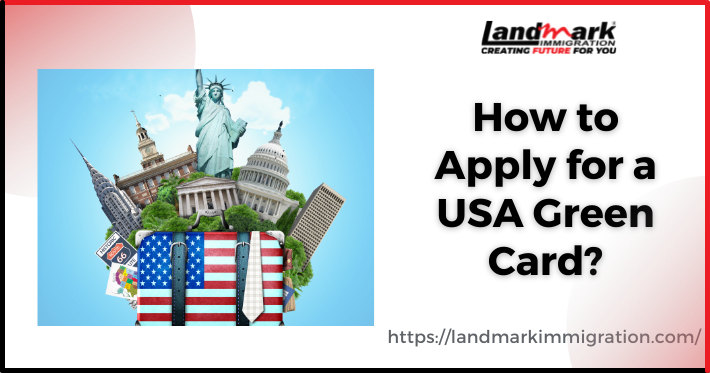 The USA, time and again, has proven to be among the first countries to immigrate to. And rightly so, it is the country with a million opportunities, as long as you are willing to seize and work for it. Right from studies to work and settling down, the USA attracts many people from all corners of the world.
More than half of them drop the plans of USA immigration, thinking it is not even remotely possible. Yes, there might be lacs of foreign nationals in the line to be a permanent resident of the US but that does not mean you might never make it. The key is to stay determined, complete all the formalities, and stay patient. After all, you are going to become a Legal permanent resident.
When it comes to US permanent residency, the first thing you must understand is everything about US Green Card application. Take a look.
What is a USA Green Card?
The Green Card is the legal document that permits you to move and settle in the United States of America permanently. Once you are a Green Cardholder, you are officially allowed to move to any state in the country. You are eligible to work, marry, and start a family and there are no restrictions. You are just as much worthy (if not ordained) as a US citizen.
You can travel outside of the US as well as long you return to the country within one year. If you exceed your stay any longer than one year, your Green Card will expire. You will have to undergo the application process again.
What are the Types of Green Cards for the USA?
Family-sponsored Green Cards
If you have a close family member (sibling, parent, spouse, child) living in the US; you are eligible for this type of Green Card. This is applicable if the family member is a US permanent resident or citizen.
Employment Sponsored Green Cards
This Green Card is granted when you have been offered a job from the US while you are in your home country. This is where your employer sponsors you to live in the US. S/he will make all the arrangements related to forms and application procedures.
Returning Resident Green Card
Green Card restricts you from staying outside the US for more than a year. If you overstay your visit to another country and did not return for any reason, you will have to apply for this visa. Although you will have to prove to the authorities that your reason to not return was beyond your control.
Diversity Visa Green Card
This visa is based on a lottery conducted by the US itself; especially for countries with very high immigration rejection rates to the US. You can get a USA Green Card if you win a diversity visa through the lottery
How do You Qualify for a USA Green Card?
You must be a foreign national. You must apply for a Green Card from your home country. If you have been working or studying in the US then the terms and conditions vary.
For the ones in the US, a dual intent visa must be applied. Although it is temporary, it permits you to apply for a Green Card within a specific period. H-1B is an excellent example of a dual intent visa.
For those who wish to apply for Family-sponsored Green Cards, your parent (biological or adoptive), sibling, child, fiancé or spouse must be living in the US.

They should be either a US permanent resident or a citizen. Most importantly, they should be able to financially support you until you can provide for yourself.
That family member should be an adult. S/he should be at least 21 years old.
They must have a valid US address.

Those who wish to apply for employment sponsored Green Card should have a valid job offer, to begin with.

There should be legal proof of the job offer. It must include the signed offer letter and contract from your employer.
It should state the date of employment/ joining after you get your Green Card. Verbal agreements will NOT be accepted.
Even the employer must be in a position to financially support you. The company should be able to pay your salary. They will have to present their financial statements to sponsor you.
Your former visits to the US will be evaluated. This includes your civil behavior and the span of your stay in the country. Overstays will lead to rejection.
Zero criminal histories are another factor that is taken into consideration.
How to Apply for a USA Green Card?
Depending on the above information, you must review and decide which visa suits you the best. Still, the standard Green Card application process goes as follows-
Based on your visa, your sponsor (family member or employer) must begin the petition. This would be done on your behalf.
the employment-based petition is Form I-140.
the family-sponsored petition is Form I-130.
The Green Card fee must be paid and the petition must be filed with Immigration Services (USCIS) and US Citizenship.
On receiving the petition, USCIS will carefully inspect and assess it. The panel decides whether or not you qualify. Only on the approval of the petition, the National Visa Center (NVC) will send you a package. This package will have the relevant information, supporting documents, instructions, and forms for the application.
After following and fulfilling the necessary deeds and payments, you must apply for the visa at a US embassy in your home(residence) country. You will also have your visa interview at this point.
Once your visa is approved, the US Embassy hands you an arrival package. Remember NOT to open the arrival package. You are only supposed to carry it with you when you travel to the US. Only an immigration officer has the authority to open it after your arrival to the country. Eventually, s/he will decide whether you are eligible to enter the US or not.
Once approved, you must file an Application to Register Permanent Residency or Adjust Status to USCIS. Form I-485 will enable you to get permanent residency in the US. You will get your Green Card in the mail after USCIS processes your request. This process can easily take one to four weeks.
Instructions for a USA Green Card Holder
Now that you are a green card holder, you must follow certain rules-
You cannot stay outside the US for more than a year. One year is standard and it could vary according to other conditions.
Green Card does not entitle you to visa-free entries to other nations. This entirely depends on your nationality and visa policies between the destination country and your home country.
The validity of your Green Card remains for life. All you need to do is apply for renewal every ten years
Holding a USA Green Card enables you to achieve a world full of opportunities. The US is a perfect destination for a successful lifestyle. Get started on the application process with Landmark Immigration today!