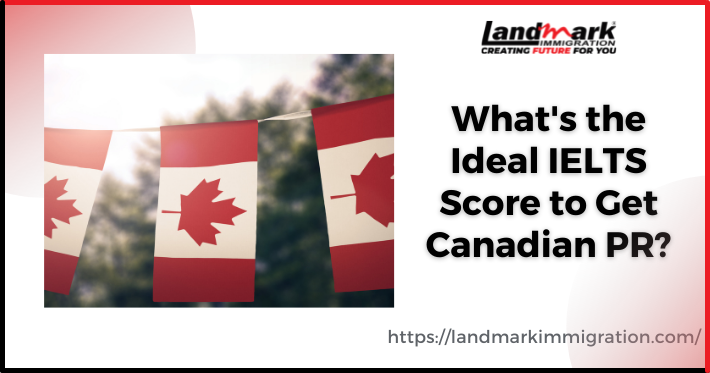 Getting a Canadian PR means you can make your dream of settling in Canada come true. However, there are many guidelines to follow while applying for a Canadian PR. And one of them is the proof of your language skills in English or French. To prove that you can communicate in English, you need to show an ideal IELTS score. IELTS is an English language proficiency test to determine your speaking, reading, and writing skills in English. It is a preferred test for immigration to Canada.
Ideal IELTS Scores are Required to Immigrate Through Express Entry System
Before knowing how much you have to score in your IELTS test, it is important to know about the Express Entry System. Express Entry System is a popular way to gain permanent residence in Canada. Although there are other systems to get a Canadian PR such as Family Class Sponsorship, LMIA Work visa, PNP, and CII, Express Entry is the fastest way to get PR.
It offers three pathways (routes to immigration):
Federal Skilled Worker Program
Federal Skilled Trades Program
Canadian Experience Class
If you are applying through Express Entry, which is the easiest and common way to get PR, you have to appear in the IELTS test to score the required band. It also takes 6 months for the immigration authority to process your application, you need to make sure that your IELTS test results are valid for the entire duration.
What is the Required IELTS Score for a Canada PR?
To apply for PR through Express Entry, you need to gain a minimum score band of CLB 7, meaning that 6.0 band in each section of the IELTS test such as listening, reading, writing, and speaking.
In other words, CLB 7 is the required score to become eligible for Canada PR through the express entry program. Getting a band score of 7 means you have a good command of English.
However, getting PR also depends on the score you achieved in the various eligibility criteria of the express entry such as age, education, work experience, adaptability, and arranged employment.
How to Prepare for Your IELTS Test for Canadian PR
So you must have understood that the ideal IELTS score or band is important while applying for Canadian PR. Given that you need to score at least CLB 7, it takes you a lot of preparation.
The IELTS test is categorized into four sections or modules–Reading, Writing, Listening, and Speaking.  You will get a band score for each of these test modules between 0 to 9. The average median score of all these modules will be your overall IELTS score.
Here is how you can prepare for your IELTS test to get a 7 plus score.
Try to spend at least half an hour listening to the English language through English News, movies, radio, and podcasts. It would be better if you listen to the programs of Canada. What are the tough words or new words you get to listen to? Learn their meaning.
Practice mock tests to improve your writing skills. It also improves your speed.
Keep on learning new words and improve your grammatical skills.
Practice speaking English for at least half an hour. It is better if you record yourself as it will help you pick the key areas of improvement in pronunciations and grammar.
Speak on common topics. Or you can refer to the previous IELTS tests. However, the best piece of advice is that you should be ready for any topic.
Improve your skill of scanning and skimming.
Read for at least 20 minutes a day.