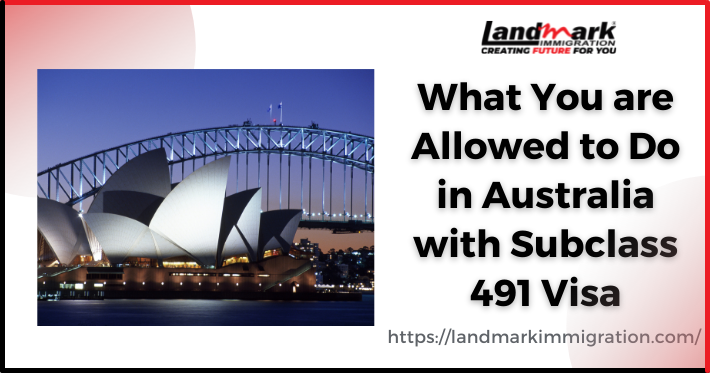 Many Indians prefer to live and work in Australia. If you are one of them, the Subclass 491 visa can be your ticket to grab this opportunity. This visa helps you live in Australia for 5 years. Subclass 491 visa is a provisional visa that lets all skilled workers live, study and work in the appointed areas of Australia along with their families. The applicant for this visa should be either state nominated or sponsored by an eligible family member living in Australia as a permanent resident.
Why the Subclass 491 Regional Skilled Work Visa is Ideal?
The subclass 491 skilled visa is one of the popular skilled migration programs for Australia.
It helps you immigrate to Australia based on your points gained from the various criteria such as educational background, work experience, and provincial nomination.
It is a temporary visa designed to help employers in the Australian region hire and retain immigrants with the right skills in occupations that are in high demand based on the needs of the labor market in Australia.
If you have a Subclass 491 visa, you can live, study and work with your family members in any region of Australia for up to 5 years.
How to Become Eligible for 491 Visa?
Get nominated from a region or a relative.
Submit an Expression of Interest (EOI).
Age should be under 45 years
Proof of efficiency in English through IELTS certification
Proof of good health and character
You need to score a minimum of 65 points out of the above-mentioned eligibility criteria to get an invite for the application process. The more you score, the better your chances will be.
HOW POINTS ARE ALLOTTED IN SUBCLASS 491 VISA?
Factor
Points
Age (lesser than 45 years)
30 Points
Educational background
15 Points
Work experience
15 Points (Outside Australia)

 

20 Points (In Australia)

English Language Proficiency Test IELTS
20 Points
Apart from these factors, there are some changes introduced to the skilled migration points, which can affect the Visa Subclass 491.
The changes in the point system are…
15 points for an applicant with state or provincial Government nomination or sponsorship from a family member who is permanently living there.
10 points for an individual with educational qualifications in certain specific branches of technology, engineering, mathematics, and science.
10 points if your partner scores well in skill assessment and language competency tests.
5 points if your partner performs well in language proficiency.
Documents to Be Required for Subclass 491 Visa
You need to submit the following documents along with your application to meet the requirements:
Passport
English language test
Skills assessment
Detailed resume or CV
Employment contract
Payslips
Superannuation
Position description
Registration (if required, e.g. AHPRA)
Victorian declaration form
Appointment of agent form (if required)
What is Allowed for a 491 Visa Holder?
You can sponsor your siblings, parents, grandparents, aunt, uncle, and other relatives to Australia.
You can apply for the Australian PR visa after living 3 years with PR Visa (Subclass 191) which is expected to start after November 16, 2022.
You are allowed to travel to and from Australia many times before the visa is valid.
You can apply for a nomination from a state or territory government or sponsorship from a relative residing in the designated regional area.
You can get eligible for public and social benefits.
Your kids can get free education.
So you must have understood what Subclass 491 visa is and what is allowed under this visa. Make sure to work with an experienced immigration consultant for Australia to become eligible for Subclass 491 visa.