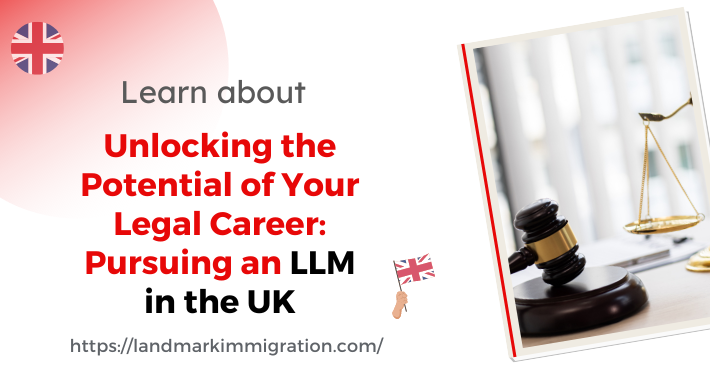 The United Kingdom is the preferred choice for most students who wish to pursue a career in Law. The prime reason is they acquire a global perception of legal fields. Master of Law degree offers in-depth knowledge of legal systems. Also, it aims to develop critical thinking in candidates, helping them to boost their skills to the next level.
Moreover, the United Kingdom is home to prestigious Law universities that ensure bright career prospects for the candidates. In England and Wales, 219,424 solicitors registered with the Solicitors Regulation Authority (SRA) as of October 2022 – 160,676 of whom are actively practicing.
This blog will discuss why Indian students prefer to study law in the UK, the top universities in the UK for LLM, eligibility and requirements, and job opportunities. Also, this blog will answer the question in most of your minds- is IELTS required to pursue LLM in the UK?
Perks of Studying Law in the UK
Build Valuable Global Connections
Pursuing your high education in the UK will open the gateway to connections with recognized and knowledgeable people in your field. This will ensure you have global professional relationships which eventually prove to be helpful for you in making the right career moves.
You can choose from a Variety of Courses
UK universities offer LLM courses along with specialization in the realm of the law categories. You can easily select the degree specialization that aligns with your career goals and interest. Also, you will get global exposure and expertise to attain a lot from your master's degree in law.
Get World-Class Education
A number of universities in the UK are proudly recognized as the best universities in the world, having global rankings. The reputation of these world-leading universities, such as Oxford and Cambridge, undoubtedly offers the best while you pursue LLM there.
Also, attaining a degree from such universities add golden lines to your CV, making it highly impressive for the interviewers. Moreover, the resources, facilities, and learning environment offered by these universities make them the preferred choice of students to pursue LLM in the UK.
Learn a lot more for Future Prospectus
Studying LLM in the UK will enable you to interact with people from around the globe. This will boost your communication skills, tolerance, patience, and the risks of being self-motivated. Furthermore, you will develop the skills necessary for handling people and addressing their concerns.
Top Universities to Pursue LLM in the UK
LLM in the UK: Eligibility and Requirements
Candidates willing to pursue LLM from universities in the UK must fulfill the following eligibility criteria and requirements.
Applicant must have a bachelor's degree in law from a recognized institution or university.
Relevant research and work experience is required.
Candidate must have English proficiency skills to study further at a university in the UK.
Properly formatted Statement of Purpose (SOP) that can justify well your purpose to get admission to a university abroad.
Also, you must have a Letter of Recommendation from a reputed UK university
Scholarship Options for LLM in the UK
International students at UK universities can apply for scholarships to obtain financial aid. In addition to covering living expenses and tuition fees, this scholarship also covers other expenses associated with obtaining this degree.
Otto Koenigsberger Scholarship: Provides master's degree candidates in the UK financial assistance up to £5,000.
The Gates Cambridge Scholarship is one of the most prestigious postgraduate scholarships. The University of Cambridge offers this scholarship.
Felix Scholarships: It offers financial aid to students from developing countries such as India, Sri Lanka, Pakistan, Bangladesh, etc.
Clarendon Fund Scholarship: It is offered at Oxford University. Not only does it ensures funding of the expenses of deserving candidates, but it also offers a community to them.
King's Law Alumni Scholarship: It is for the students studying LLM at The Dickson Poon School of Law, King's College London. It aims to cover the tuition fees for the year. Also, it contributes to the living cost of students £10,000.
Employment Opportunities After Study LLM in the UK
UK legal sectors accept fresher and more experienced LLM students from different backgrounds to work. Two of the most renowned LLM job opportunities in the UK are:
Solicitor has the job of offering legal advice to the individual client or organization wherever necessary. They offer both personal and professional legal advice by closely addressing their concerns.
Barristers are self-employed and work in chambers. They are specialists in independent sources of legal advice. Also, they offer in-court advocacy.
Also, they can find employment in legal vacancies in government departments and in the private sector.
Is IELTS Required to Pursue LLM in the UK
Though attaining the required band score in IELTS is necessary to pursue LLM in the UK, some universities do not consider IELTS if the candidate fulfill certain requirements. It is possible for students with a previous degree in English or work experience in their respective fields to be accepted into the LLM program.
Conclusion
If you are willing to pursue LLM in the UK, you are on the path to grasping excellent opportunities. Universities in the UK are worthy if you wish to attain a global perspective and the best learning environment.
To choose the right course and university and move ahead with the application process, visit Landmark Immigration. We can help you at each step until you reach your destination and fulfill your dream to study LLM in the UK.