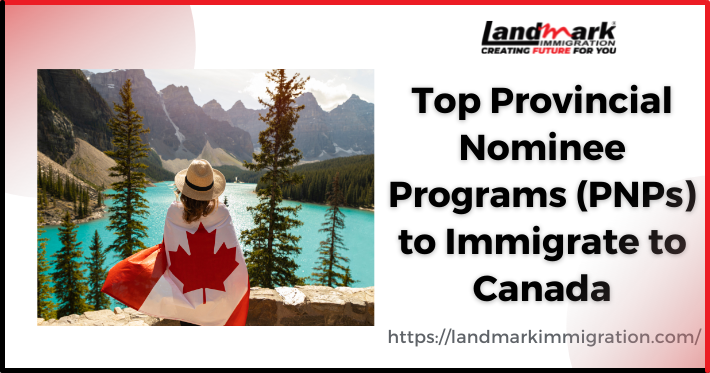 23 February 2022
Canada is one of the best nations in the world to live and work in. Moreover, it is known for its welcoming and open immigration system. The nation accepts immigrants across the world and provides them with employment, health, and education services equivalent to those of its citizens. The Government of Canada has introduced regulations, rules, and documentation processes to invite and retain skilled workers and professionals. One of them is the PNP or Provincial Nominee Program.
What is PNP or Provincial Nominee Program in Canada?
As the name suggests, this is a provincial-specific immigration program, meaning that you can settle in a certain province or territory through this program. It is one of the popular ways to immigrate to Canada.
It lets Canadian provinces and territories nominate individuals for immigration to their region. Each of Canada's thirteen provinces and territories has its own PNP program with several streams.
Introduced in 1998, the PNP programs are part of the Express Entry and send the Invitation to Apply (ITA) to the eligible applicants.
Here Is the List of Provincial Nominee Programs Offered By Canadian Provinces and Territories
Many immigrants choose Ontario for its easy immigration rules and policies and ITA (Invitation to Apply) compared to other territories in Canada. Ontario PNP ensures employment opportunities for skilled workers in conventional and modern industries.
The OPNP under the provincial nomination program also invites skilled workers for nursing, financial, administrative, and business management services. You are required to get a minimum CRS score of 400.
This is another popular immigration program and comes with a wide range of employment opportunities for skilled candidates. And you can apply for PR without a job offer from a Canadian employer. Moreover, the Province of Saskatchewan even invites applicants who have scored below 4 in CLB. In this program, you will get an additional CRS score for having a family member or close relative living in Saskatchewan. Having more than 10 years of professional experience also improves your chance of getting an invitation through SINP.
British Columbia is counted among the largest Canadian provinces and has been a driving force in the Canadian economy.
Immigrants are offered different work segments including modern and traditional industries such as production, real estate services, and administrative services.
The province of Nova Scotia houses financial organizations, businesses, and agencies, creating job opportunities for people related to financial backgrounds. Click HERE to know more about Nova Scotia PNP.
Nova Scotia's PNP program accepts immigration applications from eligible skilled workers, entrepreneurs, international graduates, and professionals looking to live and work in the province. The program lets you apply through various economic immigration streams aligned with Canada's Express Entry system.
The Alberta Advantage Immigration Program, formerly known as the Alberta Immigrant Nominee Program (AINP), includes eight streams categorized for workers and entrepreneurs.
Manitoba's provincial immigration program includes the streams to let skilled workers and their families work and live in the province permanently.
The NBPNP offers immigration programs for entrepreneurs, skilled workers with employer support, international graduates, and skilled workers in the federal government's Express Entry selection system.
The NLPNP invites applicants who are skilled workers, international graduates and entrepreneurs who meet program-specific criteria such as having a job offer and intent to live in the province.
The PEI PNP is meant for skilled workers, international graduates and entrepreneurs who want to work and live in PEI.
The Northwest Territories has an immigration program for applicants looking to settle in Northern Canada under two main categories—the Employer Driven Program and the Northwest Territories Business Immigration Program.
Yukon Nominee Programs accepts application helps eligible employers in Canada's northern territory to nominate internationally-trained workers and business people for Canadian PR.
How to Apply?
You can directly apply through the PNP of the province or territories you want to live or work in.
Click HERE access to the PNP of the Canadian territories and apply for the same.
The other way is to apply through the Express Entry.
It is a highly recommended method to apply for PNP.
One of the advantages of applying through the Express Entry pool is your profile becomes visible to provinces and territories that can review your profile and decide to provide you with an invitation to apply to their PNP. Once you accept their invitation, you have to submit a completed PNP application to the province or territory. Once your application is approved, you will get a nomination certificate which will provide you with an additional 600 Comprehensive Ranking System (CRS) points under Express Entry, and ensures you an invitation to apply for PR under Express Entry.