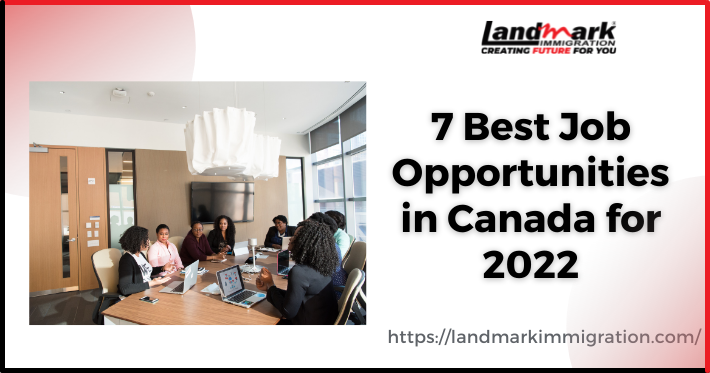 Let's accept it. Most of us have a dream of working abroad in a developed country like the US, Canada, or Australia. According to one survey, over 60% of Indian professionals are looking to work in other nations. And when it comes to Job Opportunities in Canada, It often becomes a preferable option. In other words, it is one of the best nations to live and work in.
Canada ensures plenty of opportunities in the form of handsome salaries and a good employment rate. The nation is also known for its efficient healthcare system, strong economy, high life quality, paid holidays (including maternal leave and parental leave to workers), and above all the welcoming people.
The nation has always been welcoming towards skilled international workers who can contribute to its economy.
The COVID 19 pandemic has impacted the country's economy, leading to worker shortages. Therefore, the Government of Canada is looking to introduce quick immigration programs to address those shortages—a golden opportunity for those who are looking to start a new life and career.
However, it is important to find the right job according to your qualification and experience.
But choosing the top 10 job opportunities is quite challenging, simply because there are so many to choose from, which is why we have rounded up the most in-demand jobs in Canada based on earning potential.
Nurses:
Working in healthcare is one of the lucrative job opportunities in Canada to grab. And there is a reason for that. Canada is witnessing a spike in its elderly population, prompting the healthcare industry to focus on aged care.
That's why registered nurses are in huge demand. Another reason that determines the demand of this profession is the aging of Canadian nurses itself. So it is said that the nearest future will see a huge decline in working registered nurses. Some studies even indicate that there would be a shortage of 25,000 registered nurses by 2024.
Pharmacist:
Pharmacists are also required throughout Canada, especially to keep the elderly population healthy. To ensure the availability of healthcare workers to the elderly, some provinces have even allowed more professionals in this field to renew prescriptions and prescribe medications.
Truck Driver:
The large size of Canada makes it quite challenging to deliver goods across the entire nation. That's why truck services for logistics are highly valued. Otherwise, the lack of truck services can hinder the economy of the nation. But it is also true that the sector is going through a shortage of drivers. According to one study, the nation is likely to see a shortage of 27,000 truck drivers in the coming years.
The services of truck drivers are required throughout Canada.
Apart from being in demand, the job of driving the truck needs basic education.
Teaching:
Canada is also looking for skilled teachers for its colleges and vocational institutions. This has to be taken seriously as the country is on the verge of a shortage of some 6000 instructors in the coming years. Your job application is more likely to be accepted if you are applying for a teaching job in Canada.
The qualifications you require will be determined by the course you want to teach and the institution, for instance, an academic institution might need you to have at least a master's degree while a vocation institution can ask for a bachelor's degree.
Software:
Canada has become a hub of IT jobs, thanks to its ever-increasing digital infrastructure. Canada is inviting more tech talents across the world. There are many lucrative IT jobs in Canada to choose from.
The upcoming year will see a rise in the demand for skilled IT professionals. So if you are the one, then Canada can be a place where you can be rewarded more than your expectations for your skills.
Welder:
The ever-increasing manufacturing and fabrication sector has boosted the job opportunities for welders in Canada. In other words, highly skilled welders are in great demand.
Veterinary:
Canadians spend a big part of their household budget on veterinary services while an increasing number of people are keeping pets, making veterinary technicians one of the best job opportunities in Canada. You can opt for a course as a veterinary technician. Some of the Canadian provinces such as Quebec, Nova Scotia, and Saskatchewan have the highest demand for veterinary services.
So these are some best job opportunities in Canada to consider. Again, make sure to assess your qualification and experience before opting for any job over there. You can also read our blog on how to grab the right job opportunity in Canada.
If you are not sure, you can get in touch with our experienced immigration consultants at Landmark.