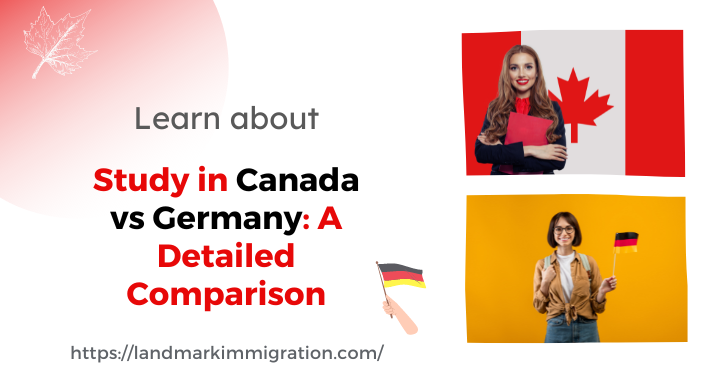 Are you an Indian student dreaming of studying abroad? Well, Canada and Germany are two incredible destinations that might just be the perfect fit for your aspirations. This blog will delve into the topic of Canada vs Germany. Thus, unraveling the key factors that can help you make an informed decision.
Picture yourself studying amidst the stunning landscapes of Canada. Or perhaps the thought of Germany's renowned universities ignites your curiosity. The choice between these two countries can be overwhelming, but fear not! You can count on us for guidance at every step.
Whether you're intrigued by Canada's academic excellence or enticed by Germany's renowned technical universities, we have all the information you need.
Let's compare and contrast Canada and Germany, and help you decide which study destination suits you better!
Canada vs Germany: Know the Difference
Location:
Canada is situated in North America, bordered by the United States to the south. While Germany is in Central Europe, sharing borders with several countries such as France, Belgium, and Austria. Canada offers breathtaking natural landscapes. It includes stunning mountain ranges, pristine lakes, and vast forests. On the other hand, Germany includes diverse landscapes and rich cultural heritage.
Climate:
Canada's climate varies greatly across its vast expanse.  Vancouver enjoys mild winters, while Toronto experiences hot summers and cold winters. Germany, on the other hand, boasts a temperate climate, with mild summers and cool winters. Notably, there are slight differences between the northern and southern parts of the country.
Cost of Living:
In terms of affordability, Germany tends to be more budget-friendly compared to Canada. Germany offers lower tuition fees, affordable housing options, and reasonable costs for daily necessities.
Culture:
Both Canada and Germany have rich cultural traditions and diverse societies. Canada prides itself on multiculturalism, embracing various ethnicities, languages, and traditions.
Germany is renowned for its robust cultural identity, combining contemporary and traditional components. Both countries host numerous festivals, events, and vibrant arts scenes. All this contributes to their unique cultural experiences.
Facilities for International Students:
Both Canada and Germany are renowned for their welcoming environments. These countries offer reliable support systems for international students. Canada provides extensive support services.
It includes dedicated international student offices, career counseling, and cultural integration programs. Similarly, Germany offers comprehensive support through student services, orientation programs, and mentorship initiatives.
Academic Excellence:
Canada and Germany boast world-renowned universities and colleges. In Canada, you can find institutions like the University of Toronto and McGill University, which consistently rank among the top globally. Germany is known for its technical universities, such as the Technical University of Munich and RWTH Aachen University. Consider your field of study and research opportunities when evaluating the academic strength of each country.
Affordability:
The decision-making process is greatly influenced by financial factors. Canada, although offering high-quality education, is relatively more expensive compared to Germany. Many students find Germany to be a more cost-effective choice due to its lower tuition fees and living expenses.
Moreover, Germany offers numerous scholarships and part-time work opportunities. Thus, allowing you to manage your expenses effectively.
Language Considerations:
Language proficiency is crucial for international students. Canada offers courses in English. Thus, making it an ideal choice if you are comfortable studying in English.
However, if you have a strong command of the German language, studying in Germany can provide you with a unique advantage. Many German universities offer programs in English, but proficiency in German opens up more opportunities for internships, jobs, and integration into the local culture.
Job Opportunities:
Canada and Germany both offer promising job prospects for international students. Canada has a strong economy and a welcoming attitude towards immigrants. Thus, making it easier to find employment after graduation.
The country provides various post-study work options, including the Post-Graduation Work Permit (PGWP) program. On the other hand, Germany, with its robust manufacturing and technology sectors. It presents excellent job opportunities, particularly for engineering and technical graduates.
Getting PR
Both Canada and Germany offer opportunities for skilled workers and international students to obtain Permanent Residency. Canada has a robust immigration system that provides multiple pathways to achieve this status. The country's Express Entry system is a popular route for skilled workers, providing a points-based selection process for immigration.
Under programs like the Federal Skilled Worker Program, Canadian Experience Class, and Federal Skilled Trades Program, individuals have the opportunity to apply for Permanent Residency through Express Entry.
Germany also offers pathways for individuals to obtain Permanent Residency. The country has a points-based immigration system known as the "Skilled Immigration Act" that aims to attract skilled workers from abroad. Eligible individuals with job offers or qualifications in high-demand fields can apply for a residence permit and eventually pursue Permanent Residency.
Conclusion
In conclusion, choosing the ideal study destination between Canada and Germany demands careful consideration. Whether you prioritize academic excellence, affordability, language preferences, or job prospects, both countries offer unique advantages.
Canada entices with its top-ranked universities, diverse culture, and robust economy, while Germany beckons with its lower costs, technical expertise, and opportunities for German language speakers.
To ensure a well-informed decision, conduct thorough research, seek guidance from education experts, and consider your personal goals and aspirations.
If you're ready to embark on your study abroad journey, Landmark Immigration is here to assist you every step of the way. With their expertise in guiding students toward their dream educational destinations, the Canada Immigration Consultants can help you navigate the complexities of the application process, and visa requirements, and provide personalized support throughout your journey. Contact Landmark Immigration today and turn your dreams into reality.