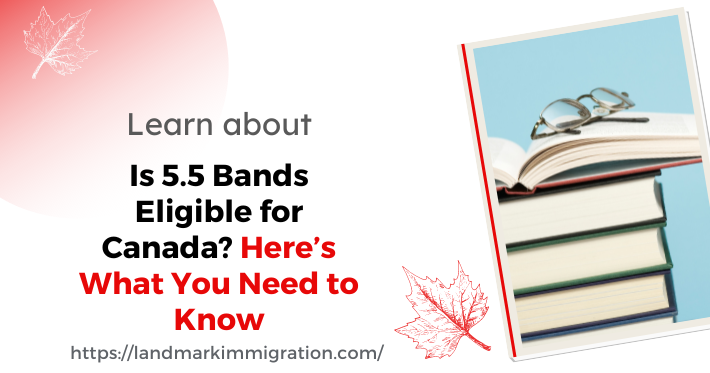 Thousands of students globally go to Canada to continue their education and enhance their quality of living. The country is home to some of the most elite and world-renowned educational institutes throughout the world, and studying in these academic organizations is a dream to many.
Since Canada has an incredible reputation in terms of its high-quality education, the competition to seek admission to top institutes can be quite daunting. The English language proficiency test or IELTS can be one of the most difficult requirements to fulfill for students who come from non-English speaking backgrounds but want to study in Canadian universities.
International students who are struggling to gain the minimum band of 6.0 in the IELTS may find it challenging to gain admission to the college and program of their choice.
However, many Canadian colleges accept an IELTS band of 5.5. In this article, we will explore- is 5.5 Bands eligible for Canada and the scope of colleges and universities in Canada that accept a 5.5 IELTS band score. 
What is the IELTS Exam?
IELTS is one of the most popular standardized language tests for international students.
International students who want to pursue their education in Canada can appear for the IELTS. English language proficiency test scores are a requirement for international students who come from non-native English-speaking countries.
Generally, academic institutes require international students to score a minimum of 6.0 IELTS band. So, is 5.5 Bands Eligible for Canada? Many Canadian colleges accept international students who scored 5.5 on their IELTS. 
What are some advantages of studying in Canada?
Here are some of the most lucrative advantages of studying in Canada:
The country is popular in terms of education due to its highly-renowned educational institutes. Canadian universities and colleges emphasize enhancing the quality of education provided for international students. 
The Canadian government is considered to be quite immigration friendly. The immigration rules and policies in Canada are quite relaxed and beneficial for international students. This allows international students to easily gain employment in Canada after they complete their education and even gain Canadian PR easily.
International students can easily handpick the courses they want to pursue, the subjects they would like to explore and study, and the specialization of their choice in Canada. The country has a wide variety of options available in terms of both colleges and courses for international students. 
Education in Canada is considerably more affordable as compared to other countries. International students can avail a high standard of living at low costs in the country. Apart from tuition costs, the cost of living is also quite nominal in Canada. 
The country is considered to be extremely friendly for international students. There are a lot of different communities in Canada that welcome international students. International students can learn about other cultures and interact with people from diverse cultures to broaden their perspectives.
What are the best colleges in Canada that accept an IELTS band score of 5.5?
Here are some of the best Canadian colleges that accept international students who have an IELTS band score of 5.5: 
University of Alberta
Charles Sturt University
Camosun College
Brock University
Algonquin College
Kwantlen Polytechnic University
Niagara College Canada, Welland Campus
St. Clair College for Applied Arts and Technology
Royal Roads University
Canadore College
Lethbridge College
Concordia University
What are the requirements to gain admission in Canada with an IELTS band score of 5.5? 
Here are the requirements that international students must fulfil to gain admission in Canada with an IELTS band score of 5.5: 
Appear for CanTEST: Some Canadian educational organizations require international students who have a band score of 5.5 to appear for the CanTEST after they arrive at the campus.
English as a Second Language (ESL) Program: If the international student fails to qualify for the CanTEST, they need to register in an ESL (English as a Second Language) program in some colleges. This requirement needs to be fulfilled before international students commence their post-secondary courses. 
Submit MOI: For international students who scored a 5.5 in IELTS, some provisions allow them to prove their English language proficiency using a certificate or documents. These need to be issued by their previously attended academic institution and state that the English language was the medium of instruction (MOI) for the program.
What are the documents required to apply to Canadian institutes? 
Here are some documents that are required as part of the application process when applying to Canadian institutes:
A completed application form: It is essential to thoroughly verify your application form before submitting it. 
An updated curriculum vitae: An updated resume can help international students in showcasing their unique skill sets. 
Statement of purpose: It is important to ensure that your statement of purpose illustrates your long and short-term goals clearly and also talks about how studying in Canada can support you in achieving them.  
Academic transcripts: International students are required to submit their academic transcripts from all educational institutes that they have studied in.  
Proof of funds: Proof of funds is required as part of your application process as well as to apply for financial aid such as student loans or scholarships.
Health insurance: Canada requires its international students to obtain health insurance either earlier or after they arrive in the country.
Valid passport: For international students, a valid passport is mandatory as it serves as ID proof.  
Conclusion
Studying in Canada is nothing short of a dream for international students. The country offers world-class amenities and a chance to enhance your standard of living at affordable costs.
Education in Canadian academic institutes is recognized globally. International students can obtain degrees that are eligible worldwide from Canadian universities and colleges.
However, one of the most important requirements when applying to study in Canada is the English language proficiency test score.
Generally, Canadian colleges require international students to obtain a minimum score of 6.0. However, many colleges accept international students with a 5.5 band score in IELTS.
These students are required to fulfill some other criteria to prove their language proficiency which is specific to the college and course that they are planning to attend.