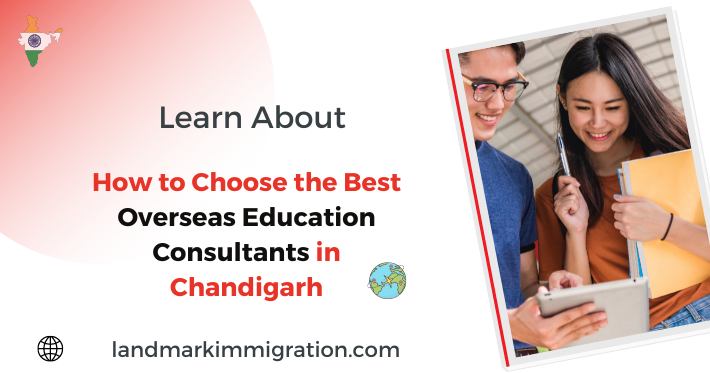 Studying abroad has become increasingly popular among students in Chandigarh, and many of them are applying for study visas. This trend is not limited to locals but also includes students from neighboring states such as Punjab, Haryana, and Himachal Pradesh, who seek the assistance of overseas education consultants in Chandigarh.
The city boasts a plethora of these consultants, easily discoverable through a simple online search using terms like "overseas education consultants near me," which gives hundreds of results.
But this abundance of overseas education consultants also comes with a catch.
How to tell if you are working with the right education consultants. Some of them might have limited knowledge of your preferred study destination. And the risk of shady consultants cannot be ruled out in the immigration business.
Therefore, it is important to understand some key factors while choosing the best overseas education consultants in Chandigarh.
Expertise in Desired Study Destinations:
Different countries have distinct education systems, visa procedures, and admission requirements. The ideal overseas education consultant should possess in-depth knowledge and expertise in the desired study destinations.
Whether it's the United States, Canada, Australia, the United Kingdom, or any other country, the best overseas education consultants are likely to be well-versed in the intricacies of each country's education system and the universities offering relevant courses.
Personalized Guidance and Counseling:
Each student's educational aspirations and circumstances are unique. A good overseas education consultant should offer personalized guidance and counseling to understand the student's goals, academic background, and financial constraints.
They should assess the student's strengths and interests and provide tailored recommendations on suitable courses and universities.
Transparent Fee Structure:
A reputable overseas education consultant will be upfront about their service fees and should not have any hidden costs. Ensure that the fee structure is transparent, and all the services offered are clearly outlined.
Students should avoid consultants who make promises without disclosing their charges, as this may lead to potential financial exploitation later on.
Comprehensive Services:
A reliable consultant should offer end-to-end services, including assistance with university selection, application processing, visa application, and pre-departure guidance.
They should be well-equipped to handle paperwork, interviews, and other formalities efficiently. Moreover, they should provide support for accommodation arrangements and travel arrangements to ensure a seamless transition for the students.
Alumni References:
Request the consultant to provide contact information for some of their previous clients who successfully pursued higher education abroad. Speaking with these alumni can offer valuable insights into the consultant's effectiveness, support, and professionalism throughout the application process and beyond.
Accredited Partner Institutions:
Check if the overseas education consultant has tie-ups with reputed universities and institutions abroad. Being an accredited partner indicates a certain level of reliability and trustworthiness in the services they offer.
It also means that the consultant is likely to have access to the latest information about courses, scholarships, and other opportunities.
Success Rate:
Ask about the consultant's success rate in securing admissions for students in desired universities. A higher success rate is a strong indicator of their expertise and capability to guide students effectively.
Prospective students and their parents should inquire about the consultant's success rate before engaging in their services. A reputable consultant will gladly share this information, along with testimonials from satisfied clients.
They may provide data on the number of students they have assisted and the percentage of successful admissions.
It is important to note that a high success rate alone may not be the only factor to consider when choosing a consultant.
The consultant's approach to personalized guidance, attention to individual student needs, understanding of specific university requirements, and up-to-date knowledge of changing admission criteria are equally crucial.
Support for English Language Proficiency Tests:
Most overseas universities require students to demonstrate their English language proficiency through tests like IELTS or TOEFL. The consultant should provide support and resources for students to prepare for these exams.
Cultural Familiarity and Adaptability:
Studying abroad is an exciting opportunity that opens doors to new experiences, but it can also be a daunting venture, especially when dealing with a completely different culture.
As a result, a competent consultant plays a crucial role in assisting students throughout this transformative journey.
By being well-versed in various cultures, the consultant can offer valuable insights into the nuances, customs, and traditions of the host country, thus fostering a smoother transition for students.
Moreover, the consultant should provide practical advice on embracing the new lifestyle, such as guidance on finding suitable accommodation, understanding public transportation systems, and becoming familiar with local cuisines.
Familiarizing students with these aspects can significantly ease their adaptation process and minimize any initial discomfort they might experience.
The Conclusion:
Choosing the best overseas education consultants in Chandigarh is a critical decision that can significantly impact a student's future.
By conducting thorough research, verifying credentials, seeking personalized guidance, and considering the factors mentioned above, students can ensure that they are partnering with a reliable consultant who will provide comprehensive support throughout their journey to higher education abroad.
With the right guidance and support, students can confidently embark on this transformative educational experience, opening doors to a world of opportunities and success.
If you are looking for the best overseas education consultants in Chandigarh who can tick all the boxes, look no further than Landmark Immigration.
With a proven track record of success and years of experience in the field, we have earned a distinguished reputation for guiding students toward fulfilling their academic dreams abroad.
What sets Landmark Immigration apart is its commitment to providing personalized and comprehensive guidance to each student.
From assisting with university selection to helping with the application process and preparing for visa interviews, Landmark Immigration offers end-to-end support.
Our in-depth knowledge of various countries' education systems, universities, and admission requirements empowers students to make informed choices and secure admissions to their desired institutions.
No wonder why we stand out as the best overseas education consultants in Chandigarh. Get in touch now to let us know how we can help you with our guidance.