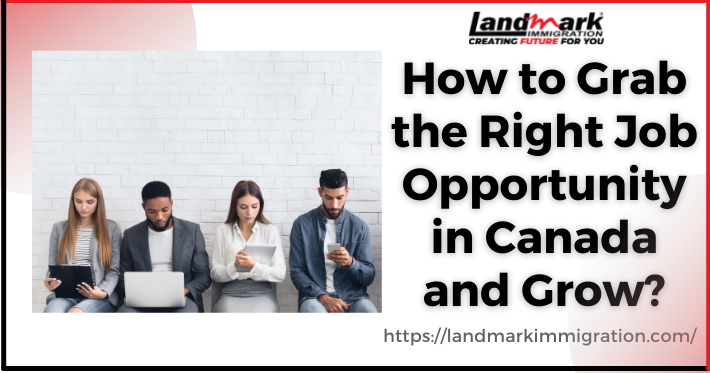 16 December 2021
Looking for the right job opportunity in Canada?
You are not alone as many people look to work in Canada.
There are many reasons to work in Canada. It is one of the best places in the world to live on the parameters of economic prosperity, education level, and life expectancy. It is also ranked in the world's top 10 countries with the highest Human Development Index as well as in all the lists of the happiest and safest countries in the world.
Canada is one of the richest countries in the world thanks to its natural gas and oil deposits, agriculture is also one of its means of production, which requires trained personnel, as well as many other areas that make their field of work is wide and welcomes many foreigners.
 Here are some tips to land the right job opportunity in Canada.
Know What You Need to Work in Canada:
There are several requirements, which must be met to legally enter Canada and get a job, which you must obtain before managing the process of looking for work in Canada from Spain.
Valid passport.
Be of legal age. (18 years of age or older).
Have a Visa (student or tourist).
Prepare a curriculum vitae.
Speak English and French.
Presentation letter.
Letter of recommendation.
Bank account.
Learn English and French:
English is the official language of Canada (along with French in the Québec region, so a good command of this language is essential for anyone aspiring to be able to work there. Apart from that, learning French will improve your chances of getting a permit to work in Canada. It will allow you to access more job opportunities throughout the country.
Apply for Work Permit:
To work in Canada, you need to apply for a work permit and employment visa. However, there are some jobs for which you don't need a work permit. There are two types of work visa–Open Work Permits that lets you work for any employer in Canada and Employer-specific work permits that let you work for only one certain employer.
All Canada's work permit and visa application forms are available online. Work permits are issued to a variety of workers such as business people, temporary workers, and permanent workers. You can apply for a work permit from outside Canada, or within Canada. The eligibility requirements for Canada vary based on the location you are applying from.
Create a Canadian Style Resume or CV:
There are notable differences between the Indian and Canadian CV models. For example, the Canadian CV includes neither the photograph nor the date of birth, to avoid labor discrimination for reasons of sex, age, etc. The CV shouldn't exceed one page,
On the other hand, to highlight what you want, you can underline with bold the experiences, skills, or training that are more related to the position you are applying for.
Do Volunteer Work:
Work for free? It seems nonsense, but voluntary (and therefore unpaid) work not only offers us the opportunity to meet people and become familiar with the peculiarities of the country but is highly valued by companies when hiring new employees. A few months of volunteer work can open many doors for us in the long term.
Be Flexible:
A fundamental aspect to succeed in a labor market as demanding and competitive as the Canadian one. You have to be willing to accept different schedules and work environments, be highly mobile (the country is huge), and be open to learning new skills every day, to increase your possibilities.
The Bottom Line:
Advancing professionally and personally is one of the advantages of getting a job in Canada. Studying and working in Canada makes you a competitive and internationally sought-after professional.
Remember that mastering the language, studying in Canada, and volunteering in the country opens the doors to a great job market, in a country with a high standard of living, and one of the best immigration policies in the world.
So these are some essential tips to secure the right job opportunity in Canada. If you want to know more, get in touch with our consultants.