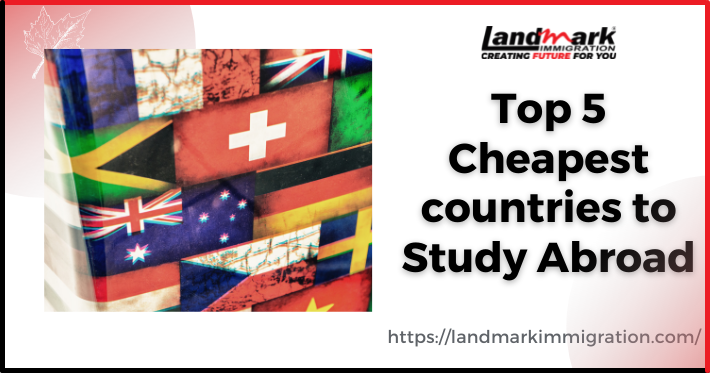 According to the Ministry of External Affairs of India, nearly 261,406 Indian students went abroad in 2020. Although this number is half of the influx in 2019 (588,931), it is a large count keeping the pandemic in mind.
The point is here that studying abroad has been gaining momentum among Indian students for the past few years. Many students aspire to study abroad every year. The popular study abroad destinations are the US, UK, and Australia.
And it is equally true that it takes a lot of money, even someone's lifetime earning, to study abroad. Although it is an expensive option, you can save a lot by being careful with your choices. For example, you can choose the countries where you can get quality yet affordable education. Many nations not only provide quality education but also ensure a low cost of living for international students.
Here we have rounded up such cheapest study abroad destinations in the world.
Norway:
For all those looking for the cheapest country to study abroad, Norway is a top pick. Norway ensures effective educational systems where all students, including those from other nations, can study for free at public universities. All you have to care about is the cost of living.
There are several undergraduate courses to choose from such as social sciences, engineering, mathematics, medicine, humanities, dentistry, law, energy, theology, natural sciences, and education.
Moreover, there are over 200 study programs that are taught in English.
The University of Oslo is one of the top-ranked universities in the world while other universities like The University of Bergen, UIT The Arctic University of Norway, Norwegian University of Science and Technology (NTNU), Norwegian University of Life Sciences (NMBU), and University of Stavanger.
Like we said before, the cost of living might be bothersome for Indian students. The average yearly cost to live in Norway is US$20,000. However, the cost of living is often determined by the area you choose to live in Norway. The bigger cities will be expensive than the smaller towns.
If you find Norway out of your budget, you can opt for other nations like Sweden, Finland, Denmark, and Iceland.
Taiwan:
If Norway is the most affordable country to study abroad for students from India, then Taiwan just comes closer to it. Counted among the top study destinations in Asia, Taiwan offers 120 English-taught courses from over 40 universities.
Unlike Norway, it is quite affordable to live in Taiwan. The average cost of living in Taiwan is nearly around USD 1,400 per year compared to a whopping US$20,000 in Norway. The inclusion of transportation, meal, and other routine expenses will raise it to USD 3,400 per year.
Some of the cheapest universities in Taiwan are:  –
:
There are many reasons to include Germany in this list of the cheapest countries to study abroad for Indian students. Firstly, it offers free-of-cost education at its public universities just like Norway. In fact, all undergraduate and Ph.D. level education at public universities is free of cost.
Secondly, it is affordable to live in Germany. All in all, it ensures you both–quality education and affordability.
Here is an overview of some of the cheapest universities in Germany.

Sure, France is counted among the expensive nations to live in the world. But that shouldn't discourage you from studying there. This is because it is an affordable study destination despite having an expensive country tag.
It can cost you around to do an undergraduate degree in whereas the cost of a postgraduate degree in France is close to US$285 a year.
However, the living cost is higher here. After all, it is one of the expensive places to live in.
Here is an overview of some of the cheapest universities in France.


Mexico:
Mexico is the next ideal study abroad destination for Indian students. Brimming with intriguing culture, Mexico is counted among the most visited nations in Latin America. It is the home to a popular universities like Universidad Nacional Autónoma de México (UNAM), Tecnológico de Monterrey (ITESM) and Universidad Iberoamericana (UIA).
Although a majority of courses are taught in Spanish, you can find many quality courses taught in English.
The tuition fee in Mexico varies based on university, location, and course. Private universities are likely to charge more than public universities. The average cost of studying an undergraduate course is nearly US$ 6,300 per year. And the living cost is low as it takes you around US$9,250 in the heart of Mexico City and US$6,450 elsewhere.
Here is an overview of some of the cheapest universities in Mexico:

Hope you like this list of affordable study abroad destinations in the world. It costs a lot of money to study in a foreign system, however, with a careful selection, you can save a lot while ensuring yourself quality education. Best of luck!