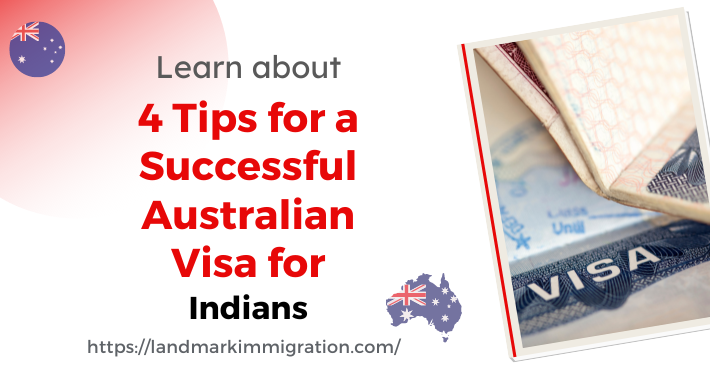 Studying in Australia is the dream of many Indian students who want to study internationally. But there are several things to consider while applying for an Australian visa for Indians.
Moreover, in case of visa refusal chances of reapplying and visa arrival becomes very less. Therefore, Indians need to be alert and focused while applying for an Australian study visa.
This blog will discuss why Indian students prefer to study in Australia and also the essential tips for a successful Australian visa.
Why Do Indian Students Choose Australia for Further Education?
1.      High-Quality Education:
From Australia come a number of the world's most respected universities, which offer elaborate educational programs and world-renowned degrees.
2.      Wide Range of Courses:
Australian universities offer a diverse range of courses and programs in fields. Students here can take the opportunity to choose a course that aligns with their interests and career goals.
3.      Affordable Education:
In comparison to other study destinations such as the US or the UK, Australia offers affordable education options with a relatively lower cost of living.
4.      Work Opportunities:
Australian universities offer opportunities for international students to work part-time while studying and gain valuable work experience.
5.      Multicultural Environment:
Australia is a welcoming place for those from other nations to study, regardless of their race or background. Indian students have opportunities to meet people from all around the world.
6.      Pathway to Permanent Residency:
Australian universities provide a pathway to permanent residency for students who meet certain criteria.
Effective Tips for a Successful Australian Visa
1. Have a strong statement of purpose
The Government of Australia strongly recommends that you include a strong statement of purpose on your Australian student visa application. It helps you stand out from the competition and persuade the deciding authorities that you are seriously interested in studying here.
Furthermore, your statement should demonstrate your dedication to the course you wish to study and how it will assist you in reaching your career objectives. Your statement should also discuss the reasons for selecting this particular program and highlight any relevant experiences or accomplishments that you can bring to the university.
Writing an SOP can be a challenging task, so take your time and do it right. Begin early so you have enough time for research and preparation of your essay.
2. Do your research
Before applying for an Australian student visa, it is essential to do your due diligence. This includes researching the eligibility conditions of your chosen course and country of origin, as well as making sure all necessary documents are submitted accurately.
Your English language skills are an important factor. If you're not a native speaker, you must provide proof of results from an accredited English language test.
Additionally, you must show proof of financial assistance from either family or employers. This could include a bank statement displaying the average daily balance and how long you've had the account.
Character requirements are essential, so ensure you do not have a criminal history or have been imprisoned for more than one year. Without these, your application may be delayed or denied.
3. Prepare for the interview
One of the most crucial stages in your application for a student visa is an interview. Here you have the chance to showcase your abilities and convince the case officer that you possess all the necessary qualifications for obtaining such status.
When applying for a study visa to Australia or any other country, it's essential to prepare thoroughly in advance. The most effective way of doing this is memorizing your statements of purpose, researching questions likely to come up during the interview, and practicing answering them with family or friends.
When applying for a study visa in Australia, make it known that your plans are to return home after the completion of your studies. This is one of the central considerations in the decision-making process and Australian immigration agents want to confirm that you truly intend on staying in the country for studies and not simply because it's easier than going back home.
4. Be prepared for rejection
Rejections of study visa applications are an unfortunately common part of the process. To be prepared and know what steps to take if your application is denied, it's essential that you are informed beforehand.
The initial step you should take is to analyze the reasons for your rejection. Doing this will enable you to comprehend why you were rejected and also enable you to address any underlying issues.
Another essential step is being honest with your application. The Australian government takes false information seriously and will reject your application if they suspect you have provided inaccurate or inconsistent data.
Financial stability and having enough liquid cash to support yourself during the duration of your studies in Australia are paramount. This is especially true if applying for an F1 student visa, which requires students to demonstrate they possess the resources to support themselves during their studies.
Conclusion
In conclusion, obtaining an Australian visa for Indians can be a complex and challenging process, but with the right approach and preparation, it can be a successful one. It is essential to start the process early, research the available visa options and requirements thoroughly, and gather all the necessary documents and information.
To know the essential details and thoroughly analyze the whole immigration process in Australia, visit Landmark Immigration.