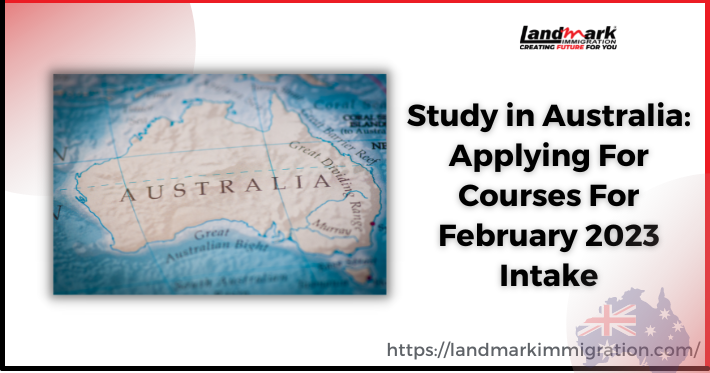 Are you willing to study in Australia and apply for February 2023 intake?
This blog is the right place for you. Here you will get every crucial detail you need to know to before applying.
Keep reading this blog.
Why Indian Students Prefer Australia?
Among the most popular countries for acquiring global education is Australia. Numerous world-class universities are located there.
Let us discuss the reasons why Indian students preferred this country. The reasons are as follows:
1. High-Quality Education
Australian universities have an excellent reputation worldwide for offering high-quality education along with research opportunities.
2. Multicultural Society
Australia is multicultural society with a diverse population and an open attitude to international students
3. A Safe and Warm Environment
Australia offers a safe, welcoming environment for students and residents. It has a high standard of living environment and is committed to equality and diversity.
4. Gorgeous Landscapes and Natural Wonders
Australia comprises many natural wonders such as beaches, rainforests, and the Great Barrier Reef. It is a great place to live, learn and play.
5. Many Study Options
Australia offers many study options including postgraduate and undergraduate degrees, vocational education, training, and English language courses.
6. Career opportunities in Australia
Studying abroad can open up a variety of career options, both during and afterward.
7. International Student Support
Australia has an established system for supporting international students. Students who want to excel in their studies have a range of support services.
Why February Intake?
The February intake is one of the most important intakes for university students in Australia.
Many universities have this intake, which typically begins in March. Students may apply for various academic programs during the February intake.
These include postgraduate and undergraduate degrees, as well as vocational education training. English language courses can also be found.
It is important that you submit your application well in advance to have the best chance of getting accepted into the preferred program.
Major Requirements for February intake?
There are different requirements for the February intake of Australia, depending on which program is chosen and the university.
To be eligible for the February intake, you must meet the following requirements:
1. Academic requirements
All academic requirements must be met by students in order to enroll in any program.
This usually means you will need a high school diploma or equivalent and any subject requirements to be able to enroll in your program.
2. English Language Requirements
An English proficiency is required for many programs in Australia.
To prove your English proficiency, you must take the TOEFL or IELTS tests.
3. Financial Requirements
It is essential to show that a student can afford their living expenses and tuition fees during their stay.
4. Visa Requirements
It is important to get a student visa for international students to study in Australia.
It is crucial that you meet all visa requirements, including proving adequate health insurance and other requirements, as set out by the Australian government.
How can I apply for a program in the February Intake?
To begin with, you can do detailed research on the universities and programs you are interested in.
Make a list of the top choices based on factors like location, cost, and program offerings.
1. Review the Application Deadline
Make sure you check the deadlines for all programs and universities.
The February intake is typically opened several months ahead of the start date.
To increase your chances of acceptance, it is important to submit your application as soon as possible.
2. Gather all the Required Documents
It is a good idea to start gathering the documents necessary for your application, including transcripts and letters of recommendation.
3. Submit your Application
Submit the application online, or by mail, including all required documents.
4. Wait for a reply
After your application has been submitted, you should wait for a response by the university.
An offer letter detailing the terms and conditions for acceptance will be sent to the student if the student is accepted.
5. Accept the Offer
If a student accepts the offer, the deposit must be paid and all other steps must be completed to ensure a spot in the program.
6. Apply for a Student Visa
Students from other countries must apply for a student visa in order to study in Australia.
It can take up to six months to obtain a student visa so it is important that you start the process as early as possible.
Conclusion
The process of applying for a program in February in Australia takes careful planning and attention.
You should start the application process as soon as possible and follow the steps carefully to maximize your chances of being accepted to your chosen program.
Landmark Immigration is all set to fuel your dreams to study in Australia. Our well-trained counselors strive to offer you the right guidance leading to success.