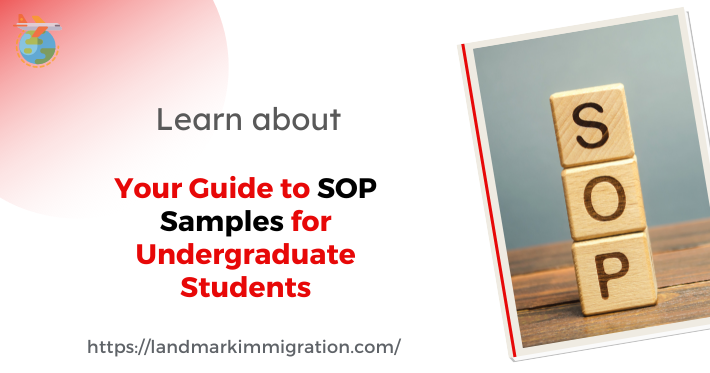 Statement of Purpose is a compulsory document to be submitted for admission to undergraduate programs. It offers students a chance to showcase their skills along with how a specific college and course fits with their interests. This blog will highlight SOP samples for undergraduate students.
Students can use their SOP to explain why they want to study a particular program and the college they are applying in.
It is a very crucial document that helps the admission committee in gaining insight into the motivation of the student. Here is everything you need to know about SOP samples for undergraduate students.
What is a Statement of Purpose?
An SOP is essentially a letter of intent that outlines the interest in selecting a specific program and college, future goals, and personal and professional details of the student.
A Statement of Purpose is crucial for admission to undergraduate courses. Typically it is written in about 800 to 1000 words. It is helpful for the admission committee when they are reviewing applications.
A statement of purpose for undergraduates is a unique opportunity to help them communicate their accomplishments and associate them with their prospective goals.
What are the main points to be covered in an SOP?
The main areas that students must explain and cover when writing their SOP are:
Students must talk about their personal and professional background and how it relates to their interests.
Generally, the best-written SOPs for undergraduates have a clear outline that highlights the development of their academic interests.
It is important to highlight what the short and long-term goals of the student are and how the program and college that they wish to attend can help them in realizing those objectives.
Statement of Purpose is an excellent way to demonstrate how a particular course fits your interest and your expectations.
Highlighting academic achievements in the SOP can help show the admissions panel how the student can be a unique addition to their university.
What is the format for an undergraduate SOP?
International students who want to continue their higher education in other countries need to write an SOP that illustrates their professional and academic background perfectly. Here are some questions for SOP samples for undergraduate students that you must answer:
Why are you choosing this course?
Talk about the precise reason for your curiosity in that specific course. You should share particulars about your overall career plan, both long and short-term, to support why you wish to study a particular program.
What are your expectations from this program?
Give a concise description of your expectations from the program, such as the knowledge and skill set that you will gain, course curriculum, and training methodologies.
Why do you want to study in a particular country?
Talk about your interest in selecting the country by offering facts about the cost of living, affordability, climate, research initiatives, job opportunities, the standard of living, technological development, and the education system.
Why do you want to study at a particular university?
Talk about how you decided to study at a specific university. You must support your decision with facts about the faculty, support system, pedagogical system, infrastructure, etc.
How are you a good fit for the program?
Identify the skill sets, experiences, and personality traits that are required to excel at the program which you possess. You can showcase your creativity, intellect, leadership skills, academic achievements, adaptability, problem-solving skills, and intercultural skills.
SOP samples for undergraduates- things to remember
Here are some important points that you should remember when writing your Statement of Purpose:
Always keep the purpose of your SOP in mind.
Ensure that extracurricular activities are mentioned.
Talk about your work experience as well as academic and personal achievements.
Students can highlight their inspiration to pursue a particular stream, college, and course through their SOP.
Write it clearly and concisely.
Maintain a proper flow throughout the document.
Describe your qualifications in detail.
Ensure that all paragraphs and transitions have a logical connection between them.
The Statement of Purpose should be thoroughly proofread to eliminate any mistakes.
Avoid any grammatical errors and spelling mistakes.
If the application contains guidelines for writing the SOP, they must be followed.
Showcase your intellect, leadership skills, and personality.
Stay within the word limit.
Conclusion
A Statement of Purpose for undergraduates should not be taken lightly. It is one of the documents that can make all the difference in the evaluation of your application.
It gives students a chance to show the admissions committee who they are and gives them a glimpse of the student beyond the application components.
Students need to use their SOP to highlight their purpose in choosing a particular institute as well as the program to maximize their chances of being admitted.
Have any doubts? Consult the best study visa consultants today!