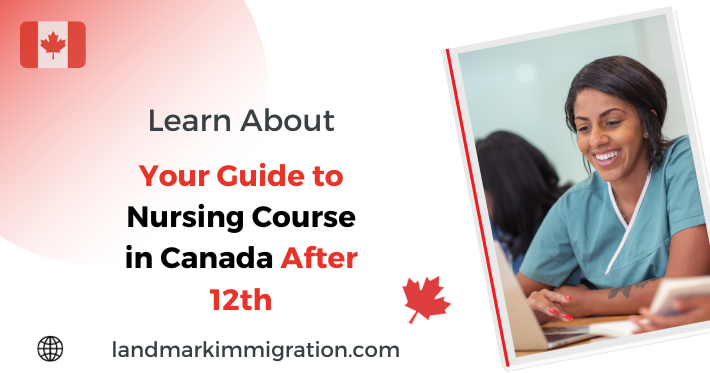 Canada, with its renowned universities and inclusive multicultural cities, is a popular choice for international students seeking to study abroad.
For those interested in pursuing nursing, Canadian medical schools provide excellent programs that offer global exposure and equip students with the necessary knowledge and skills to contribute to the global medical industry.
Whether you are interested in a nursing diploma or a full-fledged degree program, Canada offers a wide range of nursing courses to choose from.
Are you interested in pursuing a nursing course in Canada after 12th but don't know where to start? Look no further than our comprehensive guide, where we will cover everything from benefits to eligibility criteria and more.
Discover the ins and outs of pursuing a nursing career in Canada and set yourself on the path to success.
Why Study Nursing Course in Canada after 12th?
Nursing is not just a career but a calling, with a noble history of helping people in need. In Canada, the healthcare sector is growing rapidly to meet the needs of an aging population, creating numerous job opportunities for nursing professionals.
Pursuing postgraduate nursing programs in Canada can also help you specialize in a particular area and prepare for new career pathways. With job security and prospects for growth, nursing in Canada is an excellent choice for those who want to make a difference.
Canada is a top destination for studying Nursing, with many of its universities ranking highly in the QS University Rankings 2023. The country offers excellent education and training, leading to globally recognized nursing degrees.
Nursing courses in Canada focus on providing practical experience in treating illnesses, preventive medicine, and curing various diseases.
Canadian medical universities and nursing schools are renowned for their research and development efforts. They also have international collaborations with health organizations worldwide, offering students valuable exposure.
The healthcare sector in Canada faces a significant challenge as many nurses are nearing retirement age, and there are fewer new nurses to replace them. To maintain a balance and meet the country's growing healthcare demands, registered nurses are needed in every province and territory.
Pursuing nursing studies in Canada is necessary to become a registered nurse and help fill this crucial gap in the healthcare workforce. Join one of the fastest-growing and most rewarding professions in Canada by pursuing a career in nursing.
Nursing is a highly sought-after profession globally, and Canadian universities provide numerous scholarships supported by the government. This welcoming environment attracts students from around the world.
Upon graduation, nurses have excellent job prospects in some of Canada's best hospitals and clinics. The average annual salary for nurses in Canada is $76,031 per year or $38.99 per hour.
If you come from a developing country, you may notice significant differences in the working environment in Canada. While there is a heavy workload, a high volume of patients, and long hours, the work environment remains healthy and respectful.
You will receive appreciation and recognition for your services, with many grateful patients and colleagues acknowledging your efforts and talents. Experience a positive and supportive work environment that fosters personal and professional growth as you
What are the Top Specializations for nursing course in Canada after 12th?
Canada's top colleges offer over 100 courses in nursing with various specializations and degree levels. Students can choose from certificates or diploma programs up to doctorate degrees in different specializations.
The most popular specializations for Nursing courses in Canada include general, emergency, critical care, gastroenterology, psychiatric, gastroenterology, pediatric, practical, international, and cardiac nursing.
Apart from these other specializations include nursing specialists, medical-surgical, pre-health sciences, and midwifery.
After completing your selected Nursing course, you can explore diverse career opportunities in fields such as hospitals, community services, long-term/critical care institutions, healthcare centers, and medical institutes.
To apply for a Nursing program in Canada, you need to meet the admission requirements established by your university of choice.
Though these standards may differ according to the program and university, we have presented a general overview of the eligibility criteria and document checklist for Nursing course applications in Canada below.
To be eligible for a bachelor's degree in Nursing, you should have completed secondary school or its equivalent. Core subjects required at the 12th level include Mathematics, English, Biology, and Chemistry.
To pursue a master's degree in Nursing, you should possess a registered nurse license and have completed a four-year bachelor's degree in nursing, along with fulfilling other eligibility criteria. Many universities may also require at least one year of clinical experience.
To be eligible for doctoral-level programs, you need to hold a master's degree in Nursing or a comparable qualification.
In addition to fulfilling these requirements, you must submit Language proficiency scores (such as PTE, TOEFL, or IELTS).
Several nursing institutes require the candidate to take the CASPer exam (Computer-Based Assessment for Sampling Personal Characteristics), which is mandatory at several Canadian academic institutions, and GRE scores for PhD programs.
Other than the above requirements, ensure you have the following documents prepared:

Language proficiency test scores (TOEFL, IELTS)
Official transcripts
Statement of Purpose (SOP) and Letters of Recommendation (LORs)
Confirmation of Acceptance for Studies (CAS) document for bachelor's degree courses
Registered Nursing license (current RN) for master's degree courses
Research paper (if applicable) for PhD courses
We at Landmark Immigration hail your decision to study nursing course in Canada after 12th. Our experts have years of experience and expertise to guide aspiring students like you to ace your ventures. Contact us today!