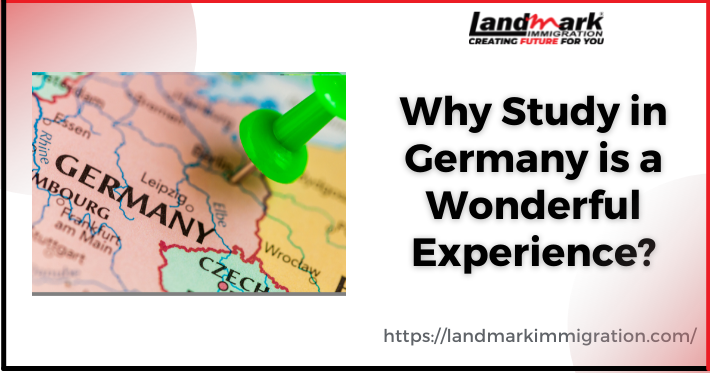 Germany is one of the top places on the travel itinerary of anyone visiting Europe. This prosperous country in the European Union has some of the most beautiful locations and spectacular cultures in the world. The OECD Better Life Index rates Germany more than 7 points on a scale of 10, a very positive result. However, you must be on this blog to find out if Study in Germany is a good idea or not. The below-given points can help you determine it.
Being a Home to World Class Universities:
Germany is known for its highly respected public and private universities and colleges. The best universities in the country have produced many famous writers, philosophers, inventors, and scientists, including the immigrant scientists who discovered the COVID-19 vaccine. You will be able to walk in the footsteps of these great people when you study in Germany.
German units are known for their educational quality as well. A report published by the Academic Ranking of World Universities (ARWU) revealed that German universities are among the top 100 universities in the world. The rankings resonate with the QS World University rankings.
If you are not proficient in German, do not be afraid! Many higher education institutions offer programs in English, as well as German courses to get you started. Here are some of the additional benefits you get by choosing to study in Germany for your higher education.
You Can Choose From A Wide Range Of Courses:
Higher education in Germany is known for its practical approach to teaching and diverse course options. You can choose from a wide range of courses that will prepare you for a relevant career in the modern world.
Affordable Education:
Germany is one of the few countries in the world that provides accessible university education. The country is renowned for providing high value for money, regardless of whether you study at a public or private university.
German private colleges and institutions have a host of scholarships and flexible payment options to help with the financial burden of studying in a new country.
Affordable Cost of Living:
Compared to other European countries or the United States, living in Germany as an international student will not wipe out your savings.
The cost of living in Germany can be very reasonable for foreign students. Additionally, non-EU students can work up to 240 half days or 120 full days during a year while studying.
A Diverse German Culture to Experience:
Due to its diverse population, Germany offers you the opportunity to explore different lifestyles and cultures. Regardless of whether you are a nature enthusiast or a city lover, the country has something for everyone.
You can experience the exciting nightlife of Berlin, go for a walk through the Harz, or check out the art scene in Hamburg. Germany is known for its festivals such as Oktoberfest, which will allow you to get to know the local culture.
You Can Visit Spectacular Historical Monuments:
Historians are exceptionally motivated to study in this beautiful country. You can get a great insight into German history by visiting sites like the Cologne Cathedral, segments of the Berlin Wall, the Reichstag building, and the Brandenburg Gate.
As an international student in Germany, you will be exposed to one of the strongest economies in the world. It also allows you to travel to other countries of the European Union such as Switzerland, Belgium, France, or Italy.
Germany has an efficient system and extensive rail connections with these countries. You can explore the culture and beautiful attractions of these countries without problems.
So these are some points on which studying in Germany ensures you a wonderful experience.