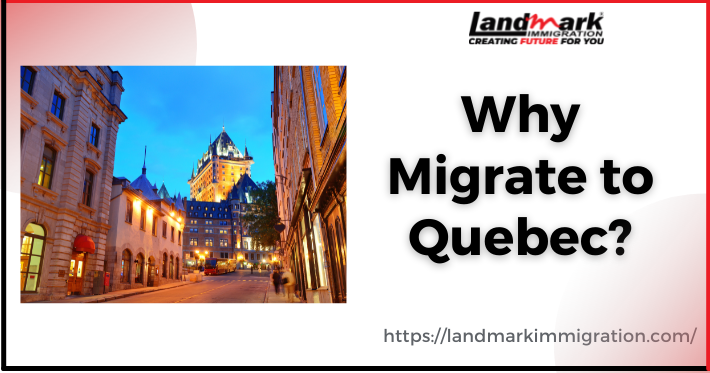 9 February 2022
Quebec has become a popular destination among immigrants to live and work in Canada. This is because of the scenic views, easy migration process, strong economy, affordable living cost, world-class educational system, and high-quality healthcare and transport system.
Quebec is the largest province in Canada and is located in the eastern part of the nation. The province borrows its name from the Algonquin word "kébec," meaning a place where a river narrows. This was used to describe the narrowing of the St. Lawrence River where the City of Quebec is located in present. Throughout its history, Quebec has got many names such as New France, Canada East, and Lower Canada.
The fascinating city is dotted with many landmarks such as the Château Frontenac hotel, the Citadelle of Quebec, Musée national des beaux-arts du Québec, and the National Assembly of Quebec. The province is also known for its industries, hospitals, educational institutions, natural resources, healthcare facilities, and tourist destinations.
That's why Quebec is often the first choice for immigrants to Canada as this city can unlock many doors for them.
So here will find out how migrating to Quebec can benefit your living and occupation in Canada.
Outstanding Job Opportunities:
Quebec offers a wide range of job opportunities for skilled and unskilled people. You can apply for jobs in sectors like public administration, commerce, transport, services, tourism, and defense.
The provincial government has employed the largest number of people in the city. Quebec also houses companies like Benson and Hedges, Gearbox Software, La Maison Simons, Norda Stelo, SSQ Financial Group, and Industrial Alliance.
Extraordinary Education Landscape:
Quebec has an excellent education system and programs being offered to international students. According to one report, over 45,000 international students are living in Quebec. The city's education system is secular and includes both public and private educational institutions. It is divided into four levels such as primary, secondary, college and university. Primary and secondary education is free of charge within the public system.
The education system is governed by Quebec's Ministry of Education and the Ministry of Higher Education.
It also houses some of the renowned institutions such as The Université Laval, Télé-université, École nationale d'administration publique, and Institut national de la recherche scientifique are some renowned university colleges in Quebec.
Degree obtained by studying in any universities or colleges in Quebec is acceptable worldwide. Moreover, students get to live an affordable cost of living life in Quebec. Studying in Quebec also lets you opt for permanent resident status or PR in Canada.
Excellent Business Environment:
The city has a simple and supportive business environment.
Quebec is a member of trade agreements like the CETA (Comprehensive Economic and Trade Agreement) and the North American Free Trade Agreement (NAFTA). The cost to run a business in Canada is also lower in Quebec. With a business tax rate of 26.6%, Quebec boasts one of the most affordable rates for manufacturing and non-manufacturing companies in North America. This is also a hub of international trade to attract more investors and access foreign markets.
Strong Economy:
Quebec ensures a strong economy with average growth potential, focusing mainly on manufacturing and the service sectors. The city accounts for a total of 19.65% of the GDP of Canada.
Universal and Free Healthcare System:
Quebec has a quality and affordable healthcare system and provides insurance coverage to its residents.
Simple Migration Process:
Quebec has a much easier and quicker immigration process for candidates who are skilled and eligible. Moreover, these candidates can also bring with them their dependents who can also access the similar benefits and rights of a Canadian citizen.
So these are some top reasons to choose Quebec as your home in Canada. For more information on the immigration process related to Quebec, get in touch with our immigration experts who can explain and guide you through the immigration process.