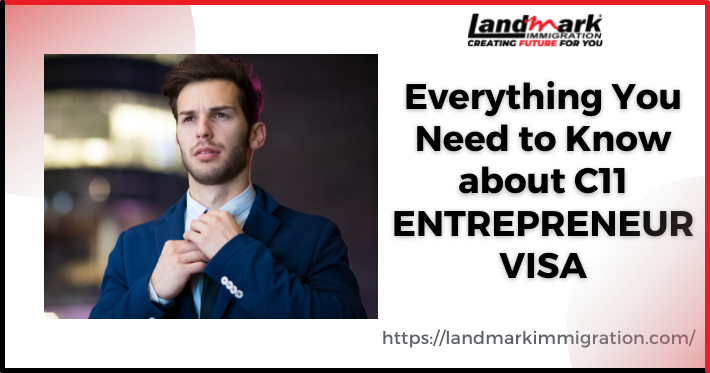 Canada also looks for entrepreneurs as much as it needs a skilled worker. But business immigration might be challenging than worker immigration if you lack the right guidance and assistance. So, if you are an entrepreneur or a business person looking to set a business in Canada and eventually want to get a PR status, the C11 entrepreneur work permit can help you.
In this blog, we will know everything about the C11 Entrepreneur work permit, including the definition and process. Let's get started.
What is the C11 Entrepreneur Work Permit?
C11 enables self-employed individuals and entrepreneurs who are looking to operate a business in Canada. This immigration category doesn't require a candidate to be assessed through LMIA (Labour Market Impact Assessment) that an employer in Canada might need to get before hiring a foreign worker.
The C11 work permit is meant for two types of entrepreneurs. The first group is of those entrepreneurs who look for temporary entry to Canada based on their career and business plans. The second group wants the C11 work permit to get an entrepreneurial or self-employed permanent residence program.
Whether you are looking for permanent residency or temporary stay with a C11 work visa, you are required to convince the immigration officer that:
You run a business yourself or are an entrepreneur with a sound business plan and resources.
The venture you own can lead to significant economic as well as social and cultural advantages for people in Canada.
On successfully convincing the immigration officer of these two things, you can be provided with the C11 work visa.
Who is Eligible for a C11 Work Visa?
Keep in mind that running a business in your home nation is not enough to become eligible for the C11 work permit.
If you want to get qualified for the C11 work permit for Canada, make sure to follow the guidelines immigration officers usually use as metrics to determine if you are qualified for the C11 work permit. Here are some of them:
The candidate should have the history and aptitude to run a successful venture or they possess the skill-set and resources to buy an existing business based in Canada and turn it to into a profitable unit.
The candidate should at least have 50% of the ownership of the business they buy or start in Canada.
The candidate has a sound business plan that should be realistic and practical.
The candidate should have a business idea that can benefit Canada and its citizens.
The candidate should have enough groundwork to start their business in Canada. For example, they should have sufficient funds to establish their business as well as staffing plan and location. Likewise, they should have a network of suppliers, vendors, associates, etc while opting for the C11 entrepreneur work permit.
What Type of Business Can Apply for the C11 Entrepreneur Work Permit
Some of the businesses that have good scope and can be started in Canada are…
Moving services
Adventure (outdoor) services
Pool maintenance services
Personal fitness trainer or coach
Moving services
Chimney services
Christmas/Halloween Retailer
Benefits of the C11 Work Permit:
You might enter Canada on a work permit but you will continue to be an entrepreneur and will be using your skills to get more profits in Canada. You will be the employee of your business, which one year of work experience will make you qualified for an Express Entry Application under CEC and FSWP.
Once you get PR, you can continue working as an employee or simply work as an entrepreneur without any issue.
To know more about it, talk to our consultant now.