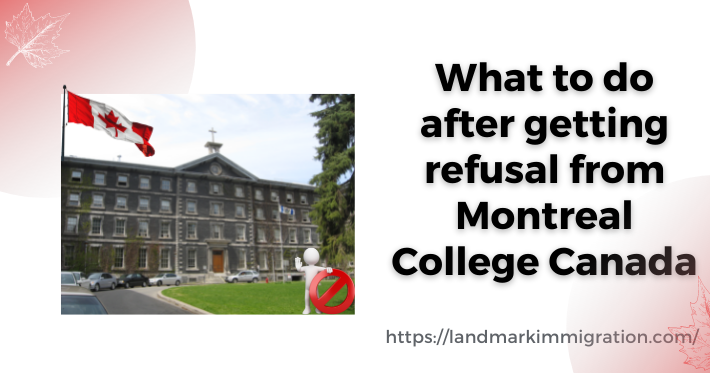 Canada is among the most sought-after study destinations for international students due to its world-class education options. Although the scope is great with friendly immigration and visa rules it has become the most preferred study destination globally.
This popularity implies a rigorous visa process and therefore, it gets challenging to get a student visa. Such is the case of getting a refusal from Montreal College Canada.
Landmark Immigration Services informs you what to do after getting a refusal from Montreal College Canada. First things first, it is important to know the reason behind your refusal.
Please watch our video for more information
What are the possible reasons for refusal?
Among the major reasons is financial stability, if the officials find out that you are not financially sound, you are most likely to be refused. This is because it is a clear indication that you won't be able to support your stay while you study in Canada.
What you should do? You must provide records that prove that there is a sufficient amount of funds throughout your time in Canada.
Your academic performance is a major contributing factor when it comes to refusals. You are most likely refused if your academic performance is not up to the mark.
What you should do? Make sure that your academic score or credits are sufficient and just as much or more than the desired educational institution and the government of Canada.
A study permit has an expiration date and one must return to their home country post its expiration. During the process, the visa officer should be convinced that you are a genuine student and not a potential immigrant. This is among the reasons for rejection.
What you should do? Visa policies for international students are friendly but make sure to keep your intentions clear and convincing that you only plan to settle there permanently through legal procedures only.
Did you receive the letter of acceptance? It is an important step of any study permit let alone Montreal College Canada. Without the letter of acceptance, you are highly unlikely to get accepted.
What you should do? A letter of acceptance from a registered Canadian educational institution is valid proof that you fit the academic eligibility criteria for the course you applied for.
Your IELTS or TOEFL score is another major deciding factor that ensures whether or not you will be accepted. Regardless of your program- SDS, SPP, or PNP; you require a minimum IELTS score as it proves you are proficient in English.
What you should do? Take the IELTS exam again to secure the minimum score required to study in Quebec.
Also, those who getting refusal must get their file assessed again.
What happens in an assessment?
Marks, credits and academic eligibility are checked again. Based on what subjects you chose or did majors in and the program you have applied for, do they form a link?
If not, we would guide you to take up a study program that relates to the subject you have scored highest in. Change in the field of study is among the major reasons to get refusal and therefore, a valid reason is discussed and put forward.
Another option, if one does not work, is to help you get accepted in Vancouver and Toronto where chances of acceptance are high.
The relevant list of documents that are necessary for approval is checked again.
Students are requested to not waste a single minute and carry their application form and their family information, SOP, and other important documents form at all times during consultation visits.
The future is in your hands and we at Landmark Immigration strive to keep it alive and bright. If you want any consultation regarding college refusals, you can call us on 90412-90412 or send us a WhatsApp message. Alternatively, you can also send an email to info@landmarkimmigration.com.