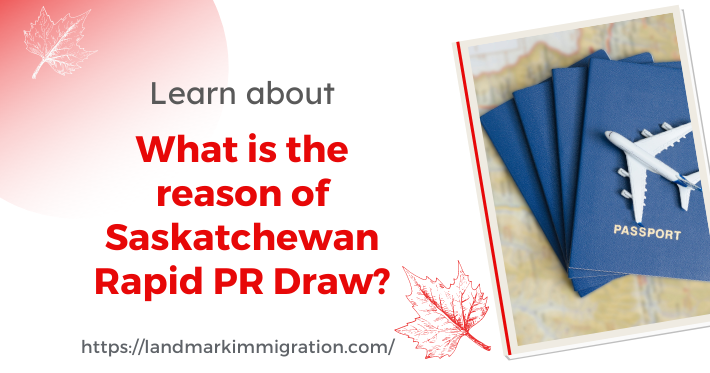 Have you ever heard of the Saskatchewan PR pathway?
Well, it is one of the easiest PR pathways to settle in Canada, especially for those who have low scores due to marriage or other issues.
Saskatchewan PR draw is a huge relief when there is little to no Federal Skilled worker draw organized by the Express Entry. Saskatchewan launches draw fortnightly or on every fifteenth day for SIMP, Express Entry and OID programs.
Please watch our video for more information.
What is the Eligibility to Appear in the Saskatchewan Draw?
The maximum points are 100 out of which you need to score at least 60 points to become eligible.
Like other pathways programs, it awards points based on certain criteria such as education, work experience, adaptability (having spouse over there or education from Canadian university) and age.
The current cut off (as of September 2021) is 82 points. Interestingly, it was 65 months some months ago. The point is here that the draw is likely to be highly inconsistent.
If you are not able to calculate your points, you can contact our immigration consultants.
How to Earn Good Points in Saskatchewan Draw?
While Saskatchewan is the easiest draw to enter Canada, you need to meet certain metrics to become eligible. All you need to score 70 points.
The 70 points can be earned through the following factors:
Master Degree will add 23 points, age between 21-34 will be 12 points, work experience of 10 years will add 15 points while French awards additional points.
Understanding the Benefits of Saskatchewan Draw?
There are 10 provinces in Canada and each one conducts PNP. But not all of them are quick and active. However, this is not the case with Ontario, Alberta and Saskatchewan. They are known for their active and simple programs.
Saskatchewan is known for its simple PNP program. In fact, you can hope for a great score irrespective of COVID cases. There is no complex calculation as the points are awarded based on some key factors. If you have relatives in Saskatchewan, you get 20 points directly.
Moreover, your bachelor degree and CLB 8 earn you 50 points. And adding the scores of these two categories earn you 70 points smoothly, leading to the chances of getting the invitation.
That's why Saskatchewan PNP is one of the most favourable programs among immigrants.
How to Boost Your Points?
Many factors can deduct your points or don't let you increase them. For example, if you age more than 34 and have work experience of fewer than 3 years, you are likely to get restricted to the same digits.
In such cases, there are many ways to boost your points. First of all, score well on the IELTS test. Aim for 8 or CLB 9. However, it might not be easy, but you can achieve it if you try hard. If you earn 8 points in listening and 7 in other modules, it can increase your points to 50.
Secondly, learn French as it can add 50 points to your score.
Get in Touch Now to Simplify Your Immigration!
So you must have understood why Saskatchewan has one of the simplest PNP programs in Canada. However, if you have any doubts or are not able to understand the process, you can contact our immigration consultants right away.
As a reliable consultant, we believe in providing valuable and transparent pieces of advice to those looking to settle in Canada. We pace up with the latest developments, policy changes, visa procedures, forms, and fees to ensure you the hassle-free process. Get in touch now!