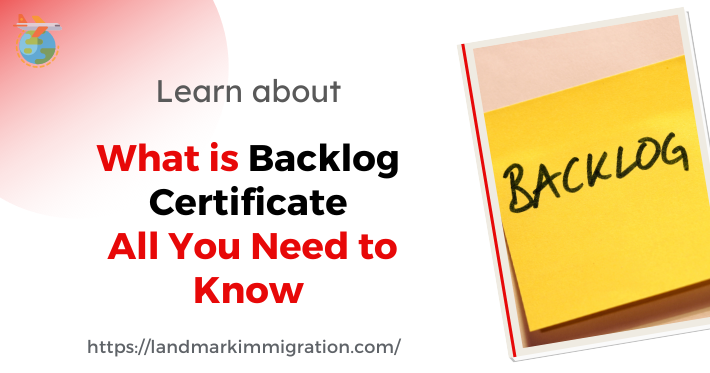 Backlogs are quite common for students to obtain during their education. Backlogs are subjects or examinations that a student fails to pass or complete during their initial attempt. A student may get a backlog for a number of reasons, from financial issues, family problems, health concerns, and personal reasons, among others. At the undergraduate and graduate levels, a lot of students these days get backlogs and feel apprehensive about how it would reflect on their future prospects. In this article, we will explore what is backlog certificate and how it affects your chances of studying abroad:
How are backlogs considered for admission?
When you apply for higher education, the college or university that you want to study in will be aware of your backlogs as these would be a part of your academic transcripts.
This means that the academic institution will consider your backlog before issuing you a letter of acceptance. The lesser the number of reappears an international student has on their admission profile, the more impressive their academic profile is considered to be. 
What are the types of backlogs?
Generally, there are two kinds of backlogs:
Arrears are examinations that a student attempted but failed to pass successfully. 
Absents are examinations that you failed to appear for. Suppose a student failed to attempt an examination at all. In that case, it is crucial to confirm from the academic organization whether they were recorded to have scored zero marks in said examination or marked as absent.
If they were indeed recorded to have scored zero marks in said examination, it would be considered as a backlog instead of being absent. 
How are backlogs counted toward higher education?
Each country has its own criteria for estimating backlogs. Here are two main methods of calculating backlogs followed by academic institutions: In countries such as the USA, the UK, and Canada, backlogs are counted as the number of subjects a student has failed.
For example, if a student fails to clear one subject and appears three times to clear it, it would be considered to be one backlog.  
In countries such as Germany and Australia, backlogs are considered as the number of attempts a student has taken to clear the examination successfully.
These countries follow this method of calculating backlogs to measure the seriousness of the student towards clearing their examination. For example, if a student fails to clear one subject and appears three times to clear it, it would be considered to be three backlogs.  
What is backlog certificate?
A backlog certificate authenticates their academic transcripts as well as academic records. Whether a student has a backlog or not, educational institutes in other countries are in authority to ask them to submit a backlog certificate. A backlog certificate is distinguished from a regular academic transcript since it only contains scores of the subjects in which a student had backlogs. 
Can an international student study abroad with backlogs?
Every university and college first gives priority to the best candidate for admission. However, there are a lot of academic organizations around the world that accept international students who have backlogs.
These students are found to be suitable for the courses that they want to pursue. The acceptance of backlogs differs between countries. However, it is safe to say that each country can accept reappears to a specific limit.
How many backlogs are allowed in colleges abroad?
In many distinguished academic institutes abroad, backlogs are known to play a considerable role in the profile evaluation of the student for admission. Most of the top academic institutes and universities are known to accept up to around five backlogs.
However, you must keep in mind that a student who has an active backlog is ineligible to apply to study abroad. There are also certain colleges and universities that may consider more than five backlogs if the profile of the candidate seems to be extraordinary to the admission committee.
It is often noted that students who are accepted for admission with a high number of backlogs are known to have a genuine reason. 
What should students do in case they have zero backlogs?
If a student has zero backlogs, they may still need to submit a backlog certificate if they want to study in some specific countries.
Academic institutes in countries like New Zealand and Australia are known to ask students to submit a no-backlog certificate even if they do not have a backlog.
This certificate is generally known as a zero backlog certificate. This is to be submitted as proof of their academic record when they apply to study abroad. 
Conclusion
Students may get a backlog due to either being absent for an examination or failing to clear it.
In both cases, students may be asked to submit a backlog certificate when they are applying to study abroad as proof of their academic transcript and record.
Even if students have backlogs, it does not mean that they will fail to secure admission to the college of their choice. Hope this article gives you a clear insight into what is backlog certificate.
Have any more doubts? Consult experts at Landmark Immigration!