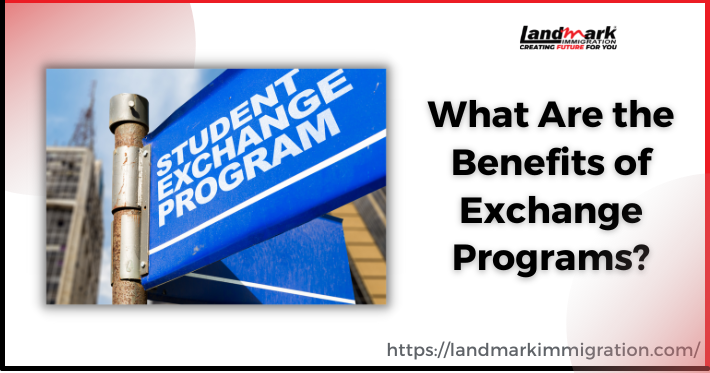 Exchange programs have been a part of life for most international students. They have helped people from all over the world to understand each other better and develop friendships that last a lifetime.
Many students who participate in exchange programs choose to stay abroad for several years after their studies are completed, which is why we're sharing this short guide about the benefits of these programs:
1. Exposure to different cultures
Exposure to different cultures is one life-changing benefit of exchange programs. You can learn about other cultures by going to museums, restaurants and other places of interest with your host family or friends.
Also, you can learn about other cultures by going on exchanges in different countries so that you can experience how people live there.
You may also meet people who speak languages that are not spoken in your own home country or school system.
This will give you an opportunity to talk with them and ask questions about their lives as well as their culture; this will help you understand where they come from better than just reading about it online would do! 
2. Take a gap year
A gap year is a great way to explore another country and experience different cultures. The benefits of taking a gap year are numerous:
You can choose where you want to go, so your program will be tailored to your interests and needs.
You'll learn about how life works in other parts of the world by living with locals for at least part of this period. This will help prepare you for what might come next when it comes time for college or work later on down the road!
By taking this kind of initiative early on—before graduation from high school—you'll have more flexibility than if all plans had been made months beforehand; it also allows an opportunity for new experiences without having too many commitments made beforehand. 
3. Language learning
Learning a new language is a great way to travel. It opens up new opportunities and makes you more versatile, which can be especially helpful if you want to work abroad.
Learning a language can also help you understand people and cultures from different time zones and have a deeper understanding of yourself.
You will be able to communicate with people from all over the world, which will make your trip even more enjoyable.
Language learning is also an excellent way for people who are interested in networking while they are abroad!
Many exchange students find themselves trying out activities they wouldn't normally do at home because they don't speak the language well enough (or at all).
This gives them an opportunity not only to learn something new but also to meet new people who share similar interests or hobbies as well as cultural backgrounds from their own country!
4. Career skills
You will gain a new perspective on your career.
You will learn how to think and act under pressure.
Also, you will learn how to be more flexible and adaptable in the workplace, which is important for any job that involves dealing with people from all over the world.
Most important, you will also improve your communication skills as well as learn how to speak more fluently in different languages—which can help you land an international job!
5. New friends from around the world
Aside from the fact that you will get to travel and meet new people, there are other benefits of an exchange program.
You will learn about other countries. Exchange programs allow participants to learn about the culture and history of another country through classes and field trips.
This is helpful because it gives students more insight into what daily life is like in another country before they decide whether or not they want to move there for good!
You'll have fun with your friends from all over the world! An exchange program allows students who would otherwise never get together outside school settings (such as those living on opposite sides of town) to spend time together outside class hours doing activities like travelling or volunteering together—and these friendships often last beyond graduation day itself!
6. Exchange programs can make you more likely to accept other people's differences
As you travel, you are most likely to see the unfiltered world– all by yourself. You may find that your travels and experiences are more enriching because of this exchange program.
You will learn the true definition of diversity and cultures. And they will be a lot different from what is printed and shown. 
Exchange programs provide students with opportunities to learn about ways of life beyond their own.
Many colleges have developed courses specifically for students travelling abroad through their exchange programs—such as "Cultural Anthropology" or "Globalization and Economic Development."
These classes help participants understand how people live differently around the world by focusing on specific issues related specifically to these cultures' histories or traditions.
Conclusion
We hope that this article has helped you understand the many benefits of exchange programs and why they are so important.
Whether you're interested in taking an international trip or just want to learn about other cultures, these programs can give you the experience of a lifetime! And remember: if you do decide to attend one, don't forget to stay safe!
Contact Landmark Immigration for more information!