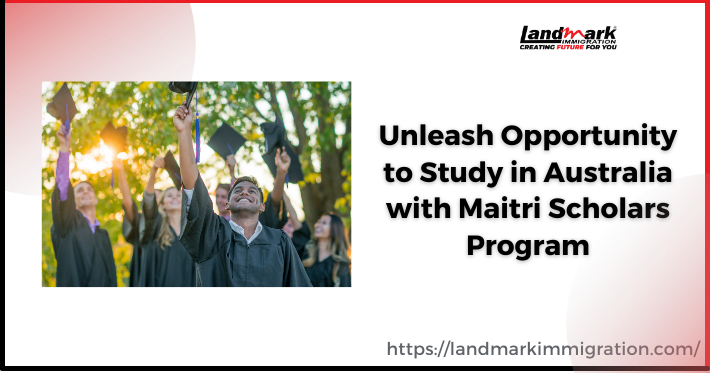 Most Indian Students desire to study in Australia due to the world-class education and career exposure. But, some of them need help to meet the financial criteria. In such situations, to offer help to deserving candidates. Here, the Maitri Scholars Program comes into play.
Indian students interested in studying at Australian universities can apply for the Maitri Scholars Program in Australia. The scholarship helps them cover all their educational fees and stipends, making it easier to pursue their education goals. The scholarship is offered by the Government of Australia and is equivalent to Fulbright and Rhodes scholarships. It also helps in strengthening India-Australia ties and cooperation.
This blog will discuss everything you need to know about the Maitri Scholars Program and give wings to your aspirations to study in the land of Kangaroo.
What is the Maitri Scholars Program?
To encourage people-to-people contact and strengthen the relationship between India and Australia, the governments of these two friendly nations have started an initiative called the Maitri Scholars Program.
The Maitri Scholars Program in Australia is an excellent opportunity for Indian students who want to pursue their academic dreams in Australia. The program covers all tuition fees and provides a living stipend.
This scheme will bring financial assistance to 45 Indian students studying at Australian universities for graduation and post-graduation degrees. These funds will be provided for up to four years of study.
The main aim of this program is to strengthen ties between India and Australia and promote Australian education and culture among Indian students. It also allows Indian students to explore their career opportunities in the country.
In the press conference with Minister for External Affairs S Jaishankar, Payne spoke about Australia and India having solid connections in investment and trade.
According to the Australian Foreign Minister, Marise Payne, these scholarships are part of a new series of initiatives aimed at boosting cultural and education ties between Australia and India.
Payne announced that the Government would provide over USD 11 million for four years to support Indian students to pursue their graduation and post-graduation degrees in the world's leading universities. In addition, she announced a $3.5 million program called the Maitri Fellowships.
She said she believes that the Maitri program hugely benefits the Australian education sector, which is now rebounding from the economic impact caused by COVID-19.
Eligibility Criteria
The eligibility requirements for the Maitri Scholarship are relatively simple and include being an Indian citizen and having good academic records. However, some stipulations exist for those who wish to earn a graduate degree from an Australian university.
Benefits Offered Under Maitri
1. Financial Assistance:
The program provides financial assistance to international students in Australia, helping them to cover their tuition fees and living expenses.
2. Opportunity to Study at a Top University:
The Maitri Scholars Program is offered by the University of New South Wales (UNSW), which is one of the top universities in Australia. Students who are awarded the scholarship can benefit from the excellent academic programs and research facilities offered by the university.
3. Access to Mentorship and Support:
The program provides mentorship and support to its scholars, helping them to navigate their academic journey in Australia. Scholars can benefit from the advice and guidance of experienced mentors who can help them to overcome any challenges they may face.
4. Networking Opportunities:
The program provides networking opportunities to its scholars, helping them to connect with other students and professionals in their field of study. Developing valuable relationships and expanding professional networks are valuable opportunities for scholars.
5. Cultural Exchange:
Scholars learn about different perspectives and cultures through the program, which promotes cultural exchange. This can help to broaden their understanding of the world and enhance their intercultural competence.
Application Process
To apply for the Maitri Scholarships, applicants must register online using a valid email address and a phone number. Instantly, they'll receive a registration number and password.
Annually, online applications start in May and end in June. Students are required to submit their academic and letters of recommendation. The application also requires them to upload scanned copies of relevant documents.
Conclusion
Landmark Immigration loves to keep you updated with the latest news related to immigration. We strive to make your journey to study abroad hassle-free. We find pleasure in assisting abroad aspirants with the best of our knowledge.