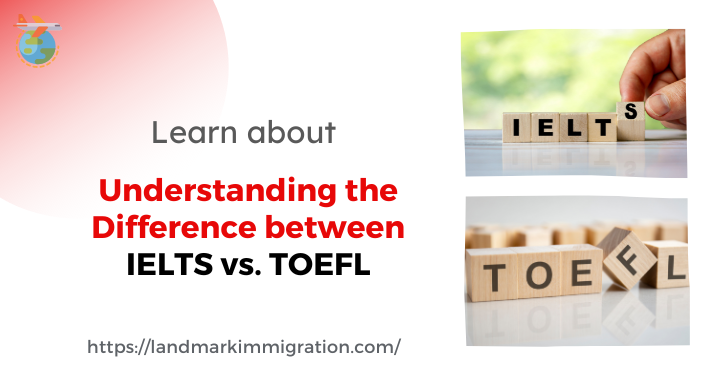 As English continues to dominate as the global language of communication, proficiency tests like the International English Language Testing System (IELTS) and the Test of English as a Foreign Language (TOEFL) have become essential for individuals seeking educational or professional opportunities abroad.
IELTS Vs TOEFL: Both tests assess the English language skills of non-native speakers, but they differ in several key aspects. In this blog post, we will explore the nuances and contrasts between IELTS and TOEFL to help you make an informed decision about which test is most suitable for your specific goals and circumstances.
IELTS Vs TOEFL: What are they?
First, let's talk about what they mean: IELTS stands for International English Language Testing System and is recognized worldwide. It's used for immigration, education, and work purposes.
TOEFL, which stands for Test of English as a Foreign Language, focuses on your ability to communicate in English in academic and university settings.
Duration and Structure:
In terms of time and format, the internet-based TOEFL takes about 4 hours to complete, while IELTS takes about 2 hours and 45 minutes.
Speaking, writing, listening, and reading are the four sections of each test that test various language abilities.
However, TOEFL is entirely multiple-choice, while IELTS has a mix of essay-type and short-answer questions.
Scoring:
When it comes to scoring, TOEFL is graded by both humans and automated systems. The final score is out of 120, with each question worth 1 point. Each module is scored from 0 to 30. In addition to the scores, candidates receive a performance feedback report.
IELTS, on the other hand, is graded only by humans. It provides separate scores for each module ranging from 1 to 9. If you don't do well in one module, it will affect your overall average score. The IELTS scorecard helps identify your English proficiency level, ranging from a non-user score of 1 to an expert score of 9.
Modules:
One major difference between IELTS and TOEFL is in the speaking module. In IELTS, you have a normal conversation with a person for about 12-15 minutes. However, in TOEFL, the speaking module consists of 6 sections that last for 20 minutes. You will be asked for your opinions on everyday topics in two of those sections.
In the listening module, IELTS gives you 20 minutes to answer 10 questions while listening to audio. The questions focus on education and training topics. TOEFL, on the other hand, includes listening to four to six recordings and answering questions based on them.
In the writing module, both IELTS and TOEFL require you to write essays.
IELTS requires you to write a 150-word essay in 20 minutes based on a graph or chart. In the TOEFL, you read a brief passage, hear a two-minute lecture on the subject, and then respond to a question on it in 320–350 words.
Finally, in the reading module, both tests present academic texts followed by questions to check your understanding. IELTS has 40 questions divided into three parts with different question styles, including short answers and fill-in-the-gap. TOEFL has multiple-choice questions and is divided into three to five passages.
IELTS Vs TOEFL: Conclusion
So you must have understood the basic differences between IELTS and TOEFL. If you're planning to study abroad, you will likely need to take either IELTS or TOEFL. Many universities and colleges worldwide accept the results of these tests. It's up to you to decide which test you want to take and which format you feel more comfortable with.
If you are still not able to decide which test is right for you, contact our experts at Landmark Immigration now.