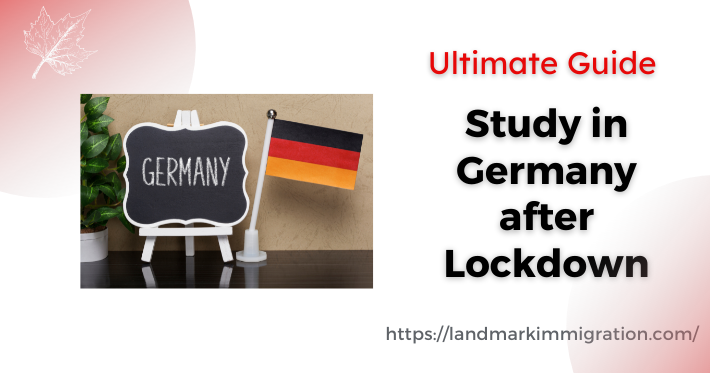 Good news for those who are looking to study in Germany.
Germany has started offering study visas to international students again.
Studying in this nation comes with a lot of advantages such as globally ranked universities, state-of-the-art facilities, research-based courses, diverse communities, affordable cost of living, and good quality of life index.
Indian students make up the third-largest group of international students in Germany.
Here we will help you get a German study visa with this simple guide.
Please watch our video for more information
Which Course do You Want to Pursue in Germany?
It is important to choose your study program and university carefully. Luckily, there are several options available as Germany houses more than 380 recognized higher education institutions where over 17,000 courses are offered. So, finding one won't be that challenging.
You can conduct online research to know more about the courses and universities. Read the guidelines for international students carefully provided over the websites of those universities.
Or you can contact our German immigration consultant to save time and hassles. We have a network of renowned German educational institutions.
Where and How to Apply for a German Study Visa?
You should apply for your visa at the German Embassy or Consulate in your region. Once you apply, you will be called for a visa interview. Your visa interview will be conducted by the consular office. You are also required to show all the documents at the same time.
How Long Does it Take to Get a German Study Visa?
Generally, it might take 6-12 weeks from the application day. It also depends on the German Embassy as well as the nation you are applying from. Maybe you got your visa after 3 months.
What is the Success Rate of German Study Visa?
The success rate of German student visas is 92% compared to the US study visa that is 80% and the UK with an 85 % of success rate.
What Documents Do You Need to Apply for a German Student Visa?
Valid passport
3 passport photos with biometric specifications
Proof of covered finances
Offer letter from a German institution (the chosen university or college).
Academic certificates
English proficiency test certificates such as IELTS
Residence permit fee
Do You Need a Blocked Bank Account to Study in Germany?
Yes, you need it to show that you have sufficient funds to support your stay for at least the first year of your studies. You have to deposit €10,236 in your account.
Fortunately, opening a blocked bank account for a German study visa is a simple process. The blocked accounts can be opened at Kotak Mahindra Bank, Deutsche Bank, Drop Money in India, according to the German Embassy.
Make sure to start this process between 4-12 weeks before your semester starts. The amount that you deposit in will only be available once you reached Germany. The opening of a blocked account will take anywhere between one to three weeks.
What are the Proofs of Financial Resources for German Study Visa?
Apart from opening a blocked account, there are several other ways to prove your financial resources to fund your living costs in Germany. Some of them are…
Submitting the proof of income of your parent and financial assets using salary statements.
Showing a scholarship award given by a recognized German institution.
Showing a bank guarantee.
Showing the guarantee of a permanent resident in Germany to cover all your expenses.
Can You Work While Studying in Germany?
Yes, you can. You are allowed to work part-time for up to 20 hours a week or 120 full days yearly. And you don't require any qualification for work as there is a wide range of jobs available such as bartenders, retail storekeepers, babysitters, tutors, and administrative staff.
Moreover, your part-time working experience will increase your chances of getting a job in the future.
Can You Work in Germany After Completing My Study Over There?
After completing your higher education in Germany as an international student, you can stay in Germany for 18 months to find a job. During this period you can do any work to fund yourself.
Once you get a relevant job meeting all the conditions you can apply for EU Blue Card that is valid for up to 4 years.
Let Landmark Help You with Your Germany Study Visa
Hope the brief information given above about the German study visa will help you understand the process.
But if things are still not clear or you are looking for further assistance with your German study visa, contact our German student visa experts right away. From choosing the right courses, paperwork, to arranging tickets and everything in between, we support you at every step of the study visa.
You can call us on 90412-90412 or send us a WhatsApp message. Alternatively, you can also send an email to info@landmarkimmigration.com.